Finding the Best Blender for Nut Butter in 2023

Many people are intimidated by the idea of making homemade nut butter but with the right blender it is amazingly simple. In this guide I explain how to do it and what blenders I feel are the best blender for blending nuts into creamy goodness.
Which blender is best for nuts ?
Making nut butter is tough on a blender and is one of the tasks that separates a good blender versus an average blender. Let's discuss the key features that you should consider.
Horsepower
Not only does your blender need to have the power to grind nuts, but it also needs to do that without overheating. Overheating is a common issue with blenders when you are making recipes without liquids such as nut butters.
A lot of generic blenders are designed for mixing drinks and recipes with liquids. However, to find one that is better suited for making nut butter, you'll have to opt for a blender with a stronger motor that can handle thick recipes.
Jar Design
Some blending jars are poorly designed to properly blend thick recipes. The ingredients get pushed to the side and are never drawn down to the blade for even blending.
Design Features
The best nut butter blenders use a tamper to push the ingredients down to the blade while blending. Otherwise you have to stop the blender A LOT to mix the ingredients.
Proper Size

Depending on whether or not you want to make large quantities at a time, you should buy a suitably sized blender. Blender jar sizes reach both ends of the spectrum, ranging from as small as 12 fluid ounces all the way to as big as 65 fluid ounces.
A full-size blender (60+ ounce jar) can efficiently blend about 4-5 cups of raw nuts at a time.
Easy to Clean
Cleaning thick nut butters out of a blender jar be a pain in the XXX. Most blenders nowadays come with easy self-cleaning cycles and some have dishwasher-friendly jars to make things simpler.
SIDE NOTE – if you get a Vitamix, buy the Vitamix blade scaper to get thick blended ingredients out from under the blade area . You can thank me later !
How to use a blender to make nut butter
To make any nut butter, you'll only need one or two ingredients; it's that simple.
Any type of nut can be used to make butter – peanuts, almonds, hazelnuts, pecans, etc. Certain nuts are better roasted such as roasted almonds. They will blend better without the need for oil while raw almonds you might need to use a little oil.
Next, throw your nuts in the blender and start crushing. Usually, it takes anywhere from 1-2 minutes to get a smooth consistency depending on the amount of nuts and the power of blender that is used. It is important to make sure that your blender doesn't overheat while blending as it will not only burnout the motor but cause the nut butter to have a burnt taste.
The blending time needed to get a smooth texture to your nut butter also depends on the nuts you use. Almonds, for example, take longer than peanuts or walnuts due to almonds having less oil.
After reaching the desired consistency, you can add fun stuff to your nut butter. Most people like to add salt. I sometimes like to add cinnamon or maple syrup. Some people would go as far as adding cocoa powder to their hazelnut butter, turning it into a healthier version of their favorite chocolate spread.
Food processor or a Blender to make nut butter?
Many people tend to lean towards a food processor in the infamous food processor vs. blender for nut-butter-making debate, especially since blenders are generally best for liquid recipes. While that generally remains true, the right blender can make the creamiest nut butters with very little effort.
Blenders pull ingredients down to the center for even blending versus food processors chop and push the ingredients around.
3 Best Blenders for Nut Butters:
These 3 blender models meet the blender criteria listed above. I selected models with different price points so that there are options for any budget.
#1 Vitamix 750 – Premium Choice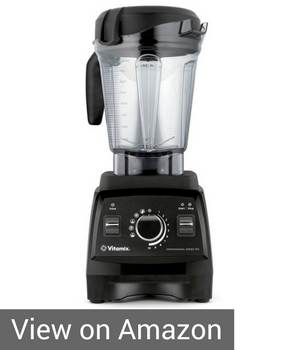 You will be saving a lot of money making your own raw nut butters so I recommend getting a blender that will last and offer the most versatility over time.
Vitamix has a lot of blender models and all of them can make nut butters. I chose the 750 Pro because it has all the features you want and will last a long time. The 750 comes with Vitamix's wide jar which is excellent for thick recipes as the ingredients have room to move without causing the thick mixture to overheat at the bottom of the jar.
Positives: The wide jar can blend 4 cups of almonds with no problem. Attractive clean design with a professional feel. Offers 5 hands-free blending programs as well as 10 variable speeds . Full coverage 7 year warranty.
Negatives: The main negative is the price but it is justified if you will be using it a lot.
Overall Opinion: If you are looking to make a wide range of recipes with your blender then get the Vitamix 750. You won't be sorry. It ranks highly in every blending test (top pick by Consumer Reports) and will easily make any thick recipe you try without overheating.
The money you will save over time making your own nut butters will more than pay for this. To see this blender in action, watch the video below using the 750 blender to make almond butter.
Click here for Vitamix 750 current price
Need a Cheaper Vitamix option ?
Consider the Vitamix Explorian
. If you don't have the money for the Vitamix 750 above but want similar performance then Vitamix's most affordable full-size blender is the Explorian E310.
The E310 has a similar look to the 750 Pro but is built on Vitamix's older 2 horsepower motor. The E310 comes with a smaller 48 ounce jar compared the 750 64 ounce jar but the 48oz is a great size. This blender offers excellent performance and reliability for the price.
How to make almond butter with Vitamix ?
Add 4 cups of almonds. I suggest adding about 1-2 teaspoon of coconut oil(or other oil) for blending almonds. Just turn the blender to high speed and start tamping until you get your desired consistency.
Watch this video using the Vitamix 750 blender :

#2 Cleanblend 3HP Commercial Blender – Mid Price Option
The Cleanblend is very much a look-a-like blender to Vitamix's ever-popular 5200 blender with plenty of power, efficient jar design, tamper, and variable speeds.
The Cleanblend has no problem making creamy nut butters without oil as you can see in the video farther below.
Positives: The biggest positive is price. You can get a blender that performs like a Vitamix or other high powered blenders for under $200. Good 5 year warranty which is much better than other blenders in this price range.
Negatives: While Cleanblend offers nice performance, it is not built to the same standard as Vitamix which is reflected in the price. That isn't to say that Cleanblend blenders won't last but over time the Vitamix will hold up better. A minor negative is that there isn't a lot of difference in speed levels when using the variable speed dial.
Overall Opinion: I first wrote about this blender 5 years ago and it continues to get excellent reviews. Cleanblend is a newer brand and less known by consumers but their blenders continue to perform well in the market.
Click here for Cleanblend current price
How to Make Nut Butter with a Cleanblend Blender :
#3 Ninja Mega Kitchen System – Value Option
Ninja has a LOT of blender models and they are constantly changing their product lineup. Fortunately, they have kept the Ninja Mega blender and it is our top value pick for making nut butters.
The Mega Kitchen System model has a useful range of accessories including a 72 blending pitcher, 8 cup food processor bowl, and 2 16oz single serve Nutri Ninja cups.
Simple controls with pulse, 3 speeds, and single serve smoothie function. To make nut butter with a Ninja Mega blender you would just press the Speed 3 "Crush" button.
Ninja's multi-level blade design on this blender is different than a typical blender blade but the performance is excellent.
Positives: This 1500 watt blender has plenty of power. The various jars and blades make this model a great value if you are looking for an all-in-one food processor and blender. You can make nut butters in either the small food processor bowl or the large 72oz pitcher.
Negatives: Ninja blenders and accessories are constructed mostly of plastic. It doesn't have all-metal gear drive and heavy duty "Commercial use" feel of our top blender choices but that is reflected in the price. You will need extra storage in your kitchen for the various blades, lids, and jars. Ninja only offers a 1 year limited warranty.
Overall Opinion: The Ninja Mega BL770 is still a top seller after 8 years with VERY high customer reviews. It's performs well across a range of blending and food prep tasks and is quite versatile for a reasonable price. A great choice if you don't have the budget for a Vitamix blender.
Click here for Ninja Mega current price
What about Blendtec blenders ?
Blendtec's standard jars are not the best for blending nut butters which is why they offer the Blendtec Twister Jar that performs better with nut butters. You can make nut butter with the full-size Wildside jar but will have to stop and push the ingredients down MULTIPLE times and the blending results for nuts can be inconsistent. Blendtec's dull flat blade design isn't my favorite for nut butters.
The Blendtec twister jar does work but the capacity it limited to 37 ounces and you don't have the ability to manually tamper the ingredients while blending. Continually turning the twister blade while blending can be kind of a nuisance.
Overall, while Blendtec makes excellent blenders I didn't include Blendtec in our list of top blender choices for nut butters as I feel there are better choices for this task.
Final Thoughts

While there are a lot of blenders on the market, I limited the choices to 3 blenders that won't disappoint.
There is nothing more frustrating than trying to blend nut butter and the blender either seizes up or makes a chunky mess. Save the hassle and get a blender that works.
Common Questions
What speed do I use ?
Typically, for making nut butters with a blender, you blend at the highest speed.
Now long do homemade nut butters last ?
They will last months(or longer) if stored in an airtight jar, which is similar to store-bought nut butters that don't have preservatives.
Can you make nut butters in Nutribullet or similar bullet blender ?
Yes, BUT it is a more involved process as you can't use a tamper and you have to use some liquid. It can be a hassle having to stop and unscrew the blade to stir the ingredients. The best tip is to either use a little oil or water to improve blending. Some people will soak hard nuts like almonds overnight before blending in a bullet blender. You will get better results with less hassle using one of the blenders that I listed above.
Can you grind nuts in a blender ?
Definitely. Most blenders can quickly grind nuts by using the pulse function.
Do you have any questions ? Leave a comment below and I will answer them !