Ninja Blender Question and Answer Guide 2023

Due to the many different Ninja blenders and accessories we created this ever growing Ninja Question and Answer Guide. (Updated 2023)
Please leave your question in the comment section below if you have a question that isn't already answered below.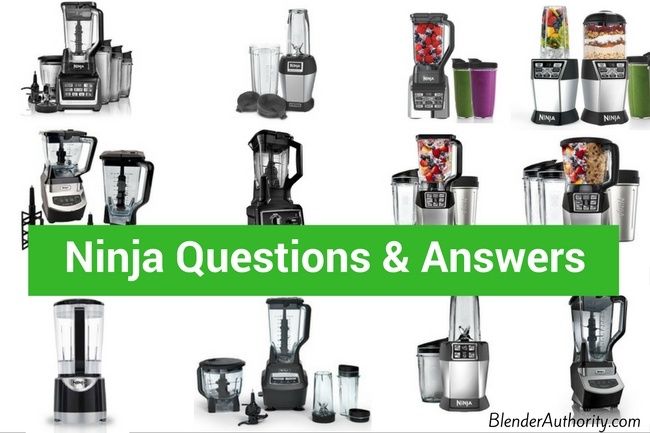 SIDE NOTE –
If you have a question about a
specific Ninja blender model
then visit our HUGE
guide to finding the best Ninja blender
which is continually updated. In that guide we review every single Ninja blender on the market. Please leave specific blender model questions in the comment section of that post.

The list of Ninja questions is getting long so I added a Table of Contents below. Click on a specific question to be taken to it or continue scrolling down to read through all the questions.
How does Ninja compare to Nutribullet ?
Both Ninja and Nutribullet make similar looking personal blenders which are commonly referred to as "Bullet" blenders because of their shape.
In general, both are good but we have a preference for Nutribullet blenders. For more specifics how they compared in our tests visit: https://blenderauthority.com/nutri-ninja-vs-nutribullet/
Who sells Ninja Blenders ?
Ninja sells some of their models directly through their own website and through infomercials. The also sell through a lot of retailers. In fact, it can be very confusing when comparing Ninja blender models because Ninja will make specific model #'s for each big retailer.
Typically Ninja blenders are exactly the same among the different retailers but the model #'s are different because they make a slight change in accessories so that each retailer is the exclusive seller of that exact model.
Typically we prefer buying through Amazon because the price is competitive and Amazon now directly sells many of the bestselling Ninja blender models (Meaning that Amazon cut a deal with Ninja to sell directly). Also, when buying on Amazon you can get inexpensive extended warranties for appliances.
Where to Buy Ninja Blenders ?
As mentioned in the question above, Ninja blenders are widely available but Amazon has the largest selection of models. If you are trying to research a specific Ninja model # that you saw at a retailer then check out our Ninja blender comparison guide which lists every model and explains the differences.
Which Ninja Blender is Best ?
We have a huge guide to Ninja blenders that is continually updated and reviews every Ninja blender to help you decide on which Ninja blender to buy.  Here are our current top model choices
If you have questions that aren't answered in that post to feel free to leave a comment and we will answer them.
Which Ninja Blender is Best for Juicing ?
Ninja blenders are NOT juicers. Juicing means you remove all pulp and leave only juice. You can sort of use a blender as a juicer by pureeing the ingredients and then pouring that through a fine mesh sieve to get the juice.
Keep in mind that a high horsepower blender will typically create a finer blend for straining out the juice compared to a low cost blender. It also really depends on the ingredients you blend to determine how finely it blends.
Consumers can often get confused about Ninja juicers because Ninja markets their products as creating "complete juicing" which simply means it is the entire fruit or vegetable with the pulp (which is not juicing).
See related articles: Juicer Blender Combo reviews and Juicing vs Blending comparison.
Which Ninja Blender is Best for Smoothies ?
All of the Ninja models with the total extraction blade(which work with the Nutri Ninja personal size cups) work well for smoothies. If you want a full-size blender then two good Ninja blender for smoothies are BL660 (Low price) & BL642 (Mid Price)
What is the Newest Ninja blender ?
Ninja has so many different models that they introduce and discontinue and the models will differ among the retailers that sell them. We continually update our guide to Ninja blenders with the new models (see link to the guide at the top of this post).
Can I use Hot Liquids in Ninja Blenders ?
We wouldn't suggest using hot liquid in Ninja blenders. Definitely don't use them in the Nutri Ninja cups because they can build up pressure from the heat and cause harm when opened.
Ninja does say you can use some warm liquids in some of the large blender pitcher but read the instructions for the specific model you choose. Ninja won't turn cold liquids into hot just from blending like Vitamix blenders do.
What is Nutri Ninja ?
Nutri Ninja is just a marketing term for their personal blender blade and cups.
Is a Ninja blender the same as a Food Processor ?
Yes and No. Ninja makes blenders but they have added food processor components to those blenders. Ninja has a lot of models and different blades and pitchers and some of their blenders will work as food processors.
For blending/pureeing ingredients, Ninja has the "total crushing blade" and "Nutri Ninja extraction blade". You can chop or dice with those blades by pulsing the blender but they can be limited in their food processing capabilities.
For food processing, you can get one of the Ninja blender models that comes with separate food processing blades and bowls for added food prep capability. The food processing bowls and containers will have a wide bottom with special blades that work better for food processing. Whereas a blending blade is designed to pull the ingredients down into a vortex for pureeing. The Ninja Master Prep series are popular, affordable option if you want a small food processor that also blends.
Are Ninja Blenders Dishwasher Safe ?
Yes, you can put the containers into the dishwasher but we prefer to rinse with some warm soapy water right after using for longevity rather than put them in the dishwasher.
How to Clean a Ninja Blender ?
As mentioned above, Ninja blender parts are dishwasher safe but we prefer to rinse with warm soapy water. You can blend or pulse with the soapy water in it for quick cleaning.
Why is Ninja Blender Power Light Blinking ?
The Ninja power light will blink if you don't have the pitcher and lid on securely. Ninja has this as a programmed safety feature. Also, if you are using Ninja Auto IQ or pre-set programs then make sure you are using the proper container for that program.
What is Ninja warranty on their blenders ?
Ninja typically has 1 year warranty on all their blenders. We suggest getting an inexpensive extended appliance warranty like this one since blenders overall have more potential for breaking versus other kitchen appliances. You can read warranty details on their website.
Can Ninja cups go in the freezer ?
Yes the Ninja jars and lids are freezer-safe.
Can Ninja Blender make nut butter ?
Yes. Ninja blenders can make nut butters. The Ninja Mega blender is a good choice for making nut butters. The only downside with Ninja blenders is no tampers which are really useful for certain tasks like making nut butter.
If you plan on making a lot of nut butters then a Vitamix blender is worth considering because they excel at that task. Also, the brand new Ninja Chef might be worth considering because it has a tamper and even a nut butter program setting.
Can Ninja blender crush ice ?
It depends on which model you have. Full size models can crush ice especially the models that come with the total crushing blade. The single serve models with Nutri Ninja cups are not designed for crushing ice but they can do so with liquid added.
How to Open Ninja Blender ?
Some Ninja models have a locking lid to prevent the sharp Ninja total crushing blade from falling out when you pour. Just follow the instructions in your manual. The locking lids just have a push button and you line up the arrows to lock in the lid.
How to Sharpen Ninja blender blades ?
We would generally suggest not sharpening your blender blades as you can potentially void the warranty or cause injury. Typically if a blade is not serrated then you can use a standard knife sharpening rod like this one.
Do Ninja blenders leak?
Typically no but if you overfill the pitcher or jar past the recommended levels then you risk the chance of leaking or spilling.
Do Ninja blenders have an exact fill line ?
Yes, there are line markings on the 40oz bowl & 48oz pitcher to indicate the amount of ingredients that can be placed in the bowl or cups. Also there is a max fill line on the single serve cups.
Are Ninja blenders noisy ?
Yes, Ninja blenders can be noisy but they are typical for the market. There are certain blenders that are created for generating less noise but Ninja does not make any specific models for that need.
If noise is a serious concern then check out our guide to quiet blenders for specific models.
Can I grind nuts, seeds, or coffee beans with Ninja blenders ?
Yes. Ideally the single serve Nutri Ninja cups are great for grinding but the full-size pitchers work fine too.
Can I make flour with Ninja blenders ?
Yes.
Are Ninja blender attachments interchangeable ?
NO. Many of the attachments are not interchangeable. Make sure you understand the exact accessories you are getting with the model that you choose. For example, the dough blade, cookie dough paddle, and slicer/shredder attachment will only work with 40-oz processor bowl.
This is one of the biggest issues with Ninja blenders is the lack of uniform accessories across blender models especially since they frequently introduce and eliminate blender models from the market. You can reference their support section of their website if you are trying to get a specific accessory.
Still Have Questions ? Leave them in the comments below.