Best Commercial Blender – Find the best blender for your business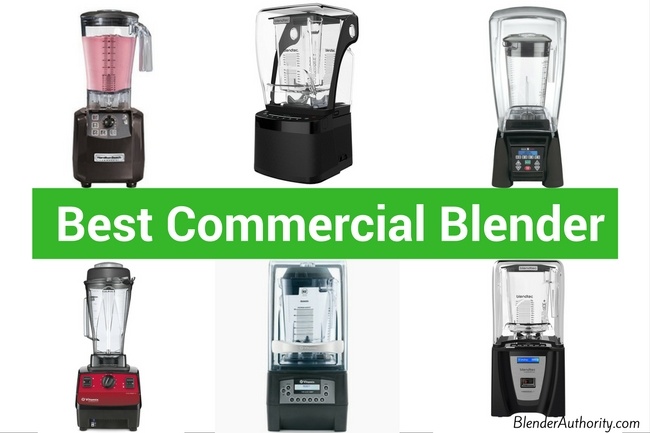 Updated for 2023 – The reason why many business owners are tempted to choose a residential blender over a commercial one is the price. For a business, choosing a residential blender can have major drawbacks in the long run. Although residential blenders look similar to commercial ones and have a lower starting price tag, they aren't designed to handle the high volume use of a restaurant or bar.
In this guide, we will first explain the differences in performance and durability of professional versus consumer blenders. Then we will thoroughly review the best commercial blenders on the market for food prep and making drinks. Our top choices are designed to handle heavy usage on a daily basis and are backed by strong blender brands.

Differences between Commercial and Residential Blenders
Price
First of all, residential blenders have a more appealing price tag for any restaurant or bar owner. While the initial investment can be considerably lower, it is important to note that most blender brands will void their warranty if a residential blender is used in a business setting.
Durability
Commercial blenders are designed for heavy use. Daily usage of more than 50 times is no problem for a quality blender of this category. Safety features concerning blade speed, overheating, and water infiltration are associated with commercial blenders.
The motor has a proper ventilation and cooling system that helps prolong the life of the device while also ensuring good performance. Commercial blenders typically use parts that are made from stronger materials that are easier to maintain. They can be disassembled and reassembled as many times as necessary and can be cleaned multiple times a day without the fear of damaging them. The typical plastic clutch drive of a residential blender is replaced with a steel one that helps the device withstand longer workload sessions.
Versatility
While residential blenders offer some degree of general use, commercial blenders are built for specific tasks. Kitchen food prep blenders can be used with all ingredients, from the smallest to the hardest of roots and whole foods. Bar blenders have very fine blades that will make sure everything you add will be liquefied within seconds so that the next drink can be prepared. Bar blenders typically should not be used in the back of the kitchen for food prep.
Warranties
Blenders produced for home use usually have significantly longer warranty plans. This is due to the fact that they are used with less frequency than commercial blenders and they will deteriorate at a slower rate. Heavy duty professional blenders are built to last for the full warranty period at the maximum strain.
Most commercial blenders come with a two to three-year warranty plan, and some even offer separate repair services for certain parts or maintenance after a specific number of cycles.
Where to Buy Commercial Blenders ?
We linked to Amazon below because they have multiple sellers competing on price and there are independent user reviews about each blender. You can also try buying or comparing prices at your local restaurant supplier or directly from the blender manufacturer. Note- This website does participate in the Amazon associates program and may receive a referral.
Best Professional Blender Reviews
Here are our top commercial blender choices for heavy kitchen use and bar beverage preparations. They are all durable as well as powerful and come with great warranties. They offer amazing quality of life features that will speed up the prepping process and provide consistent blending results.
EDITOR NOTE– Most blender brands have created professional blender models that are designed for specific applications like drinks or food prep so we made a note of that for each bender.
Blendtec Stealth 885 Review  – Best Commercial Blender
This is one of the quietest blenders on the market. We ranked the residential version(Pro 800) as our favorite quiet blender because of its amazing power and low noise. The 885 stealth is the commercial version and it is used in smoothie shops throughout the world. Many consider this model the best commercial smoothie blender currently available. (It replaces the Blendtec 875 Stealth blender which was discontinued)
The award winning Stealth 885 uses Blendtec's stealth design which is a proprietary sound damping and air flow design along with the noise dampening sound enclosure. This blender is a good choice if you don't want to disturb customers at the bar or want to reduce the noise levels in the kitchen.
It is designed to blend a drink in 14 seconds and has a uniquely designed ergonomic handle for easier strain-free pouring.

Positives:
Powerful 3.8 Horsepower motor and rated for 200 blends a day.
Sound shield that significantly reduces noise.
Large 96 ounce capacity.
Well-designed, lightweight stackable jars for ease of use.
Unique blunt blade design so users can't get cut.
Easy operation with variable control speed slider and LED touch display.
42 pre-programmed blending cycles (see manual for list of cycles) with ability to upload new programs using a USB stick.
Very well built with all metal drive socket and proven high-speed motor.
3-year warranty for 200 daily blends
Comes with 2 WildsidePlus blending jars.
NSF certified
Negatives:
No tamper which is useful for food prep.
Overall Opinion: The Blendtec Stealth 885 is a proven workhorse of a blender that has been well tested in commercial kitchens for many years. This blender is QUIET, we mean very quiet. It has amazing customizable controls that allow you to download specific blending programs across all your Stealth blenders if you have multiple units.
The Stealth 885 is not just for drinks but is also designed as a commercial food blender. There are very few negatives for this blender and is our top choice for an overall professional blender.
Click Here for Blendtec Stealth 885 Current Price
Vitamix Quiet One – Runner Up Choice
The Vitamix Quiet One is a popular commercial smoothie blender. The Quiet One has a powerful peak 3 horsepower motor and revolutionary sound enclosure design.
While other brands have introduced sounds enclosures for noise dampening, the Vitamix Quiet One's thick enclosure and rubber footings work amazing well in creating the quietest commercial blender on the market (the Blendtec Stealth is very close).
Quiet One blender offers all the latest features including the new Vitamix Advance container with its no drip pour spout.
For controls it has 6 preset programs, 34 available settings, and automatic shutoff. You can also run it manually with up/down speed control. The simple backlit controls with elevated buttons are great for use in a busy commercial environment including a low light setting such as a bar.
Vitamix Quiet One Demonstration
Positives:
Powerful motor for a 48oz container.
Quietest blender on the market.
Very easy controls with nice functionality.
Easy to remove magnetic sound enclosure for quick cleaning.
Jar has easy pour spout and hole in lid to add ingredients while it is blending.
Motor base has 3 Year warranty. Blade, container and accessories have 1 year warranty.
Negatives:
Smaller capacity than Blendtec Stealth.
No tamper
Some user complaints about the container jumping around and reliability.
Intended as a beverage blender and not as a food processor.
Overall Opinion: The Vitamix Quiet One a solid blender but is designed specifically as a drink blender and not for food prep (For a food prep blender, see Vita-Prep 3 review below). Some view it as the best commercial blender for smoothies.
We gave preference to the Blendtec Stealth 885 over the Vitamix Quiet One because of the versatile programmable controls, reliable performance, higher powered motor, and strong reviews. If you are looking to compare the Blendtec Stealth vs Vitamix Quiet One then read our comparison below.
See Vitamix Quiet One Current Price
Vitamix Vita Prep 3 Review – Food Prep Workhorse
The Vita Prep is Vitamix's time-tested commercial food blender and the Vita Prep 3 (model # 062826) is their newest version with more power and a larger cooling fan for longer running time. The Vita Prep 3 has a 3 horsepower motor versus the Vita-Prep's 2.3 HP.
The Vita Prep 3 is designed for all food prep tasks and is used in commercial kitchens throughout the world. It different than the Vitamix Quiet One blender (see review above) which is designed for mixing drinks.
The Vita-Prep 3 comes with a 64oz container and a tamper which is essential for versatility in the kitchen. It will also work with Vitamix's 48oz and 32oz containers. It has controls that are needed for food prep like pulse and variable speeds but does not offer programmed settings or automatic shutoff (countdown timers) like the Quiet One.
Vita Prep 3 vs Vitamix 5200 comparison – the 5200 is Vitamix's popular consumer blender and it looks identical in design but the 5200 is for residential use with a 2HP motor vs Vita Prep 3 has 3HP. Also the Vita-Prep 3s cooling system is designed for a heavier workload so it won't overheat as quickly as a 5200 would. Finally, using the 5200 in a commercial setting would void the Vitamix warranty. The VitaPrep has a 3 year commercial use warranty versus 5200's 7 year consumer use warranty.
Vita Prep 3 Demonstration
Positives:
Proven workhorse blender that can handle the most demanding food prep tasks.
New 3HP motor design with advanced cooling fan to reduce overheating and shut off.
Vitamix's time tested simple controls with variable speed dial control and pulse switch.
Works with different container sizes
Motor base has 3 Year warranty. Blade, container and accessories have 1 year warranty.
Negatives:
Some complaints of the jar jumping around on the base.
It is loud
Overall Opinion: The Vita Prep has been a proven workhorse blender and the new Vita Prep 3 model is the latest innovation with Vitamix newest motor design. The only downsides to the Vita Prep 3 are noise and it is really for hands-on blending tasks.
It can blend drinks but does not have the useful features that commercial drink blenders offer. If you need a proven commercial food prep blender in the kitchen then the Vita Prep 3 is a top choice.
Click Here for Vita Prep 3 Current Price
Waring Blender MX1500XTX Review
Waring has been making commercial blenders since 1937 and they have a lot of models. Their best commercial blenders are the Xtreme Hi-Power product line which will work for both food and drink blending tasks. The Waring Xtreme blenders use a high-powered 3.5 peak horsepower motor. The different models in this product line vary based on controls, jar size, and accessories.
The MX1500XTX is the top model in Waring's Xtreme Product line with the latest features like LCD screen with re-programmable blending programs, sound dampening enclosure, large 64 oz container and high RPM motor. (This new model replaces the MX1500XT) The new jar design allows for a better flow during the blending process, and the new and improved razor-sharp blade allows for faster preparation of your favorite drinks, foods, and desserts.
Positives:
Powerful 3.5 Peak HP motor operates up to 45,000 RPM
The electric controls can be easily cleaned
LCD blue light screen with re-programmable beverage stations
Adjustable speeds
Shorter blending time and smoother consistencies than its predecessors
Can display the daily drink counter
New sound enclosure system
120 VAC, 60Hz
Limited 3 year Motor and 2 year Parts and Labor Warranty
Negatives:
Doesn't have a countdown timer.
Sound enclosure doesn't work as well as our top choices.
Some user complaints about reliability.
Overall Opinion: The Waring is more affordable than our top choices but we prefer the reliability and design of the Blendtec and Vitamix models above for heavy commercial usage. The Vitamix or Blendtec are quality choices if you will be using the blender in a high volume blending environment such as a coffee shop, smoothie store or bar.
If you are aren't going to be using a commercial blender as frequently and you are on a budget then the Waring might be a good option for you. The MX1500XTX has the top features among the Waring models but a less expensive option is the MX1200XTX blender.
The MX1200XTX is the same blender as the MX1500 XTX but doesn't have the sound enclosure, programmable controls or LCD screen. The MX1200XTX is well priced with good user reviews.
Click Here for Waring MX1500XTX Current Price
Hamilton Beach Tempest Commercial Blender Review
Without a doubt one of the most popular blender brands is Hamilton Beach. The company offers a LOT commercial blenders and they separate them into bar blenders and high-performance blenders.
Among the commercial high-performance blender models, the Hamilton Beach Tempest HBH650 is a popular model. It is designed as a beverage blender.
This design is perfect for bars more so than restaurants because it has specific features to make life easier for bartenders and it doesn't do the best job of processing whole or tough foods.
The Hamilton Beach Tempest has some unique design features with a container sensor, unique wave-action blending container, and overheat protection.
Positives:
Jar pad sensor that can turn the motor off when the container is not properly placed
3-HP motor
2-year warranty for parts or at 20,000 cycles
A stackable 64oz container
Easy to clean
Timer with automatic shutdown that provides a better workflow and prevents wear and tear
2 speeds and pulse option
Designed for busy bars
Negatives:
Not designed for use in the kitchen and food prep.
No programmable speeds
Overall Opinion
The Tempest HBH650 is a good blender and Consumer Reports said it performed "very good" in overall performance but we did read a couple complaints from users who had issues with it. The Hamilton Beach Tempest has some nice features as a beverage blender, but we prefer one of our top choices above for reliability and high volume usage.
Click Here for Hamilton Beach Tempest HBH650 Current Price
Blendtec vs Vitamix Commercial Blenders
Both brands have multiple commercial blender models:
Blendtec commercial line includes the Stealth 885, Connoisseur 825, Chef 775, Chef 600, and EZ 600 with the Stealth 885 being most popular. EDITOR NOTE – The Blendtec 885 replaced the popular 875 Stealth blender model. They are identical except that the new 885 model has an updated tactile control interface for ease of use.
Vitamix splits its commercial blender line into commercial beverage blenders and commercial food prep blenders:
Vitamix beverage blenders are: The Quiet One, Drink Machine 2 speed, Drink Machine advance, Touch and Go(T&G) 2 Blending Station, and Blending Station Advance
Vitamix commercial food prep blenders are: Vita-Prep3 and Vitamix XL
High volume smoothie and coffee shops commonly use either the Blendtec Stealth or Vitamix Quiet One. Both are excellent with slight differences which we compare below.
Blendtec Stealth 885 vs Vitamix Quiet One Comparison
NOISE – Vitamix is slightly quieter than the Blendtec. The noise difference is very small and it is worth pointing out that Blendtec has a more powerful motor.
EASE OF USE – Vitamix Quiet One sound enclosure is attached magnetically and is very easy to remove and clean. It has a nice sound dampening pad for the sound enclosure jar to sit on.  Blendtec's Stealth sound enclosure is similar but doesn't have the dampening pad. Both blenders use square jar design but the Vitamix has a nice easy pour spout.
CONTROLS – Vitamix Quiet One's simple touch button controls are visibly easy to use and it has the option to control it manually or with presets. Blendtec touch interface with simple variable speed slide controls is truly unique and simple to use in a busy commercial setting. The biggest difference for Blentec's stealth is their controls which are fully programmable and easy to adjust for your specific business needs. Blendtec's programmable controls can be very convenient if you are consistently making the same drinks throughout the day.
THE WINNER ? Overall you would be fine with either blender but we give a slight edge to the Blendtec 885 for the extra power, more variety, and customizable controls.
Other Commercial Blenders We Considered
Vitamix XL review : The Vitamix XL is very powerful with an amazing 4.2 horsepower motor and large 1.5 gallon(192 ounce) container. We didn't include the Vitamix XL among our top picks as it is really intended for a specific user that needs to blend large quantities at a time. It is worth considering if you need a blender that can handle large volume batches. If you really want a Vitamix commercial blender then we prefer Vitamix's Quiet One or Vita Prep 3 (see reviews above). Click here for Vitamix XL Current Price
Vitamix Touch N Go 2 Review : Good for small volumes with a 32oz container. Peak 2 horsepower motor. Advanced controls with 6 optimized preset programs, 34 available settings and automatic shutoff. Uses a noise reduction enclosure.
The Vitamix Touch and Go 2 is a good blender with nice features but the 32oz container can be very limited in a commercial setting. Designed for making single serving smoothies and frozen drinks. We would prefer the our top choices above which have more power and larger capacity for not much more in price. Click here for Vitamix TouchNGo 2 Current Price
Vitamix Blending Station Advance Review : This blender has a 3 horsepower motor which is an upgrade to the Touch and Go 2 horsepower blender mentioned above. It offers similar controls to the Quiet One blender.
It uses a 48 oz container with their new easy pour design. The Blending Station does have a sound enclosure but is noticeably louder than the Quiet One. Also the Quiet One sound enclosure is simple to remove with no tools but the Blending Station advance sound enclosure requires removing screws. Overall, we feel the Blendtec Stealth or Vitamix Quiet One offer better features than the Blending Station Advance. Click here for Vitamix Blending Station Advance Current Price
Blendtec Connoisseur 825 :  Blendtec rebranded their popular Q Series commercial blender into the Connoisseur 825. The 825 is a high quality blender but the Stealth 885 offers more features, better noise reduction, and a wider range of applications.Click here for Connoisseur 825 Current Price
Vitamix Drink Machine Two Speed : (Model #062828) This is Vitamix's lowest cost commercial blender and is a great bar blender where you just need a basic heavy duty blender for making drinks. Vitamix improved on this blender with a new 2.3 horsepower motor and they reduced the sensitivity to overheating. This model is cost effective but not as powerful as our top choices and is more limited in its applications with very basic controls. Click Here for Vitamix Drink Machine Current Price
Final Thoughts
We hope this guide to finding the best commercial blender will help you in choosing a model that works best for your needs whether it is a drink blender or food prep blender.
We feel that our top choices listed above offer the best performance, features and reliability for a business. If you were looking for a commercial blender for home use we would suggest get the residential version which have similar power and longer warranties.
In conclusion, we like the Blendtec Stealth as the best overall but the Vita-Prep 3 is a good choice if you just need a food prep workhorse.