Best Blenders with a Glass Jar in 2023

In the past, glass jar blenders were the industry standard, but over the years many manufacturers have transitioned to using plastic containers. The main reason for this switch to high strength plastic is due to the increased power and speed that modern blenders operate at.
While the choices for glass blenders are limited, we did find some solid choices after analyzing blender tests, user reviews, and industry reports to put together this list of the top glass blenders on the market. (Updated for 2023)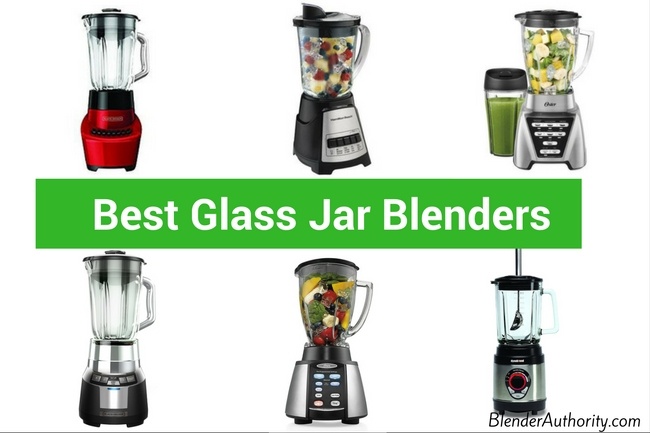 In a hurry? Here are our top choices:

Glass vs Plastic Jar Blender
Plastic pitchers are more popular with blender manufacturers nowadays because they are shatterproof and tested to withstand the high speeds of modern blenders. Therefore, blenders with glass pitchers will typically have less power.
Why Does Vitamix use Plastic Containers ?
Top rated blender manufacturer, Vitamix, states
"Currently, we have not found a suitable glass container design to meet the strict safety and performance requirements that Vitamix places on its products."
(
source
)
NOTE
– in 2020 Vitamix introduced its new
Stainless Steel container
as an alternative to plastic.
The advantages of glass pitchers are scratch resistance, clear transparency, and they do not absorb food odors.
They also do not contain BPA compounds which are found in some plastic products. BPA is said to pose some health risks, although the FDA continues to say BPA is not hazardous.  Most blender companies including Vitamix, Blendtec, and Ninja use a BPA-free high-impact plastic called Eastman Tritan. For more on the BPA free debate you can read this article and this study. Since you are here, I assume you have already decided on buying a glass, BPA free blender.
The above reasons are driving some consumers to the glass pitcher varieties. While the choices are more limited, there are some excellent blenders with glass jars on the market. This article will help you choose the best model that combines functionality and meets all the requirements below.

Glass Jar Blender Criteria to Consider
1. Amount of Power
Many glass container blenders have lower power because of the concern that glass is not completely shatterproof. Therefore, there is a tendency by manufacturers to make glass container blenders with a low power rating to avoid potential cracking of the pitcher.
In this regard, many glass blenders can be under-powered for certain blending tasks such as making nut butter and  pureeing hard ingredients(raw vegetables, nuts, seeds).
2. Features
Most blenders come with a number of speeds and preset programs to allow for ease of use and better performance. The preset programs are a nice feature to have for hands-off use and  for achieving a consistent blending result.
3. Pricing and Reliability
A good blender should be priced adequately and backed by a reputable blender manufacturer. Poorly made blenders can overheat and have a short lifetime so you want to find reputable brands that provide a good balance of performance and price.
The above criteria along with blender test results and consumer feedback were considered in selecting the following list of best blenders with glass jars:
#1 Oster Pro 1200 Blender – Top Pick for Glass Blender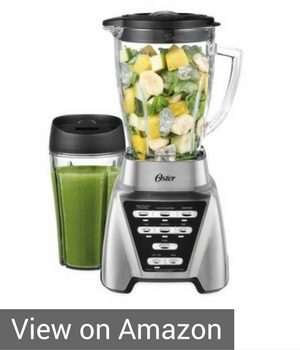 This blender operates at a peak of 1200 watts (1.6 horsepower) and is the most powerful of the glass jar blenders on this list.
The reviews are very good with frequent user comments stating that it is 'able to smoothly blend all ingredients'. Consumer Reports said the Oster Pro 1200 tested very good in overall performance.  It comes with 6-cup silicate glass pitcher that is both temperature and stress resistant. It also included a 24oz smoothie blending jar.
It features seven controls that include; three-speed modes(low, medium and high), pulsing mode, and preset programs for smoothies, chopping, and milkshakes.
The Oster Pro 1200 has a reversing blade action so you do not need to stop and turn the ingredients. It performs well with heavier tasks like crushing ice and making green smoothies.
Customers reviews say this blender is easy to move around the kitchen and can easily fit into kitchen cabinets.
Positives: The Oster Pro 1200 has good power for a glass jar blender. It provides nice features for the money and is well built with a good warranty.
It provides useful preset speeds for ease of use and rates well among consumers.
Negatives: Despite its high power, it cannot mill flour or prepare nut butter as well as a high-powered blender but it does pretty well with a little help. A small negative is that it is heavy.
Overall Opinion: The Oster Pro 1200 is the top pick among glass jar blenders and is a bestseller on Amazon. It provides good performance for the price as well as nice features. The silicate resistant glass and all metal blade assembly are well built. It provides a solid 3-year warranty for blender parts and 10-year warranty for the motor and metal drive shaft.
Click Here for Oster Pro 1200 Current Price
#2  Hamilton Beach Power Elite 58148A – Best Value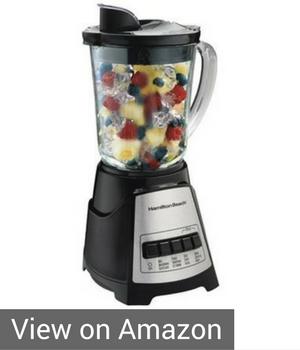 The Hamilton Beach Power Elite was our top budget blender pick for best blender under $50.
I ranked it #2 on this list because it is a little weaker in performance than the above blender, but is an excellent choice if you want a cheap glass jar blender for basic blending.
The Power elite blender has a 700-watt motor and 40oz heat and shock resistant glass container. It uses Hamilton Beach's "Wave Action System" and performs well for making smoothies, crushing ice, and simple blending tasks.
Positives: Hamilton Beach Power Elite 58148A blender is a nice blender for the price and includes a solid 3-year warranty. It has 1000's of reviews and the user feedback is very positive about the performance of this blender.
Negatives: It doesn't do well at pureeing difficult ingredients like hard vegetables. Not intended for difficult blending jobs like blending hard raw vegetables, grinding flour, and making nut butter.
Overall Opinion: Best value blender with a glass jar. The Hamilton Beach 58148A is the best performing model among the other comparable Hamilton Beach blenders. It is a solid blender for general blending needs and might take a little more blending time for more difficult tasks. Overall, a good blender for the price. It should last as long as you use it properly. Consumer Reports rated it "Fair in Overall performance" and there are extensive reviews confirming that this blender performs well for the price.
Click Here for Hamilton Beach Current Price
#3 Oster Reverse Crusher Counterforms Blender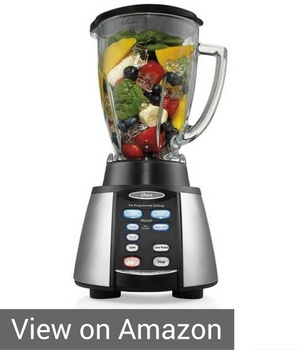 The Oster Reverse Crush Counterforms BVCB07-Z00-000 blender has been around since 2007 and provides a nice balance of performance for the price. It uses a Boroclass heat and stress-resistant glass pitcher with six cup capacity. It provides 1000 watt of peak power with 600 blending watts for continuous blending or crushing ice.
Just like the Oster Pro 1200, it also has reverse blade action technology to move ingredients around for more consistent blending. This feature is built into the controls so you do not have to flip a switch to reverse the blades.
It has seven-speed settings. Apart from the glass pitcher, the rest of its body is made of stainless steel which gives it a nice look. Its stainless steel 6-point blade can handle heavy duty tasks such as crushing ice, making salsa or chopping vegetables.
The smart setting programming is one feature that has been described as "amazing" by customers who have used it. With this feature, you just press a button and it will do whatever blending task that you have commanded it to do without any further interference from you.
Positives: The glass pitcher is shatterproof. The reverse blade action control is a great feature. It is priced very competitively.
Negatives: The downside to the Oster Counterforms blender is it is more limited in its blending capability. It will do fine for most smoothies, milkshakes, making salsa, and basic blending tasks but it can't handle heavy duty blending and horsepower-intensive tasks like soups, milling flour and making nut butter. It also does not come with a tamper so you will have to stop and stir some ingredients.
Overall Opinion:  The Oster Reverse Crush Counterforms blender offers nice features for the price especially if you want a glass pitcher. For only a tiny bit more money I would go with the Oster Pro 1200 which has more power and a sturdier feel.
Click Here for Oster Counterforms Blender Current Price
#4 Ninja Foodi HB152 – New Design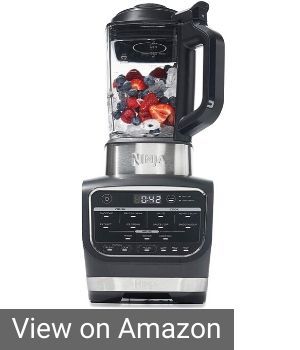 This is the only Ninja glass blender currently available and is new on the market in late 2019.
The Ninja Foodi Hot and Cold blender has a 64 ounce glass pitcher and uses a powerful 1400 watt peak motor. The most unique feature of this blender is its built-in 800 watt heating element to make soups, saute, and cook.
Positives: Consumer love this model so far and it has a lot of the most popular features from prior models like preset Auto-IQ programs. Good power and the wide jar offers more versatility for blending ice and food prep. Built-in heating element allows you to make hot recipes and cook ingredients within the pitcher.  I also like that is has a tamper which is essential for thick recipes.
Negatives: It is new on the market so there haven't been feedback about long-term durability. It is loud. The wide jar can make it harder to create a blending vortex for small-batch recipes.
Overall Opinion: Unique appliance that allows you to blend anything, do food prep, and make hot recipes like soups and sauces. Ninja has a lot of blender models but this is the only one with a glass pitcher.
It is well priced and I really like the design and features of this blender. Overall, a good option if you want a full-size, high powered glass blender with the versatility to do more than just blend drinks.
Click Here for Ninja HB152 Current Price
Close competitor to the Ninja Foodie is the
Instant Ace Nova Blender
made by the popular Instant Pot company. It is new on the market and has good reviews. It has a glass jar and similar functionality to the Ninja Foodie blender but we went with Ninja as they have more experience manufacturing blenders and the Ninja model has slightly more power and capacity.
Alternatives to Glass Jars ?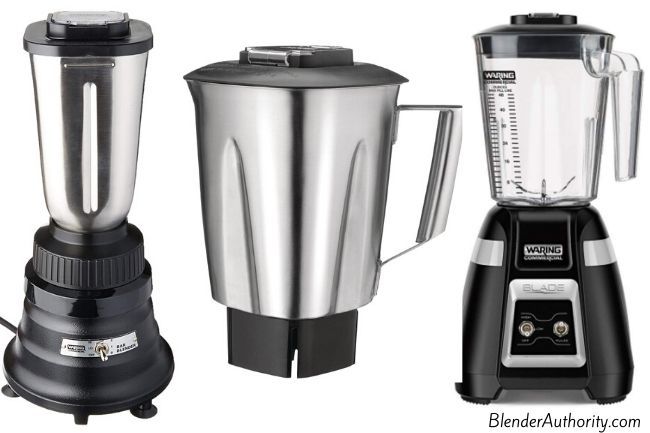 If you really want a more powerful blender than ones we listed above and don't want a plastic jar then the best alternative is a stainless steel pitcher. Waring brand has some excellent professional strength blenders (better than their consumer blender models) that you can get with a stainless steel pitcher. Both models below are excellent for blending smoothies and drinks.
2 high-powered models with stainless-steel jars to consider are:
Glass Blenders That Didn't Quite Make the List
As already mentioned, there are not a lot of choices for glass jug blenders, but there are a few more that didn't quite make our list for various reasons.
They might be worth considering depending on budget and preference so I will briefly mention them below.
Braun Pure Blender
The Braun Puremix JB7350 glass jar blender is quite powerful with 1000 watts. The user feedback is too mixed with a lot of complaints about reliability.
Waring Professional Kitchen Blender
Waring is a well-known blender brand that has been around a long time and is known for using glass pitchers. The Waring Professional Kitchen WPB05 blender is their best selling glass blender but I didn't include it because the reviews are mixed on how well it blends. It isn't as well made as their professional blender line that we list above. In independent performance tests, this model only did "fair" overall. Some people love the quality and simple controls of Waring blenders, but their glass models seem underpowered (350 watts) relative to competing brands.
KitchenAid 5-Speed KSB565
The KitchenAid 5-Speed KSB565 is the first offering by Kitchenaid with a glass jug and was introduced in 2011.
It has 740 watts of power and is marketed as a commercial quality premium blender with a 48 oz. glass capacity pitcher blender. It has other nice features but there are a couple design issues that users have complained about which is why I didn't include it in the list of best glass blenders. The design flaws are complaints about are the jar design makes it hard to clean and that the blade assembly leaks.
Electrolux Expressionist Blender
The Electrolux Expressionist ELJB56B8PS was rated by Consumer Reports with an solid "80" overall rating, which is the same rating as the popular Blendtec Designer 725. Consumer Reports is known for its rigorous blender tests and the Electrox Expressionist performed well in their smoothie and durability tests. It had moderate test ratings for crushing ice. It offers 900 watts of blending power and uses a tempered glass pitcher. My only reason for not including this blender as a pick for best glass blender is because the user reviews are very mixed about it breaking.
Tribest DB-950 Dynablend Clean Blender
The Tribest DB950 is a 60oz capacity glass pitcher blender with a 820 watt(1.1 horsepower) motor that can achieve speeds of up to 23,000 rotations per minute.
Tribest DB850 vs DB950: The two blender models look identical. The DB950 is an improved update to their DB-850 model. The DB-850 had problems with their plastic blade assembly breaking. The Tribest 950 model fixes that design flaw by using a metal blade assembly.
So far the reviews on the newer 950 are better than the older 850 model. The other small complaint is some users experienced a strong plastic smell despite using a glass pitcher.
Overall, the Tribest Dynablend is about 2x the price of the Oster 1200 with similar power. The Dynablend DB-950 has good performance and I do like their 10-year warranty but not sure about the long term quality of the Tribest Dynablend DB 950 for the high price.
Black and Decker BL1110RG
The Black and Decker BL111RG is low-priced that well very well. 48 ounce(6 cup) glass jar and 550 watts of blending power. It performs pretty well but we prefer our top choices over this blender based on price, performance, and durability.
Cuisinart Glass blenders
There are a few Cuisinart blenders on the market that use glass(models CBB-550SS and BFP-703BC). Cuisinart blenders have a nice design and power but we excluded them from our top choices due to concerns with durability. There are multiple complaints about overheating and parts breaking within the first year.
Final Thoughts
As mentioned, many blenders have transitioned over to plastic jars as the power and speeds have increased, so the choices are limited if you want glass.
The brands that I have listed above all have something to offer you in terms of performance and price.
The Oster Pro 1200 is my top pick for performance and it is well priced. The Hamilton Beach is a more affordable option if you just want an inexpensive small glass blender. For more power and features then the Ninja Foodie is good choice.