Nutri Ninja vs NutriBullet – What is our favorite bullet blender in 2018 ?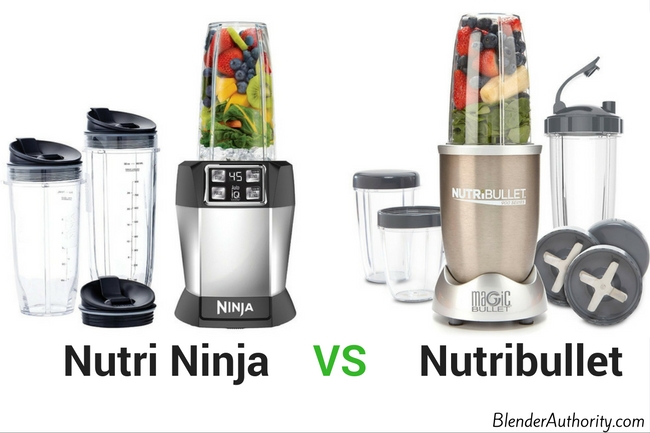 2018 Update:
This post is continually updated
based on personal use and any changes to product models.
We have used both Ninja and Nutribullet bullet blenders extensively
and added new videos to our Youtube channel and below demonstrating how these blenders performed.
If you are in a hurry, this Nutribullet model is our top pick.
The big matchup in personal blenders continues to be Nutribullet vs Nutri Ninja Pro, probably because they both run a LOT of advertising through infomercials.
I write a lot about blenders and it can be a little confusing trying to figure out if the fancy marketing terms like "Auto IQ", "Pro Extractor Blades", or "Nutri Blast" actually mean anything.
To be honest, both are really just personal blenders so they are smaller than a typical countertop blender and their main job is to make smoothies. Yes, they claim to crush ice, nuts, seeds, make nut butter, etcetera…..but let's be honest….most people use them for smoothies.
The big question is do Nutribullet or Ninja bullet blenders work better in helping you make smoothies ?
In this review, I will answer all of your questions when comparing Nutri Ninja vs Nutribullet personal blenders. I have personally used both blenders and share my thoughts in the review below.
Ninja vs Nutribullet Brand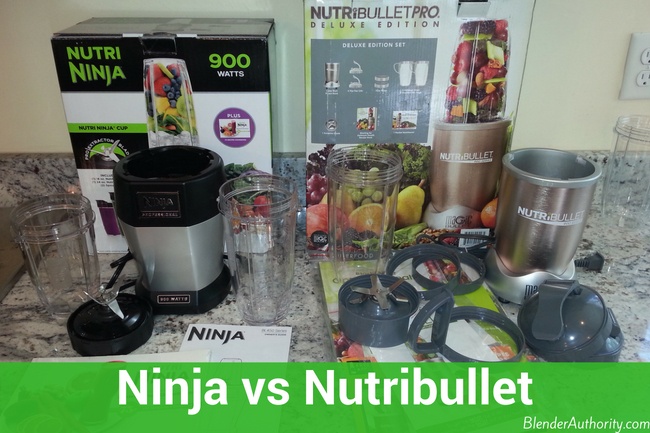 Ninja is a sub-brand of SharkNinja LLC which makes blenders, food processors, and coffee makers. Whereas, Nutribullet is focused on manufacturing compact blenders where they started with the Magic Bullet blender and then added the Nutribullet product line.
When comparing Ninja vs Nutribullet brands, it can get a little confusing because they each have multiple models.
Nutribullet has 3 similar models (related article: Nutribullet 600 vs 900 vs RX) and Nutri Ninja has 4 similar models (Nutri Ninja BL450, BL 451, BL 455, BL 456). Some people refer to the Nutri Ninja product line as Ninja bullet blenders because of the design shape and similar look to Nutribullet blenders.
Nutribullet blender models have different motors, blending capacity and features so they are more varied among the models compared to Nutri Ninja.
Ninja has 2 Personal Blender lines:
1. Nutri Ninja Pro line has 4 models (BL450 / BL451 / BL455 / BL456) which are very similar with some different accessories like cups and recipe book.
2. Nutri Ninja Auto IQ personal blender line (BL480 / BL481 / BL482). The 3 AutoIQ models all use the same exact blender. The BL480 is the base model, the BL481 adds 1 32 oz Jar, and the BL 482 has an extra Recipe book.

Originally this review compared the Nutri Ninja Pro vs Nutribullet Pro 900 since they have the same speed motors and pricing. We have now added the Nutri Ninja Auto IQ blender into this comparison.
Nutribullet Pro –

TOP PICK
Positives: In our blending tests, the Nutribullet Pro performed better than the Ninja. Another positive of the Nutribullet is that it has a large 32 ounce capacity. Capacity is worth considering because it means it can hold more raw ingredients for blending down to a finished smoothie. Nutribullet's unique blade design works very well for grinding, chopping, and blending.
Nutribullet comes with many jars and a very nice recipe book for easy use. (We love the Nutribullet nutrition book and recipe guide). It has more RPM(rotations per minute) 25,000 compared to Ninja BL450 RPM of 21,000. Ranks at the top of personal blender comparison tests for blending performance. Good consumer reviews.
Negatives: Blades are not designed for blending ice only. The blade isn't dishwasher safe so the blade's rubber gasket can trap food under it if you don't clean it after use.
Overall Opinion: I have used the Nutribullet Pro for years and love it. It comes with a nice set of accessories and I love their easy recipe book. Nutribullet has sold millions of blenders and the 900 Pro is the most popular model with a good overall rating from independent tests and consumers.
Click Here for Nutribullet Pro Current Price
Nutri Ninja Pro Review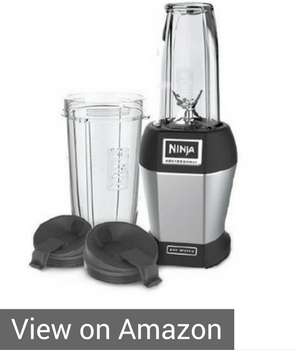 Positives: The Nutri Ninja Pro has a nice 900 watt motor which is plenty of power for a 24 oz jar. Some people prefer the Ninja blade design versus Nutribullet's blade. For actual blending results I found that the  Nutribullet Pro slightly outperformed the NutriNinja Pro for smoothie quality.
Negatives: The Nutri Ninja 900 comes with a smaller (24 ounce) jar which can be limiting. If needed, the 32oz jar is available for an extra cost. I don't like how you have to hold the cup down on the Ninja blender during the entire blending time versus the Nutribullet where you just lock it down and it blends. The Ninja comes with a small recipe book relative to Nutribullet's. Nutri Ninja blender has slightly less motor speed than Nutribullet.
Overall Opinion: The Nutri Ninja Pro is a pretty good compact blender and is reasonably priced. It is a more basic version of their Auto IQ model. It has 4.5 star rating on Amazon. I have experienced slightly better blending results for smoothies with the Nutribullet Pro compared to the Nutri Ninja and I prefer Nutribullet's blade design for milling and chopping (see videos below).
Other minor issues of the Nutri Ninja are needing to hold the jar down to blend and the smaller 24 oz jar. 24oz cup will make about 1 pint size glass of finished smoothie. The NutriBullet comes with a better nutrition/recipe book and guide.
Overall the Ninja Pro is a simple low priced bullet blender that offers pretty good performance. For a little more money I prefer the blending performance and design of the Nutribullet 900(see review above). Also, there is the Ninja AutoIQ(see review below) which has more features and larger capacity than the Nutri Ninja model.
Click Here for Nutri Ninja Pro Current Price
NutriNinja Auto IQ BL 482 Review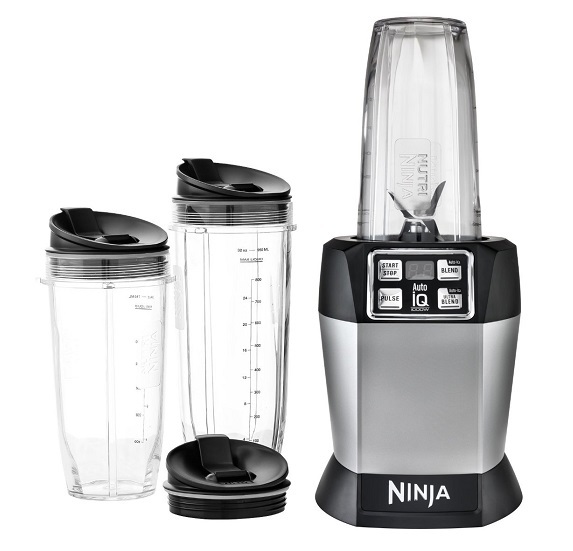 Positives: Comes with a large 32oz cup as well as an 18oz and 24oz cup. The nice improvement in the Auto IQ line is the ability to lock in the cup to the base when blending so you don't have to hold it. The biggest differentiating feature of the Auto IQ is the pre-programmed settings which the Nutribullet and original Nutri Ninja Pro blender that I reviewed above don't have. Ninja blender can easily crush stand-alone ice cubes which Nutribullet's blades are not designed to do.
Auto-IQ has 3 button functions: Blend, Ultra Blend, and Pulse. For smoothies, just press the Blend or UltraBlend button and let it go. For pulse, it is more for chopping not purifying.
Blend is for blending fresh fruit, leafy greens, and yogurt.
Ultra Blend is for frozen fruit and ice, harder vegetables like kale and carrots, and Nuts & seeds
Pulse is when you want more control over the blending and don't want to purify the ingredients like salsa or chopping nuts.
Negatives: Some users commented about the blades breaking on this blender but that seems to be a rare event. NutriNinja IQ has 1000 watt motor but the RPM(revolutions per minute) is still 21,000 so you don't really notice a change in the slight increase of wattage compared to the Nutribullet 900 or NutriNinja BL450 which have 900 watt motors.
Overall Opinion: The BL482 is a solid blender and has very high consumer reviews. The Nutri Ninja Auto IQ adds some nice features that the original BL450 was lacking. It's a good blender and about the same price as the Nutribullet 900. The Nutri Ninja BL482 is a good personal blender for the price with preset programs and will work great for smoothies, but I feel the Nutribullet generates slightly better blending results.
Click Here for Ninja BL482 Current Price
.
Do you need Auto IQ ?
Some people really like the Auto IQ function but personally I don't. It really is a personal preference.
The reason I don't is that the Auto IQ is just a timed blending sequence and doesn't adjust for the amount ingredients you are blending.  Also, I sometimes add ingredients like protein/superfoods or adjust the liquid amount after the initial blend so using the timer isn't really necessary for me.
In general, having the electronics and various speeds makes more sense to me on a full-size countertop blender where you are using it for more things. A personal blender is generally just for making smoothies and I don't need extra speeds or fancy features to make a smoothie. Finally, I prefer to have less electronics on my blender so I have less chance of something breaking.
The BL482 works fine and is great if you follow recipes and just want a hands-off timed blender. It really is just a personal preference if you want programs or not.
If you want more details and specifics on the 3 blenders then read on below.
Comparison of Nutribullet vs Ninja Blenders
| Feature | Nutribullet 900 Pro | NutriNinja Pro | NutriNinja AutoIQ BL482 |
| --- | --- | --- | --- |
| Motor Strength | 900 Watt/1.2 HP | 900 Watt/1.2 HP | 1000 watt/1.2 HP |
| Speeds | 1 + Manual Pulse | 1 + Manual Pulse | 2 + Automatic Pulse |
| RPM | 25,000 RPM | 21,000 RPM | 21,000 RPM |
| Capability | Puree,Blend,Grind,Chop | Puree,Blend,Grind,Chop | Puree,Blend,Grind,Chop |
| Blend Capacity | 32 oz | 24 oz | 32 oz |
| Warranty | 1 year | 1 year | 1 year |
Bullet Blender Blending Test
Blade Design
You can see in the Nutribullet vs Ninja blending test video above that despite having a similar 900 watt motor, the blending results do vary between the brands. Some of this performance variation I believe is because of the blade design difference.
You can see the blade design difference in the picture below. Ninja has a conventional 4 prong blender blade design whereas Nutribullet has a 6 prong design. The 2 lower blades on the Nutribullet blade are very useful for milling and grinding dry ingredients. It seems that Nutribullet's longer, wider blades mix the ingredients better when blending.
A small difference worth mentioning is that the Nutri Ninja has reverse threads compared to the Nutribullet. The Nutri Ninja cup is threaded on the inside versus the Nutribullet has the threads on the outside of the cup. If you use the cups to drink from (and not just blend with) then you might not like having the Nutri Ninja's grooved threads on the inside of the cup.
Performance wise, we have experienced slightly better blending results with the Nutribullet blender and Nutribullet blade design.
Accessories
Below I list all of the accessories that come with the various Nutribullet Pro packages, Nutri Ninja Pro package, and the Ninja AutoIQ BL482. (UPDATE- See unboxing video below where we show what comes with the popular Nutri Ninja Pro BL456 and Nutribullet Pro Deluxe packages)
The extra accessories in the 15 piece Nutribullet pro versus the 9 piece are in bold with an * for quick reference.
(The 9-piece Nutribullet & NutriNinja are about the same price. The 15-piece Nutribullet pro is slightly more and the Ninja AutoIQ is more than the Nutribullet)
2018 Update
– The
Nutribullet Pro 900 13 Piece set
is the
most popular Nutribullet 900 set
which includes: 900 Watt Motor / 2 Flip-top Lids / 2 Colossal Cups / Hard Cover Recipe Book / 2 Handled Lip Rings / 2 Comfort Lip Rings.
The 15 piece set is not as common but it includes an extra blade and 18 oz cup. Otherwise the Nutribullet Pro 9-piece set below is the lowest priced option.
Accessories for each model
Ninja BL456 and Nutribullet Pro Deluxe Package Unboxing
Final Thoughts
OK, you now have a full understanding of all features and differences of the Nutribullet Pro vs Ninja Auto IQ blenders. Overall, I prefer the Nutribullet Pro because it offers better performance, more solid feel, and I like the Nutribullet recipe book.
–> Click Here for Nutribullet Pro Price
The entry level models from each company (Ninja BL456 & Nutribullet 600) are slightly cheaper but if making smoothies is your focus then I would go with the Nutribullet Pro.
Regarding Ninja's Auto IQ, I personally prefer keeping it simple with the manual control of the Nutribullet and less risk of the electronics going bad on the Ninja IQ but many people LOVE the Auto iQ and the Ninja BL482 continues to be a top seller.
If you want to compare the Nutri Ninja personal blender to other Ninja blender models then visit my Best Ninja Blenders post which is a HUGE resource guide analyzing every single Ninja model.
Both companies have a standard 1 year manufacturer warranty but you can also look into getting a very affordable extended warranty on Amazon.com which are very popular. If you decide to buy the Ninja Auto IQ blender then an extended warranty is a good idea because it has electronics (especially if you are going to be using it a lot).
I hope you found this Nutri Ninja vs Nutribullet review helpful. Please share and comment below if you have any questions.
Summary
Reviewer
Review Date
Reviewed Item
Ninja vs Nutribullet Review
Author Rating