Can You Freeze Smoothies? 6 Time-Saving Tips for Smoothies on the Go
Smoothies are an increasingly popular healthy snack alternative and are even becoming the go-to nutritious breakfast option as they offer a simple way to increase the number of vitamins and nutrients you eat in a day.
If you want to get in as many essential vitamins and nutrients as possible by having a smoothie but do not always have the time to prepare one, then this is the guide is for you.
Smoothies do not have to be complicated. In fact, some smoothies can have as little as three ingredients. Nevertheless, sometimes it can be a pain to make your smoothie and have it ready for when you are on the go or in a hurry. Here are our favorite time-saving tips for smoothies on the go.
Can You Freeze Smoothies?
First thing's first, can you freeze your smoothies? Yes, you can. In fact, freezing smoothies can be a great way to cut down on preparation time. By opting to freeze, say, a week's work of smoothies, you can save the time it would take you to make a smoothie every day.
There are two ways to go about freezing smoothies: the pre-made, pre-packaged method and the ice tray method. Both of these methods yield the same results. The difference comes down to freezer storage and space.
The Pre-Made Method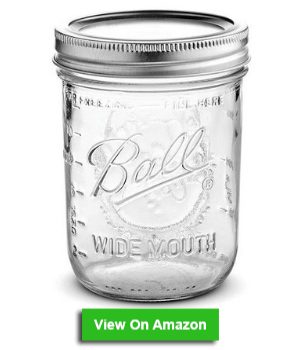 If you like the idea of making a large batch of smoothies to have ready to go for an entire week then the pre-made method will be right for you. With this method, you make a large batch of your favorite smoothie recipe and divide it into individual servings in freezer-safe jars or containers.
Having an airtight container is essential for the pre-made method. Using freezer-safe airtight containers like mason jars can help safeguard your smoothie from any freezer burn. 16oz jars are a good size and the wide-mouth jars (like these) without the curve on the top of the jar work better for freezing liquids.
For any jars, just make sure that you leave some room at the top of the container to allow your smoothie to expand as it freezes.
Just move one of the frozen smoothie jars to the refrigerator before you go to bed and you will have a thawed, cold smoothie ready to go in the morning.
The Ice Tray Method
The ice tray method is a little less conventional than the above method but is fun for kids. Unlike the pre-made method, the ice tray method takes up less valuable freezer space because they stack on top of one another. Just like the pre-made method, you start by making your favorite smoothie in a larger batch.
Next, take a couple of empty ice cube trays and fill as you normally would when making ice. If you want to economize space, using an ice cube tray with a lid allows you to stack the trays on top of one another.
Store your ice tray smoothie in the freezer. When it comes time to have your smoothie, pop a couple of smoothie cubes into a travel mug or container and enjoy with a straw.
4 More Time Saving Smoothie Tips
Making smoothies can be fast if you know how to cut down your prep time. The most common advice when it comes to having a smoothie on the go is to plan ahead but there are other ways to cut down on your smoothie making time.
Make Smoothie Packs
Making smoothie packs or containers in advance can significantly cut down your prepping time. All you have to do is make smoothie bags or containers in advance and freeze them until you are craving that smoothie.
To make a smoothie bag, just use your favorite smoothie recipes and prepare the raw ingredients ahead of time and put all the ingredients for each smoothie into a separate bag.
Quick Tip – Frozen ingredients can be harder to blend so make sure to cut up the ingredients into smaller pieces for proper blending.
Try to prepare a large number of ingredients so that you can make multiple smoothie bags in one meal prep session. Don't worry if your recipe calls for some dry ingredients like chia or hemp. They're just as freezer friendly as the rest of the ingredients.
Grab a couple of freezer safe bags or containers and divide up the prepared ingredients evenly into the containers according to the recipe. Set those bags in the freezer so that you can have unblended smoothies ready to go for your convenience.
You can also use Mason Jars instead of plastic bags
and freeze the raw ingredients in jars for future blending. Then just pull out a jar and pour the frozen ingredients into your blender and add liquid. This way you don't have to wait for your smoothie to thaw out.
TIME SAVER TIP : Did you know that you can fit regular-mouth size mason jars on some blenders ? Just take the raw ingredient-filled mason jar out of the freezer, add liquid, and screw the jar directly onto the blender blade. Then just take your blended smoothie to-go in the jar. See which blenders work with mason jars.
Keep A Stocked Fridge
By keeping the fridge stocked with the basic ingredients, you'll have everything you need and the ingredients you love for your smoothies. This can save a lot of time because you won't have to run out to the store last minute.
When you keep fresh ingredients, you're also more likely to include the vegetables and greens that can make your delicious smoothie so much more nutritious. Having easily accessible greens in your fridge will make adding them to your smoothie easier.
Freeze Your Bananas
Bananas are a great addition to almost any smoothie. They add a nice amount of sweetness and go well with so many different kinds of ingredients. But did you know that bananas can also serve as an alternative to ice in your smoothie?
Freezing bananas is a great way to give your smoothie a cool taste with a simple ingredient. If you have a couple of ripe bananas sitting around, peel them and place them in an airtight freezer bag. Not only will you save time, but you can also avoid some unnecessary food waste.
Try Making a Fruit and Veggie Container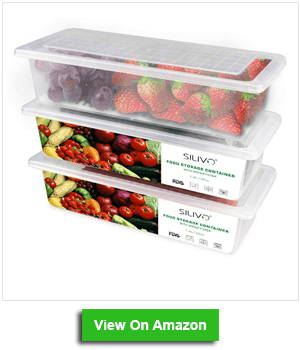 If you like to get experimental with your smoothies, having an easy-to-access container filled with fresh ingredients can help you become a smoothie aficionado. At the beginning of each week, prepare your favorite fruits and vegetables and store them in an airtight container in the fridge.
Take time to wash, peel, and chop your fruits and vegetables into blender friendly sizes as a part of your weekly meal planning. By having the ingredients prepped, you will not have to worry about the peeling, washing, chopping that often goes hand-in-hand with fresh smoothie making. You can just grab your ingredients and toss them in the blender for a quick, delicious breakfast.
Final Thoughts
Freezing smoothies saves you time and make it easier to drink a daily healthy smoothie.
If you have any time-saving smoothie tips that you use please let us know in the comment below ? We would love to hear them.