Finding the Best Mason Jar Blender in 2023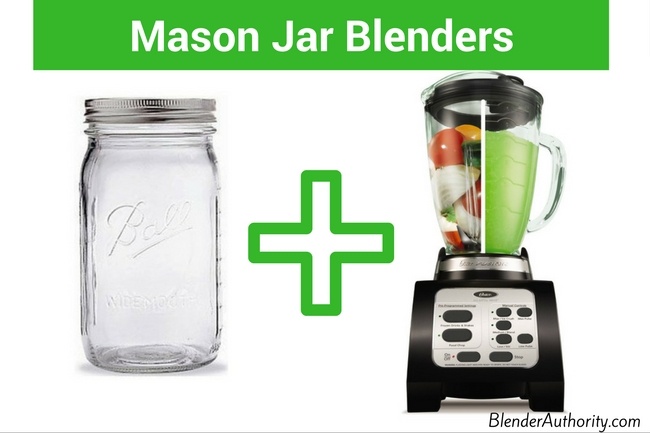 You've probably seen an article or Pinterest post about using Mason jars with your blender for blending small recipes or for taking your smoothie on the go.
Yes, there are some blenders that will fit mason jars which I will get into in a minute. In fact, old Oster blenders used to include a mason jar with the blender for blending nuts and grinding spices.
First I must give this warning ….
EDITOR WARNING:
Many blenders do not use glass pitchers because of the potential for cracking and shattering. If a blender uses a glass pitcher then it is specially made with high-impact glass that meets product safety standards.
Blender manufacturers don't sell blenders with a glass mason jar and they don't recommend using mason jars with their blenders simply because of the risk that the shattering. This is especially true with high powered blenders.
If you do use a mason jar with your blender for small tasks then make sure you are using NEWER, CANNING STRENGTH MASON JARS like the classic Ball Jars. With the popularity of mason jars now, there are a lot of novelty glass jars that are made to look like traditional mason jars but they are not intended for blending or canning.
If you have old Mason Jars then I would suggest saving them for other uses and getting new jars if you will be using them with the blender.
For extra safety, put a towel over the mason jar when blending.
OK, I realize that warning above sounds pretty daunting but if you use real canning mason jars and blend at reasonable speeds then shouldn't have any issues.
If  you decide to use a mason jar blender, here the are sizes of the Jars so you can evaluate if they will fit with your current blender.
Mason jar outside edge diameters are:
– Standard 16oz(Pint) Jars: 2 5/8 inches  (See this jar on Amazon)
– Wide Mouth 16oz(Pint) Jars: 3 1/4 inches  (See this jar on Amazon)

Blender Design with Mason Jars
Understand that many of new blenders have a different design that won't accommodate mason jars. The newer blenders, especially personal blenders, use some type of locking design for signaling to the blender that the cup is properly secured.
Oster blenders traditionally worked well with narrow mason jars, but their designs are changing and not all Oster models with work. For example, "Oster Pro" blenders do not work with Mason jars.
Also, high speed blender like blendtec and Vitamix don't work on these blenders. Farther down in this article I list the other blender brands that don't work with mason jars, but first lets discuss blender that DO WORK with mason jars.

NOTE – There are a lot of blenders on the market and unfortunately there isn't any resource that lists all the blenders that work with Mason Jars, so I put together this post. I will update this post as I find new models that fit, but if you know of any that I missed then please leave a comment below and I will update this post.
Mason Jar Blender Reviews
The following blenders can be used with mason jars. They are listed based on approximate price from lowest to highest price (* Price based on the time of publishing this post).
Oster Beehive Blender
The Oster 4093 Beehive blender is a classic, simple-to-use blender that comes with a great 5-cup capacity pitcher but will also work very well with standard mason jars.
This time-tested design has a 2-speed toggle switch with 600 watts of blending power. Well built with a 10 year drive train warranty. The negative on this blender is it is loud and a little expensive for the power and lack of blending controls. You might want to also consider the Oster the less expensive Oster BRLY07 mentioned below which has the same power but more controls.
Overall, the Oster Beehive is a simple to use basic blender with a popular retro-look. It is not meant to compete with high powered blenders that offer more versatility.

Click Here for Oster Beehive Price and Reviews
Oster Simple Blend 100
The Oster Simple Blend 100 is a basic countertop blender with 700 watts of power(450 blending watts) and push-button controls. It uses a 6 cup plastic blender pitcher and also includes a smoothie container.
It has some nice quality features at this price range with a metal-drive system and Oster's 3 year(10 Year drivetrain) warranty.
The Oster Simple Blend blender works with regular mouth Mason jars. Overall, this blender is fine for simple blending tasks. It is very inexpensive and offers a decent value for what you get.
Click Here for Oster Simple Blend 100 Price and Reviews
Hamilton Beach Power Elite Blender
For the same price as the Oster Blend N Go blender above, you can get this Hamilton Beach blender which comes with a full-size 40oz pitcher and 700 watts of power.
Also, this blender's blade and base design will fit regular mason jars.
I like this blender better than the Oster Simple Blend 100 blender I listed above even though they have similar features and power. In comparing the two models, I prefer Hamilton Beach's performance and pitcher.
Overall, the Hamilton Beach Power Elite works fine and does work with regular mason jars. It was a top choice among low cost blenders.
Understand though that the Hamilton Beach blender is an inexpensive blender so it is not a high performance blender. In general, this blender works fine for basic blending needs, has 1000's of quality reviews, and is well priced.
Click Here for Hamilton Beach Power Blender Price and Reviews
Oster BRLY07-B Blender
For a little bit more money than the blenders listed above the Oster BRLY07-B is a nice upgrade. It features a 600 watt blender with nice features and a good range of controls.
I reviewed this Oster blender and it rated very well for its price category.  It blends well for the price and uses a glass pitcher which is not common nowadays with blenders. It has enough power to crush ice and puree smoothies.
It uses a unique dual-direction drive system which allows the blade to blend in both directions to prevent clogging and results in better blending.
As an added bonus, this Oster blender works with regular size mason jars. If want a good budget blender that performs well but also works with mason jars then this is an excellent choice.
Click Here for Oster BRLY07 Price and Reviews
Tribest Single Serve Mason Jar PB350 Personal Blender
The Tribest is really trying to target the mason jar trend with this blender but it is really just a small personal blender with an attachment that allows for the use of mason jars. In comparison to other blenders on the market, it is kind of expensive for what you get in terms of performance and features.
It comes with a mix of jars ranging from 4oz to 16oz. The regular size mason jars attach using the conversion adapter that is included.
The Tribest Mason Jar Blender uses a 200 watt motor which is pretty weak for the high price of this blender. I question how long the blade assembly will last as the blades are pretty lightweight and the blade base is made with a lot of plastic parts.
Overall, this blender is more expensive than all the blenders listed above but has less versatility based on its low power and small jar capacity.
Click Here for Tribest Blender Reviews and Pricing
Oster Blend N Go Mason Jar Blender
Oster has a blender called "Blend N Go" Mason Jar blender but unfortunately it only works with its unique BPA-free plastic jars that come with the blender. IT DOES NOT WORK WITH STANDARD SIZE MASON JARS !
Honestly, I like Oster blenders but this blender is kind of a gimmicky to take advantage of the mason jar trend. The proprietary jars that it works with have a 20oz capacity and it only has 250 watts of power so it won't blend very fine.
Overall, I don't see any need for the Oster Blend N Go Mason Jar Blender and would rather just have a different personal blender or consider one of the blenders above that accommodate real mason jars.
Click Here for Oster Blend N Go Price and Reviews
Cuisinart SPB-7CHC SmartPower Blender
Our reader "Vickie" commented below that she personally owns this Cuisinart blender and confirmed that the regular mouth Mason Jars will work with this Cuisinart blender.
This blender has simple controls and a nice clean design. We typically love Cuisinart appliances but there are numerous user reviews who said the motor breaks on this model in the first year. The reviews on this model are mixed.
Click Here for Cuisinart SmartPower Price and Reviews
Blenders That Don't work with Mason Jars
The following popular blender brands don't have current blender designs that accommodate Mason jars :
Ninja Blenders
Vitamix
Blendtec
Nutribullet
Side Note – Another option is you can use an immersion "stick" blender with wide mouth Mason Jars but it can be a little more difficult trying to finely blend ingredients using a stick blender in a tight mason jar.
Final Thoughts
As you can see there are not a lot of blenders that accommodate mason jars. You can always use a personal blender if your focus is small portions and pour the ingredients into a mason jar.
Although, if you like the flexibility of being able to use a mason jar with a traditional blender then the above blenders should all be fine for making smoothies and normal blending tasks.
If you aren't sure which blender to get among the ones listed above then I would go with the inexpensive Hamilton Beach or this Oster blender.