Best Blender for Crushing Ice – 2023 Guide

One of the hardest ingredients for a blender is ice and many models can't properly blend ice cubes without adding a lot of liquid.
In this guide, I list the best blenders for crushing ice based on personal experience, evaluation of independent blender test results, customer feedback, brand reputation, reliability, and blender features. (This post is continually updated and current for 2023).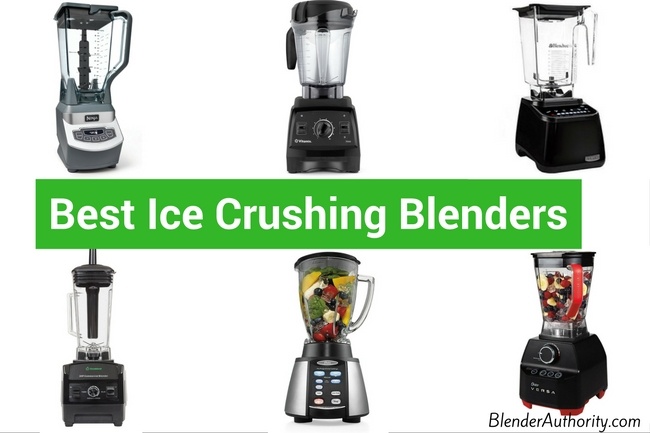 This list has been divided into three price ranges: top-price, mid-price and low-price, so that you have a choice whatever your budget might be.
What Makes a Good Ice Crushing Blender?
1. Powerful Motor
A good blender for ice should generally have a motor power with at least 500 watts for good blending horsepower. Ice cubes create a lot of friction and require a certain horsepower (torque) to blend ice without overheating the motor. Blenders with low power might crush ice inconsistently or quickly burnout.
2. Blade Design
Blades must be designed to handle the impact of ice at high speeds and have a strong blade assembly so that they don't break from the force. Some brands like Ninja have specialized blades that perform especially well with ice. Also, brands like Blendtec use a dull blade design versus most blenders use sharp blades and both perform well.
3. Heavy-Duty Pitcher

Blending ice can cause a lot of impact on blender jars. To avoid this, make sure you purchase a blender that allows ice crushing (some specifically say they are not for crushing ice). The pitcher should be made of impact resistant glass, heavy polycarbonate or copolyester (Tritan copolyester is the industry standard plastic used by top blender brands).
In selecting the 7 blenders below, I considered the above factors as well as how they performed with other blending tasks since it is unlikely that you will buy a blender just for ice.
Top Price Range
1. The Vitamix 7500 – Top Pick
Vitamix is definitely a household name when it comes to blending and has a very loyal following. Vitamix consistently ranks at the top of many independent blending tests. There are a lot of different Vitamix models and all of them are powerful enough to crush ice but a favorite of testers like Consumer Reports is the Vitamix 7500 (Clarification- Consumer Reports top choice was the Vitamix Pro 750 which is the same as the 7500 but Pro 750 adds preset controls. Both models blend the same but the 750 costs more).
Features: The Vitamix 7500 has a 2.2 HP motor with 1500 watts of power. The horsepower and design of this blender allow it to easily crush ice into a snow-like mixture. The 7500 is part of Vitamix's newer "Next Generation" G series blender line with its new wide container and longer blade design. The most popular Vitamix blender for many years has been the 5200 and the 7500 can be considered an upgraded version to the 5200 with new quieter design, stronger horsepower, and wide mouth pitcher.
The 7500 has simple controls with a 10 variable speed dial and a pulse lever. It has a 7 year full coverage warranty period.
NOTE
– Vitamix instructions say to add water to your ice before crushing but many tests and users have no problem blending ice with a Vitamix without liquid. If you add water with the ice as instructed, then you might have to strain the water out after crushing.
How to Crush Ice with a Vitamix  – For the Vitamix 750(or any Vitamix with variable-dial, just turn the variable speed to the highest level(10) and pulse. Use the tamper if you need to move the crushed ice around.
Positives: The Vitamix 7500 is a workhorse that can blend anything. It can easily do food prep, finely blended smoothies, nut butter, milling flour and more. It is built to last and has an excellent 7-year full warranty. Users state that the 7500 is not as loud as the Blendtec designer series which is our next choice below. The tamper is really useful and helps with pushing ice towards the blade.
Negatives: The new wide pitcher doesn't handle small portion blending jobs as well as the original 5200 series but it is a small issue.  The Vitamix 7500 only has manual controls and some consumers like to have pre-set blending programs like on the Vitamix 750 Pro. A small negative is that the Vitamix is not dishwasher safe.
Overall Opinion: The Vitamix 7500 blender is a top pick among high-end ice crushing blenders because of its power, performance, and reputation. This model performs very well across all blending tasks and is a very versatile blender that will last a long time. There are a lot of Vitamix blender models, but for the task for crushing ice, I chose the 7500 because the wider base/longer blade helps with that task. (For further Vitamix research, see my Vitamix buying guide).
See Current Price for Vitamix 7500
2. The Blendtec Designer Series Blender – Close 2nd for Top Pick
This Blendtec is almost a tie with the above Vitamix blender. Blendtec is often compared to the Vitamix for its performance and customer satisfaction. Many times, customers have a hard time deciding between this ice blender and the Vitamix. Blendtec's special "dull" blade design and pitcher design work beautifully for crushing ice.
Side Note: The designer series from Blendtec is a major update to their original "Total Blender" line with improved design, controls, and functionality. The Wildside jar design provides better blending performance compared to their original Fourside Jar.
Features: Blendtec designer series blender provides a 3 horsepower 1560 watt motor which is more powerful than Vitamix 2.2 HP. Independent blending tests did not find that the difference in horsepower resulted in Blendtec performing noticeably better compared to Vitamix. Although  Blendtec did perform slightly better than Vitamix for smoothie consistency in TheSweetHome's blender test, the difference was very minor.(3)
The Blendtec Designer series blender with Wildside jar has an "Ice Crush" preset button which runs for about 30 seconds and shuts off.  It uses a smooth-surface touch screen control with presets. The unique "Wildside" blending jar that performs very well for blending and is made of BPA-free Tritan plastic. Blendtec provides a 8-year warranty which is slightly more than Vitamix.
Positives: Blends frozen drinks and crushes ice very well. Lower priced than Vitamix. The Blendtec Designer series Wildside ranked near the top of Consumer Reports blender test especially with blending ice. At only 15 inches tall, it fits under kitchen cabinets. Sleek, modern design with touchscreen controls. This model has programmed settings and digital controls versus Vitamix's 7500 manual controls. The Wildside jar design helps to create a vortex that helps with the blending. The preset functions are a nice feature if you want pre-programmed controls.
Negatives: Doesn't have a tamper which is nice to have to certain blending tasks. The Blendtec is LOUDER than Vitamix and many other blenders.
Overall Opinion: The Blendtec is closely ranked with Vitamix and is an excellent choice. Personally, I would choose the Vitamix based on its performance across a range of blending tests, not just ice crushing. You can blend ice beautifully with a Blendtec and Blendtec blenders are widely used in commercial smoothies stores. If you get a Blendtec, the Wildside jar is preferable to the fourside jar.
If you like the pre-set controls and lower price compared to Vitamix, then the Blendtec is a solid choice as a high-end blender.
See Current Price for Blendtec Designer Blender
Mid Price Range
1. CleanBlend 3HP Commercial Blender – Most Power for Price
Just from the name, you can tell that this blender is extremely powerful and competes against Vitamix and Blendtec.
Features: The Cleanblend blender has a powerful 3 horsepower, 1800 watt motor which is close to Vitamix blenders. It has a strikingly similar look to a Vitamix 5200 blender with a variable speed control and a pulse switch. The manufacturer provides a 5-year warranty.
Positives: It is a very high powered blender that only costs a fraction of competing blenders with equivalent motors. Some tests found that the Cleanblend made smoother smoothies than the Vitamix 5200. Cleanblend has excellent customer reviews and positive feedback about its customer service.
Negatives: It is a relatively new brand (since 2012) but the reviews continue to be very good. There is some feedback that the jar feels a little "cheaper" than other brands. Its variable speed dial doesn't provide the range of speeds compared to Vitamix.
Overall Opinion: The Cleanblend is a very powerful blender for the price. It rates very well in independent tests and has very good reviews. When it comes to ice crushing and frozen drink making, the Cleanblend is an excellent, affordable choice.
See Current Price for Cleanblend Commercial Blender
2. Ninja Chef – Powerful and Well Priced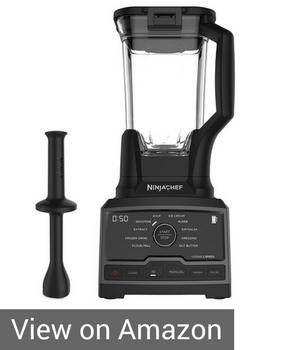 This year we replaced the Oster Versa Pro blender with the Ninja Chef blender as one of our mid-price blender choices.
Features: The Ninja Chef has a 1500 watt motor and comes with a 72 oz dishwasher safe jar. It has a variable speed dial as well as 10 preset functions for blending and food prep. Popular design like Vitamix with a useful tamper.
Ninja Chef Ice Crushing: To blend ice just start with a few pulses and then use the tamper to keep pushing the ice down to the blades. To create snow-like consistency, use ice that is fresh from the freezer and hasn't been sitting out.
Positives: Powerful blender with great features for a reasonable price. Offers both variable speeds and preset blending programs which most blenders in this price range do not offer. The only Ninja blender with a tamper which is very useful for thick recipes.
Negatives: It is loud. While it offers a lot of performance it isn't as sturdy and built with a metal gear drive like the above blender choices. It only offers a 1 year warranty.
Overall Opinion: Ninja Chef offers a lot of power and features for reasonable price. For crushing ice, it doesn't have quite the horsepower of Cleanblend or higher priced blenders that I reviewed above but it performs quite well.  Keep in mind that the Ninja Chef is pretty loud and has a shorter 1 year warranty. To date, consumer reviews continue to be strong for this blender. For more details see our Ninja Chef Blender review .
In this price range, if you are trying to decide between the Cleanblend versus Ninja Chef, I prefer the Cleanblend due to build quality.
See Current Price for Ninja Chef Blender
Potential alternative –
For a similar price, you might want to consider a
refurbished Vitamix Explorian
. It is the most affordable model from Vitamix and you get Vitamix's renowned performance, quality, and reliability.
Low Price Range
Blenders under $100 can vary greatly in blending results but there are some good choices for crushing ice and perform basic blending tasks. Here are the three that I like:
1. Oster Reverse Crush Blender – Top Affordable Pick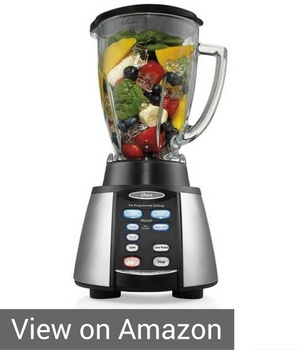 The Oster Reverse Crush Counterform blender (model BVC07-2) is an affordably priced blender with 600 blending watts and 1000 peak watts.
Uses a 6-cup capacity glass pitcher. Its unique dual direction 6-point blade can move in both direction for better consistency and prevents jamming. Features 5 speed settings plus two preset functions(Frozen Drinks and Food Chop).
Positives: Crushes ice well. Well built with an all metal drive system. Good 3-year satisfaction guarantee and 10-year metal drive limited warranty. A very solid blender for this price and excellent reviews (This blender has been on the market since 2009).
Negatives: With 600 watts of blending power it is designed for basic blending, crushing ice, and chopping. Not intended for more heavy horsepower tasks like dough making and nut butter. The glass jar is heavier.
Overall Opinion: For the price, the Oster Reverse Crush Counterform blender provides reasonable performance and reliability. It is one of the more popular glass blenders on the market and consumers comment that it excels at blending ice and smoothies. Oster provides a good warranty and is well built relative to other blenders in this price range. It only has 600 watts which can limit performance on certain blending tasks.
See Current Price for Oster Counterform Blender
2. Ninja BL610 – Excellent Ice Crusher
For crushing ice and making frozen drinks, the Ninja BL610 is one of the best you will find especially at this price (Note – the BL610 is essentially the same blender as the Ninja NJ600 model that was discontinued). The reason this blender does so well with ice is because of the unique "Total Crushing" blade. This model is a top seller for Ninja with a HUGE number of positive customer ratings.
The Ninja600 is part of the Ninja Professional series of countertop blenders to offer excellent performance at a very competitive price point.
Features: Its most outstanding feature is the total crushing blade. The blade is a shaft that rises up from the middle of the pitcher with a series of 6 blades that spin together at different levels. Its pitcher has a 72 oz capacity which is much bigger than the typical blender. Its motor is 1000 watts. It has 3 preset speeds and a pulse function. Ninja provides a 1-year warranty.
Positives: The total crushing blade turns ice cubes into a fine snow very quickly. The shaft blade technology helps to ensure that the ingredients are moved around and do not get stuck in the bottom. All of its components are dishwasher safe. Large pitcher and very strong reviews. Good price.
Negatives: The lid can be difficult to remove especially during the first few days of use. The blade is not very good for pureeing some fibrous ingredients when making smoothies. The 1000 watt motor might limit you on some heavier blending jobs but its handles most blending tasks pretty well. The Sharp blade can come out when cleaning which requires additional caution. It is loud.
Overall Opinion: For crushing ice and making frozen drinks, the Ninja Pro BL610 is very good. It won't blend smoothies as finely as more powerful blenders but 1000's of reviews indicate it does well. Overall, a good, versatile blender for the price range.
See Current Price for Ninja BL610 Blender
3. Ninja Master prep QB1004
The least expensive ice blender on this list is the Ninja Master Prep Professional QB1004. Consumer reports chose the Ninja B1004 as "Best Buy" for ice crushing and noise (4) This blender is unique in that it works upside down like an immersion blender. This allows it to be interchangeable with its food prep accessories.
Features: It also has a stacked blade system like the Ninja Professional blender above but the QB1004 only has 4 blades. It has a capacity of 48 oz and its pitcher is BPA free. All its parts are dishwasher safe. It has a 450 watts motor
Positives: It ranked very highly in ice crushing tests. It has very strong feedback with over 9000 reviews….WOW.
Negatives: The main drawback for consumers that had used it for a while is the potential for the plastic to chip and leaks especially around the handle. The 450-watt motor and container size both limit its functionality.
Overall Opinion: This ice crushing blender made it to this list because it ranked very highly on tests for ice crushing. It doesn't have the power and versatility of other blenders in this article, but it offers a very inexpensive option for crushing ice. See review of the Ninja Master Prep for more details.
Final Opinion – Best Blender for Ice
In conclusion, the best blenders that crush ice and frozen fruit are the Vitamix 7500 in the high price range category, the Cleanblend in the mid range price range and Ninja BL610 in the low price category.
Keep in mind that all of the blenders in this guide will perform well with ice and frozen fruit.