Best Vitamix Blender to Buy – The Ultimate Guide
Yes, it can be overwhelming trying to decide on the best Vitamix blender for your needs. There are so many Vitamix reviews comparing Vitamix blenders, but is there really that much of a difference between the many Vitamix models ?
In this extensive buying guide, I will give you all the information you need to help you decide on the best model for your needs. (Updated).
Best Vitamix Blender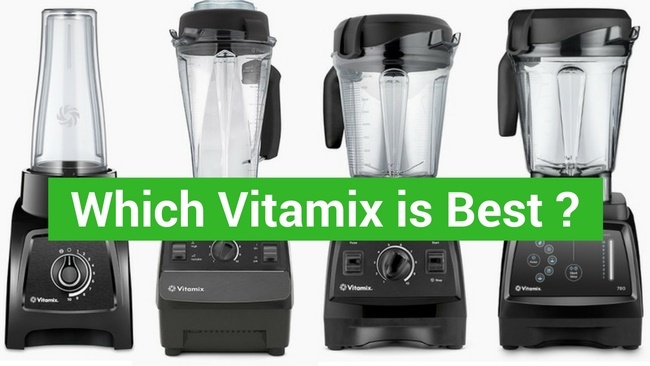 The goal of this article is to save you time. Some people spend months researching and comparing Vitamix blenders.
Short on time ? Here are the our favorite Vitamix blenders in 2023:

This article is continually updated with new information based on new models, comparison tests, and feedback from readers. I also provide Vitamix blender reviews for every modelon the market. Please leave any comments or questions at the bottom if they aren't answered in this article. Let's get started !

Note on Vitamix Pricing
Note on Vitamix Pricing: I link to Amazon in this article for the various Vitamix models simply because they have lots of reviews about the specific models from customers who have used the blenders for a long time. Also, Amazon pricing is always competitive and they have deals/sales sometimes on Vitamix blenders. I am an affiliate of Amazon which provides a small referral commissions but doesn't cost you. Vitamix.com also has good prices on refurbished inventory that is in stock and sometimes you can find good deals at retailers like Costco depending on the models and accessories. If you decide to buy a used Vitamix be careful about the Vitamix's terms of warranty coverage.
Vitamix History and Background



Vitamix has a very loyal following and the company has really benefited from the smoothie and healthy eating boom in the last decade.
The family-owned company has been making industry leading blenders in the USA since the 1930's and has always been know to have amazing quality. (Note: the Vitamix motors are made in Sweden now but the rest of the blender is made in USA)
In 1969 the company introduced its Vitamix 3600 and the model was improved over the years to eventually become the well-known 5200 model. They do have a commercial blender line used by restaurants and businesses which are different from the consumer models you see in retail stores. The 5200 has been in the market for about 10 years and set the standard for high-end blenders at home. In recent years the company has introduced new models and product lines including the S-Series and G-series "Next Gen" blender line.
The enthusiasm for Vitamix that people have is because of the reliability. They sell over 1 million blenders a year and make over 6000 blenders a day. With that many blenders it was amazing to read that they ONLY have 4 full-time employees in their repair department. That shows how few of problems they have with their products.(1)(2)
The company is also known for its amazing full coverage warranty guarantee (5 or 10 years depending on model).
Vitamix Model Comparisons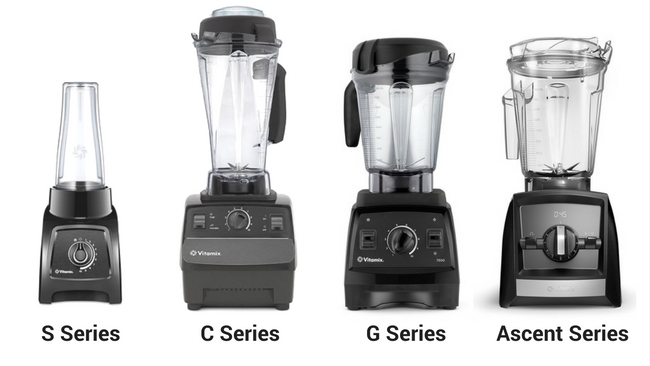 While the company seems to have lots of blender models(I've seen dozens), there are really 11 main models which are spread across 5 product lines. The product lines are:
The C Series is the Classic line

The Explorian Series is their new Value-priced blender model(new 2018)
The G series is their Next Generation Line
The S Series is the personal blender line
The Ascent series is their newest(2017) line
The reason that it seems there are so many models is because the main models listed below have variations like programming buttons, touchscreens, or other accessories. The other Vitamix models are just repackaged with different names for retailers so that the retailer has exclusivity.
S Series vs C Series vs G Series vs Ascent
When you see the other models in the market, you just need to know they are using one of the 7 base blenders models above and changing the color or adding accessories.
Just some of variations we have seen: S Series: S50 / C Series: CIA Professional Series, 5200 Super, 5200 Deluxe, Creations II, Creations GC, Turboblend VS 1732, Pro 200, 5300 / G Series: Pro 300, Creations Elite.
When comparing Vitamix blenders, all you really need to decide on is:
1) Types of controls you want
2) Design (size, containers)
3) Power
I didn't list price as a factor when deciding on which Vitamix to buy because price fluctuates based on accessories, sales, and if you are considering refurbished or new. It is best to decide on features first before starting with price.
Now that we understand the basics let's discuss the 3 deciding factors I listed above in more detail. Later on I will go into the details about each specific model as well as popular Vitamix comparisons.
Which Vitamix Controls Do You Want ?
1. Two Speed (No Variable Speed)
2-Speed Vitamix models include C-series Turboblend 2speed, 6000(only has Timed speeds/no variable), Creations Turbo, CIA Creations
I don't really see the point of not having variable speeds because it limits what you can do with a Vitamix. 2-Speed models are just for blending fast or slow. Really only good for drinks or soups where you want to puree the ingredients.
2. Variable Speed (No presets)
Base Models = S-Series:S30 / CSeries: 5200 / G Series: 7500 / Ascent A2300
EVERY Vitamix blender has a variable speed control except the models in the two-speed category.
A variable speed dial provides more choices of what you can make. You can manually control everything which is great when you are mixing different ingredients and different amounts. Once you use a Vitamix a few times it is pretty easy to use the variable dial to start blending with a low speed and manually increase as it is blending.
Most blending is pretty quick (30-60 seconds for smoothies, frozen, puree) unless you are making something like soup which can take up to 4-6minutes to heat up from blending.
If you are making your own recipes and varying the ingredients or amounts then the variable speed control is very useful. Whereas, if you follow specific Vitamix recipes and know that the preset you choose will match what ingredients you are using then you might like the preset.
The only disadvantage of variable controls is that you need to manually adjust the speeds and stop the machine when it is done which is why Vitamix introduced preset programs. Personally I like having variable control dial because I can adjust it quickly based on what I am blending.
3. Pre-Programmed Controls ?
When comparing the variable speed models versus preset program models it can be a little confusing remembering all the models. The preset models have the 1-10 variable speeds but add the pre-set programs to do things like soups, frozen desserts, and smoothies.
To make it more confusing though is that not all Vitamix preset models have the SAME presets.
Vitamix Blenders with Presets
S-Series:
S50(2 Presets) : Smoothies, PowerBlends
S55(4 Presets) : Smoothies, PowerBlends, Spreads/Dips, Frozen Desserts
C-Series:
6300(3 Presets) : Smoothies, Soups, Frozen Desserts
6500 (3 Presets) : Smoothies, Soups, Frozen Desserts
Pro 500 (3 Presets) : Smoothies, Soups, Frozen Desserts
G-Series:
Pro 750(5 Presets) : Smoothies, Puree, Soup, Frozen Desserts, Cleaning
780 (5 Presets) : Smoothies, Puree, Soup, Frozen Desserts, Cleaning
Ascent Series:
A2500(3 Presets) : Smoothies, Hot Soups, Frozen Desserts
A3500(5 Presets) : Smoothies, Hot Soups, Dips & Spreads, Frozen Desserts, Self-Cleaning
With the presets you just select a program, turn it on, and the machine will automatically speed up to the appropriate level and then shut off when the cycle is done.
The preset programs are timed from a microchip in the blender so the program modes are not sensitive to what or how much you are blending.This means the program you choose will run through the same pre-programmed sequence whether you are blending 3 cups or 5 cups which can be a problem. Personally, I don't mind manually controlling the speed with the traditional Vitamix dial so presets are not as important to me.
I found a discussion from someone that owned both the 750(Gseries with presets) and 300(same as GSeries 7500 base model without presets) and they had the same issue I have with presets. They found the presets on the 750 not as useful because it is just a timed setting and doesn't reflect the ingredients being used or amounts. Despite presets, you still have to tamper frozen desserts and keep an eye on the liquid when making soups so it doesn't overheat.
With presets you are giving up more control over how you blend. The preset run times can vary among blenders due to motor type, strength and capacities so if you read any reviews about someone's experience with a Vitamix preset make sure you understand which model it is.
Some people who use the presets but might not using them for what they are intended for. Let me explain, you might be used to make a certain batch size of smoothies and find that the smoothie preset function runs too long and makes it too frothy so you just use the "shorter" frozen preset to make smoothies.
With vitamix recipes it seems many are based on using the tall traditional containers which might have different blending times with the presets.
Summary on Manual vs. Presets ?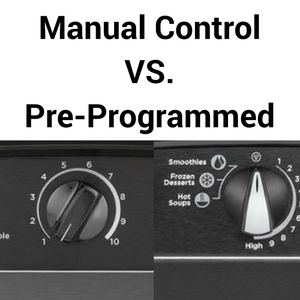 Presets can be nice if you follow a recipe or do simple blending like smoothies where you can just let the blender do its thing. Understand that presets are just following a timed sequence and don't reflect which ingredients or how much you are blending.
If you find a Vitamix with presets for a good price then go for it but I wouldn't necessarily pay more just to get presets.
The variable speed(with no presets) on the C series 5200, G series 7500, or Ascent 2300 base models work great and can meet many people's needs.
4. Pulse Control – Do You need it ?
The pulse control is used to quickly chop ingredients that you don't want to puree.The pulse control is found on the new Vitamix models (All G-series, Ascent, and S-series models / C-series: 5300/6300/6500/Pro500).
The pulse switch control replaces the old pulse method of flipping the high/low control switch and using the using the on/off level to pulse.
The main advantage of the new pulse control lever is that you can pulse at any speed you want by using the variable control knob. Whereas, the old method is you can only pulse at 2 speeds (high and low).
My Thoughts – The original pulse method works fine and having the separate pulse function is nice to have but not a requirement. It shouldn't be that important to your decision making.
Comparing Vitamix Product Lines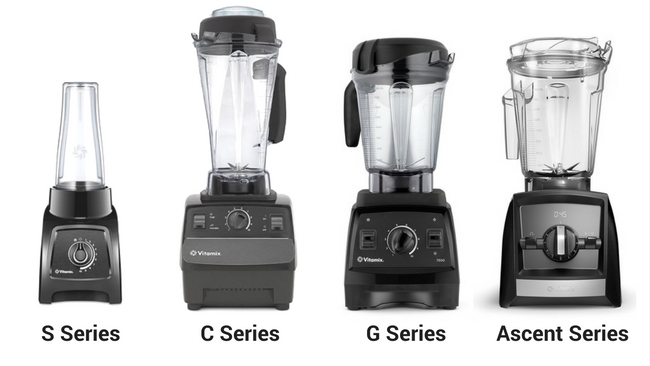 So far I have covered the basics on the different Vitamix product lines and various control options. A lot of people want to know what is the best Vitamix blender series: C-series vs G-Series vs Ascent because the S-series are not full-size blenders.

Honestly, each series and models have their pro's and con's but you will see they are pretty similar overall. Below I will cover a lot more detail on the design and model differences to help you decide.
First off, if blender size is an important deciding factor for you then here is a quick reference:
S-Series: 15.7" tall with 40oz container. Weight: 12.5 pounds
Explorian Series: 18″ tall with 48oz low profile container. Weight: 10.5 pounds
C-Series: 20.4" tall with 64oz standard tall container. Weight: 10.6 pounds
G-Series: 17.4" tall with 64oz low profile container. Weight 12.5 pounds
Ascent: Same size as the Gseries with the 64oz low profile jars. Weight starts at 12 pounds.
For reference, typical spacing for kitchen counter to bottom of upper cabinet is 18"
Vitamix S Series Review
Most people who are researching Vitamix blenders are looking at the full-size countertop models and not at the S Series line. I will just quickly cover the S-Series personal blender line in case you were trying to understand how it is different.
Vitamix's introduced its S-Series single-serve personal product line in 2014 with its S-30 model to compete with the popularity of personal blenders like Nutribullet and Nutri Ninja. The S-series blenders are smaller than the other Vitamix models and comes with a 20 ounce to-go smoothie cup. The S50 and S55 came out the next year and are the exact same as the S30 but with preset modes added.
The S-Series maximum capacity is 40 ounces vs. the standard Vitamix 64oz capacity.  It is hard for many people to justify the $400 price tag of S30 base model when people compare it to other personal blenders like Nutribullet and Nutri Ninja which are 70-80% cheaper. The S30 motor is 790 watts(1 Horsepower) compared to Vitamix G series 750 that has 1640 watts (2.2 Horsepower). For reference, the S30 blade can reach 37,000 RPM(revolutions per minute) vs. Nutribullet 900 has 25,000 RPM
Positives: Vitamix is more powerful than most other personal blenders and can purify anything for smoothies. The S series models have a 5 year warranty vs other personal blender typically have 1 year. Has variable speeds vs. other personal blenders typically have one speed. Comes with a nice 20oz travel container and lid. Easy to clean and dishwasher safe. Built to last.
Negatives: Expensive for a personal blender but it will last a long time. Only has 5 year warranty vs. Vitamix C series and G series blenders have a 7 year warranty. For those that want a travel blender, the Vitamix S-series is relatively heavy and isn't that small(15.7 inches) vs. 20.5 of the Vitamix 5200 or 15.5inches for Blendtec.
S-Series Review Summary
Overall, The S-Series is a very solid personal blender with Vitamix's reputation for quality and a smaller footprint size than a normal countertop blender. I am not sure if the $400+ price tag is worth it if you are only making single-size smoothies and small batches of soup or grinding flour.
I still think the Nutribullet is good enough as a personal blender. If you want a full size blender then I would consider a factory reconditioned full-size Vitamix 5200 for about the same price as a new S-series.
Explorian Review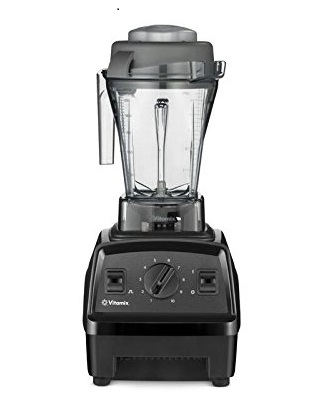 Introduced in late 2017, the Explorian E310 blender is Vitamix's "Value Priced" high performance blender in that it has the same blending power as its C-series Legacy blenders but is priced below all of their other full-size countertop blenders.
For the Explorian series, Vitamix integrated some of the popular features from multiple full-size blender models to make a simplified high powered blender backed by Vitamix's quality.
The E310 offers the same blending capability of the more expensive C-series blender models but the Explorian comes with a smaller 48oz classic narrow container. Whereas, the standard container size that comes with the other models is the 64oz container. The 48oz container works well for smoothies and small/medium size batches.
The Explorian E310 looks like the Next-Generation G series 7500 blender but the Explorian is built with the C-series 2 horsepower motor. It offers the pulse lever, on/off lever, and variable control dial.
Other design differences of the Explorian E310 blender is the container has no on/off power kill switch and the 48oz container has no rubber handle.
Positives: The E310 is the lowest priced new Vitamix blender on the market and blends as well as more expensive Vitamix models. It has simple controls with no electronics that can break. The shorter 48oz container allows you to store the blender on the countertop underneath the cabinets. The E310 model is a nice choice for those that just make small/medium size batches.
Negatives: Simple controls with no pre-sets and some people might want the 64oz container for larger recipes.
Overall Opinion: The Explorian E310 offers a nice balance of power and features for the price. It is more powerful than the S-series and offers the same performance of the popular C series 5200. The Explorian E310 is well priced but does have a shorter 5 year warranty versus Vitamix 7-year for C-series/GSeries and 10 year warranty for Ascent blenders.
The Explorian E310 is  good choice for buyers that want a new Vitamix blender with simple controls and like being able to use the popular "narrow" legacy containers.
The other option if you want either a Vitamix model with a larger container or a model with more features is to get a Vitamix certified reconditioned blender for the same(or less) price than an Explorian. Vitamix factory reconditioned blenders are "like-new" with the same 5 year warranty as the Explorian. [Here is a link to the Vitamix reconditioned models that are currently available]
–> Click here for Explorian E310 Current price
Vitamix C Series Review
The C series is the traditional Vitamix design with a proven workhorse motor. This 5200 base is used in various configurations. Just remember for the C-Series that the 5200 is the standard model and the Pro 500 is the 5200 with preset programming.
The other models in the C-Series are just variations of those two blenders. You can read about every C-Series model below to compare any differences and accessories. Only 2 newer models(5300 and 6500) in the C-series have the new stronger 2.2HP motor that are used in the G series blenders.
Just click the "+" to view details about a specific model
G series Review
The G-series blender line was introduced in 2013 as an improvement to its classic C series models. The G series are called "Next Generation" and have a newly designed base with new motor (2.2 HP) and airflow design ("Enhanced Airflow Management"). The new design allows these blenders to not only be stronger than the C series blenders but also 40% quieter.
The most visible difference with the G series blender is the low-profile container that allows these Vitamix blenders to fit under normal kitchen cabinet height. The Low-profile containers are wider with longer blades than the traditional C series containers but have the same 64oz capacity.
The wider base of the new low-profile containers help make the G-series blenders the best Vitamix for nut butters and chopping but the C-series containers also do well for those tasks.
Advantages of the new "low-profile" container design:
Better chopping capability.
Less need for the tamper with the wider base.
Easier to scrape out thick mixtures like nut butters.
Fits under standard kitchen cabinets.
Longer blade can speed up blending of some recipes.
Disadvantage is: New container requires larger minimum size batch (at least 2 cups). Some people buy a second container that is smaller for smaller batches.
Below are the details on all the models in the G series lineup. (As a reminder, The 7500 is the base model, The Pro 750 is the 7500 with preset programming, and the 780 has preset programming & touchscreen)
Vitamix Ascent Review
The Vitamix Ascent series is Vitamix's newest blender line. Released in 2017, Ascent blenders have a new sleek design with new features like NFC wireless connectivity to identify which blender container is being used and new digital timer capabilities. An added bonus is Ascent blenders have a 10 year warranty compared to the 5 or 7 year warranty on Vitamix's other models.
New Features:
SELF DETECT Technology: The new wireless technology used on all Ascent blenders allows the blender to determine exactly which blender jar is on the blender. Vitamix says this allows for better safety and reduces user error. They also say this allows the motor to blend better for the appropriate jar size.
TIMER: The timer display on all models is a count up timer when using variable speed dial to show how long your have been blending (Maximum time is 6.5 minutes and then blender will shut off). 6.5 minutes is enough to do any function including making soups.
The A2500 and A3500 models with preset programs have a countdown timer when a pre-set program is running. The A3300 and A3500 have an added timer feature that allows you to manually set a countdown time for when you want the blender to stop.
JARS: The new blending containers have clear plastic locking lids(compared to their traditional containers with the rubber black lid) for tighter a seal. Some people prefer the traditional rubber lid as it allows more movement for the tamper.
All the new Ascent blenders only work with the new Smart Detect jars so nothing is interchangeable with any of the older Vitamix models or accessories. All Ascent jars are dishwasher safe versus the Legacy jars are not recommended for dishwasher cleaning. Each Ascent blender comes with just the 64oz blending jar.
LOOK: The Ascent blenders have a sleeker, modern look and are about the same size as the Vitamix G Series blenders. The A3500 has extra "metal" finishes to choose from.
ACCESSORIES: Accessories available with SMART DETECT technology for working with the Ascent models are: 48oz dry grain jar, 48oz wet blending jar, 20oz personal smoothie jar, and 8 oz blending bowl.
WORKS WITH PERFECT BLEND APP: The Ascent blenders integrate with Vitamix's Perfect Blend App so the Smartphone app will adjust the recipes depending on which smart jar you are using.
Vitamix Ascent Performance
The Ascent blender has similar speed controls as the G-Series and doesn't adjust speed based on weight but strictly on time just like the legacy blenders. The motor power and performance is about the same for Ascent models versus G series. The Ascent series are full-size machines with 64 ounce containers. You would need to purchase an additional blending jar to do small batches.
Overall, the performance for Ascent models is excellent like other Vitamix blenders with the same performance as their G series using the low profile jars.
Compare Vitamix Ascent Models:
There are 4 different Vitamix Ascent models and they are all the same blender base and jar except for the control interface and finish options.
A2300 – The lowest cost base model with no touchscreen, no countdown timer, no program settings.
– 1-10 variable speed dial
– Start/Stop Switch and Pulse Switch
– Digital Count up Timer
– Self-Detect wireless technology for jars
A2500 – Same as A2300 but adds 3 pre-programmed settings (Smoothies, Hot Soups, Frozen Desserts)
– 1-10 variable speed dial
– Start/Stop Switch and Pulse Switch
– Digital Count up Timer
– Self-Detect wireless technology for jars
– 3 Program Settings for Smoothies, Hot Soups, Frozen Desserts
A3300 – Adds the digital touchscreen and removes the switches. Adds a digital countdown timer.
– 1-10 variable speed dial
– Touch Start/Stop Switch and Touch Pulse
– Digital Count up Timer
– Self-Detect wireless technology for jars
– Digital Countdown timer that user can set
A3500 – Same as the A3300 model above but adds 5 pre-programmed settings (Smoothies, Hot Soups, Dips & Spreads, Frozen Desserts, Self-Cleaning) and has a metal base option.
– 1-10 variable speed dial
– Touch Start/Stop Switch and Touch Pulse
– Digital Count up Timer
– Self-Detect wireless technology for jars
– Digital Countdown timer that user can set
– 5 Program Settings
– Metal finish option (brushed stainless, black stainless, and graphite)
Should You Get a Vitamix Ascent Blender ?
The Ascent has some new features but you really become more dependent on their new self-detect wireless technology. The self detect features can be useful with the small containers for safety. The downside of the smart detect is that you can't use any legacy containers so it might not be worth upgrading if you already have a Vitamix blender and extra jars.
Speaking of jars, all the Ascent blenders come with a low-profile 64oz container like the G series low-profile containers. These low profile, wide-base jars don't do that well with small batches which means you will probably need to buy an extra smart-detect container (48oz container or 20oz single serve container) for small batches.
For price, Ascent blenders are priced similar to their popular Legacy vitamix blenders despite the Ascent blenders having a longer warranty and newest features.
Overall, if you are new to Vitamix then the Ascent blender line is a good option with a longer warranty and the new smart detect features. If you already have a Vitamix blender then it might not be worth the upgrade because the performance won't be noticeable and you can't use any of your past accessories.
Understanding Vitamix Containers
Before getting in the details of Vitamix containers, understand that all the containers work good for everything whether you get a C Series or G series blender. There are just some slight advantages of the different containers that you should understand.
Understanding Vitamix Containers
First off, the portable S-series 40oz and 20oz to-go containers are proprietary to only work with the S-series blenders line so we we will mostly focus on comparing Vitamix containers for the C-Series and G-Series product line.
Vitamix's traditional C-series blender with its "classic" tall 64oz containers has been an issue for some people. The issue is it measures over 20inches tall so you can't fit it under a kitchen cabinet without taking the container off the blender base. You can get a shorter 48oz container for the 5200 model if you want a shorter container.
For the Next generation "G-Series", Vitamix came out with is low profile "wide" container which has the same 64oz capacity as the classic tall jars but fits under a cabinet with 17.5 inch clearance. The next generation models are the Pro Series 750, Professional Series 300, Vitamix 7500, and Creations Elite. The low-profile 64oz containers are compatible with the G-series machines and two of the Cseries models(5300 and 6500).
Vitamix Container Choices
The containers are all interchangeable between C Series and G series blenders except for the main 64oz containers. This means the 64oz "Classic" tall containers should only be used on the C-series blender and the Low-profile(wide bottom) 64oz container should only be used on the G series blenders and Cseries 5300 and 6500.
If you want a low profile container for the C-series blender then you can use the 48oz container . If you want to make smaller batches on the G-series blender then you can use the 32oz or 48oz containers.
Do you need a dry container ?
Not really unless you are milling hard grains and make flours a lot. You can use the wet containers for dry ingredients but the Wet container blade can make it harder as the blade pulls the ingredients down which increases heat and friction.
The increased friction of wet jar blades can make the ingredients hotter and more difficult to mix. Also dry ingredients can scratch the plastic of the wet container.
The blades in a dry container push the ingredients up which is ideal for milling vs. the blades in a wet containers that pull the ingredient down.
The new low-profile wet containers with the wider base make it a little easier to mill dry ingredients than the original narrow tall wet containers but still won't work as well for milling as the dry container.
Overall, wet containers can work for everything but dry containers use a specific blade that is only intended for milling beans(including coffee beans) and hard grains to make flours.
Vitamix Tamper
A popular feature of Vitamix blenders is the built in tamper to help with thicker ingredients and recipes. All vitamix jars come with a tamper.
Do you need a blender with a tamper ? A tamper is convenient for thicker recipes like nut butters, spreads, frozen desserts. Typically if you add the ingredients in the right order then the Vitamix can blend just fine without a tamper for most recipes.
Overall, a tamper is a nice feature to have to add more versatility to what the blender can do.
Summary thoughts on Vitamix Jars
In the product line overviews I already mentioned some of the pro's and con's about using the traditional tall jars vs. the new wide-profile jars but here is the quick overview.
64oz "Classic" Tall Jar
3" wide base
Works for any recipe
Easier to make smaller portions than new "low-profile" container
Too Tall to fit under kitchen cabinet
Slightly harder to clean by hand with narrow base.
64oz Low profile Jar
4" wide base with longer blades
Works for any recipe
Can't make smaller portions(<2 cups) so might need additional jar like 32oz
Wider base is easier for chopping and recipes like making dough.
Fits under typical kitchen cabinet
Easier to clean by hand
Best place to buy Vitamix containers ?
The containers are NOT cheap($100+ each) so do a little searching around. Personally, I think Amazon typically has best price on Vitamix jars and sometimes they have a sale on them.
Understanding Vitamix Batch Sizes ?
Vitamix shows "Medium" as optimum batch size for the C series and "Large" batch size for the G series but they both have 64 oz containers. Why the difference ?
It sounds strange that the low-profile jars have a larger minimum batch than the tall cups since the capacities are the same. The reason is the narrow base of the tall cups keep the ingredients in a tighter area allowing the blade to blend the smaller batch amounts properly.
The wide containers with small batches can push the ingredients to the side so you have to use a tamper to push the ingredients back to the middle if the batch is too small.
The low profile containers should still be able to blend a typical single serve smoothie but smaller than say 12oz might need a little help with a spatula to move some ingredients around if it is too thick.
The other option if you bought a Vitamix with the wide container is to buy a secondary 32oz container that can properly handle small batches.
The positives of the wide container is it can heat up soup quicker than the narrow containers and it can chop up ingredients better. The wider base of the container makes it easier for the food to circulate the longer blades when chopping so you can do larger batches of chopping(3 cups) with the low profile container than you can with the tall container(1-1.5cups at a time)
In summary, both containers types work great. Some people prefer the traditional tall narrow containers because they can have been around forever and work well with all batches so you have more flexibility with the one container.
The wide "low-profile" Vitamix containers also work well especially for chopping but might take a little experimenting for smaller batches. You can also consider getting a 32oz container if all you have is the low-profile 64oz container.
Compare Vitamix Models
Here is a growing list of popular Vitamix model comparisons. Just click the "+" next to each comparison to view the details.
View My Favorite Vitamix Recommendations
Is Vitamix the Best Blender Brand ?
More and more high-powered blenders have come into the market in recent years. Brands like Oster, Blendtec, Waring, Cleantec, Breville, Omega, Ninja, and Omni all have competing high-speed blenders.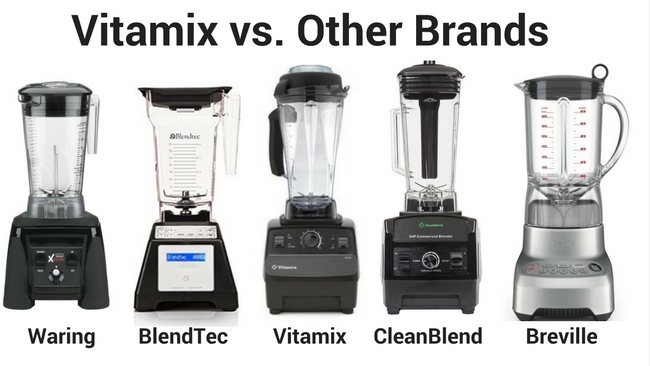 There are lots of opinions about blender brands but overall Vitamix seems to consistently perform near the top among high-end blender comparison tests. Keep in mind that most tests only used 1 Vitamix model(usually 5200) since it has been around the longest.
I didn't find any detailed tests using multiple Vitamix models against other brands. I assume there will be more comparison tests of the Ascent series vs other blender brands in the coming years. Here is a sampling of test results:
Watch America Test Kitchen Blender Results :
Vitamix vs Blendtec
Cooks Illustrated liked the Vitamix better than Blendtec and said Vitamix did a better job of crushing ice. They also said that Blendtec created air pockets which caused uneven blending.(6)
SweetHome did an extensive study(updated for multiple years) comparing various high-end blenders including Blendtec and said the Vitamix 5200 continually outperformed in every task and has the best track-record out of all the blender models they tested.(7)
Serious Eats tested and compared various high-end blender among 13 separate blending tests. They chose the Vitamix 5200 over Blendtec and other brands.(8)
Blendtec seems to be the most popular blender brand that is compared to Vitamix. Despite the differences, if you're just making smoothies then you would probably have a hard time figuring out if it was made with a Vitamix or Blendtec and either is probably fine for smoothies.
Lots of smoothie shops use Blendtec but a lot of consumers and comparison tests found that the Vitamix performed better on a wider variety of blending tasks. Vitamix is a better choice if you are making a wider variety of food prep tasks besides just smoothies or if you don't like relying on the presets that Blendtec blenders focus on.
When comparing Blendtec models, the popular model in tests is the Blendtec Designer Series. The other top rated Blendtec is their "Classic" model which is cheaper than the Designer Series model. I linked to Amazon so you can read the customer reviews of those models.
For a good overview of Vitamix vs Blendtec, I found a detailed Amazon review from a customer who spent a YEAR comparing blenders and has some solid information on why he chose a Vitamix instead of the other blender brands.
Vitamix vs Ninja Blenders
Lets face it, Vitamix costs more than Ninja and that is mostly reflective of quality. While Ninja blenders are pretty good for the price and will work fine for many people, Ninja blenders generally won't last as long as Vitamix.
Ninja blenders have plastic parts and only 1 year warranty vs Vitamix 7 year comprehensive warranty. I have a detailed Ninja vs Vitamix review and Vitamix is able to blend tougher ingredients a little better BUT the Ninja does do pretty good. Overall, I like Ninja blenders especially for the price but Vitamix blenders are better quality and can literally puree anything.
If you're looking at Ninja blenders, visit our Ninja blender review post that answers everything you would need to know about Ninja blenders.
Is Vitamix Worth The Price ?
With a Vitamix you are paying up for their history of quality and warranty. Some people have had their Vitamix blender for 30+ years. I saw a review somewhere where the the person looked at the costs of the blender divided by the number of years someone might use the blender..
A $350 Vitamix that conservatively lasts 15 years for active use would cost $350/15yrs = $23 a year
A $40 blender replaced every three years would cost $13 a year.
A typical $100 blender replaced every 5 years could cost $20 a year, which is almost the same as the Vitamix.
In other words, Vitamix offers better blending performance yet ends up costing the same as low priced, weaker blenders over time. If you think you will use a Vitamix for a long time and really use it, then it is well worth it because Vitamix will normally last more than the 15 years I mentioned above.
Personally, I figure that I eat healthier foods by being able to make smoothies and I feel better. The cost of a blender is far less than the cost of doctor visits over time(I pay $225+ for a basic office visit now) and the Vitamix refurbished blenders are great deals if you are really concerned about cost.
Conclusion – Which Vitamix to Buy ?
I realize this was a long article and hopefully it has answered all of your questions. If you aren't sure which one to get, here are my thoughts on which Vitamix to buy in 2021 :
WANT TO SAVE MONEY on VITAMIX ? 
The reconditioned models are an excellent value (Side Note – when you buy reconditioned it sometimes will have a different model number on it because the blenders are identical and only the accessories were different). See our FAQ section below for overview on Reconditioned Vitamix models.

Should you get Vitamix Ascent or legacy(C/G series) model?
The Ascent blenders are new and perform like the legacy blenders so performance isn't really a deciding factor. The biggest benefit is the longer 10 year warranty but the Legacy models are just as good. It really is up to you so I provided options above for both Legacy and Ascent models. The main benefit of getting an Acent blender is that you will get the latest technology as they are wireless and bluetooth enabled.
Overall, all the Vitamix blenders work great for everyday use and will last for a long time. It really comes down to the features you want and your budget when determining which Vitamix to get. I would go with one of the models I mentioned this "Which Vitamix to Buy?" section.
Wow, you made it all the way to the end of this post. Below are some common Vitamix FAQ's. Note- Since this post was getting so long I created a separate Vitamix Answer Guide that I will continue to add to as questions are asked.
If you have any questions that weren't answered then please leave them in the comment section below. Also, if you found this post helpful then please share it.
Frequently Asked Questions