Best Quiet Blender on the Market in 2023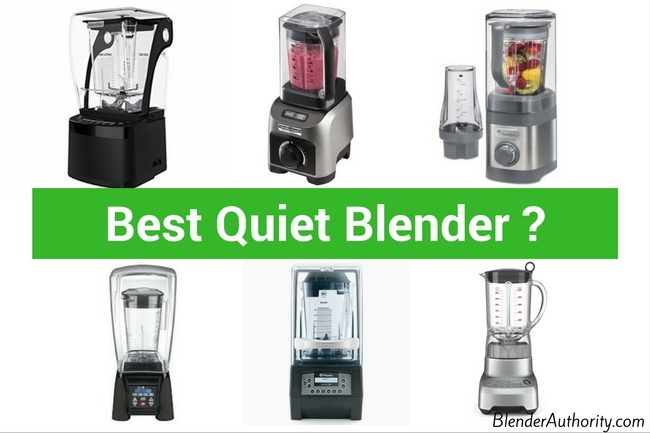 Are there any good quiet blenders on the market ? As the speed and power of blenders has increased over the years, many people are having a hard time finding a quiet blender. Noise definitely is a concern if you live in an apartment or make smoothies early in the morning before others are awake.
Even Consumer Reports, who tested 70 full-size blenders, did not give an "excellent" rating for less noise to a single blender in their test. That is why we narrowed our choices below to the blender models that are specifically designed to dampen noise.
In a hurry? Here are our top picks :
The two main ways that blender manufacturers reduce noise is by either dampening the sound coming from the motor housing or sealing the blender jar in a plastic enclosure, or they do both. If you want a quiet high-powered blender then you will find that the "Quiet" models are designed similar to the commercial blender lines to meet the low-noise requests from restaurant owners.
There are some excellent blender models that provide good performance with reduced noise. In this guide, I will help you find the quietest blender for your needs.
Weston Sound Shield Pro Blender – Best Value
The Weston Sound Shield Pro Blender (Model 58917) is a solid compact blender with plenty of power. It is designed with a separate sound shield that fits over the blender container while blending. The sound shield does make a noticeable difference in noise when it is on.
It comes with powerful 1.6 horsepower motor which is plenty of power for pureeing ingredients and will meet most consumer's blending needs. The blender includes 32oz blending jar and can also be packaged with a personal size 20oz jar with blade.
It offers a 5 year limited warranty which is more than many blender brands offer in this price range.
For controls, I really like the variable speed control dial which isn't always available on blenders at this price range. Having the variable speed dial allows you to easily adjust to the type of ingredients you are blending so you don't over-blend ingredients.
Positives: Well built design and excellent customer feedback. Blends quite well and offers nice power, blending controls, and accessories for the price. The 1.6 HP motor is plenty of power for making smoothies and most blending tasks. The 20oz jar is a nice option for small blending jobs like blending nuts, baby food, or personal smoothies. For noise, it is quieter than most blenders with similar power.
Negatives: The sound shield does help but it is a powerful blender so it still can be a little loud (in the 80 decibel range at high speeds). The other negative is that the 32oz Jar doesn't have a handle and might be a little small for some people compared to full-size high speed countertop blenders which can have jars that are twice the size.
Overall Opinion: The Weston Sound Shield blender is a great blender for performance and sound at this price range which makes it my top value pick. A great choice for dorm rooms or small spaces where blending noise is a concern.
Consumers like it and it has good reviews. If you just want a quieter blender that is relatively compact in size and provides nice power for making smoothies then this Weston blender is a great choice.
See Current Price for Weston Quiet Shield Blender
AUTHOR NOTE:
The Weston 58919 blender is the same blender as the popular
Jamba Quiet Shield blender
(which was made by Weston) which has lots of strong reviews but is no longer available.
Blendtec Professional 800 – Best Overall Quiet Blender
The Blendtec name is known for its high-quality blenders and they are widely used in smoothie shops around the world. The Pro 800 Model is marketed as the "World's Quietest Blender" because it is over 80% quieter than typical blenders. The Pro 800 is designed for the consumer home market but offers many of the features of its professional commercial blenders.
The Pro 800 model is modeled after their popular "Stealth 875" commercial blender in that it uses the same Stealth noise dampening features and same amazing performance for a home blender. The Blendtec features a very powerful 3.8 HP motor(1800 watt) motor which is more powerful than its popular "Classic Series" home models.
The controls on the Pro 800 models are similar to Blendtec's Designer series with its popular digital touchscreen slider control which offers 11 different speeds and 6 pre-programmed functions.
The key sound features on the Blendtec Professional 800 are the sealed enclosure that goes about the blender jar and the sound dampening design on the motor base.
The Professional 800 blender uses Blendtec's most popular jar called the "Wildside Jar" which hold 96 fluid ounces and uses a longer 4 inch blade for improved blending capability. Blendtec's patented Wildside jar design has won rave reviews for its ability to evenly blend smoothies.
It is really quiet as you can see in the video below
Positives: The Blendtec Professional 800 provides amazing, high-end blender performance with very low noise. It provides the same performance and features as Blendtec's commercial blender models that you see in smoothie shops like Jamba Juice. Also, the Blendtec 800 Pro comes with an industry leading 10-year full warranty so you can feel comfortable knowing that you are buying a reliable blender. The Pro 800 is Blendtec's largest residential blender but still will fit underneath a standard kitchen cabinet height.
Negatives: Honestly, the only negative for the Blendtec Professional 800 is the price for some consumers. Although, you truly get what you pay for with this blender if you are seeking performance and quiet.
Overall Opinion: The Blendtec Pro 800 is the best quiet smoothie blender on the market for home use. When it comes to high end blenders, you will usually see a comparison between the Vitamix vs Blendtec as they are considered the two top consumer blender brands. Both brands are excellent but the Blendtec Pro 800 is hard to beat for its low noise and amazing 10 year warranty versus Vitamix Quiet one is intended for commercial use so it has a 3 year warranty. Also the Blendtec Pro 800 digital controls are pretty cool. If you can't afford the Pro 800 then take a look at the Weston blender that I reviewed above. See our Blendtec Pro 800 Review for more details.
See Current Price for Blendtec Pro 800
Vitamix Blending Station
First off, let me say that the Vitamix Blending Station Advance (Model 36021) is not cheap, but it is an excellent option if you want a reliable, quiet commercial strength blender.
You will see that the commercial blenders used in many smoothie shops and restaurants are enclosed in a plastic case like the Vitamix for noise dampening.
This model does not look like the typical Vitamix home blenders and is meant to stay on the counter since it weighs in at 17 pounds.
It is powered by a peak 3 horsepower motor with 93 speeds and a variable speed control. It uses a 48 ounce jar which is smaller than Vitamix's other quiet shield blender but still plenty of capacity for most users.
Positives: If you want a commercial-quality blender that is quiet then this is a good choice. It is designed to handle frequent heavy use with special motor cooling features. I love the Vitamix brand and this blender can blend anything. The noise from the Vitamix is noticeably quieter than typical high speed blenders but the Blendtec 800 model I discussed above is quieter.
Negatives: A few negatives about the Vitamix Blending Station are price and the shorter Warranty. Vitamix is known for its amazing 7 or 10 year full warranty on their consumer blender line but many consumers might not realize that the Quiet One blender only has a 3 year warranty and more restrictions with the Commercial warranty than with their standard residential blender warranty. (source)
Overall Opinion: The Blending Station Advance is an excellent blender for performance and noise reduction but at this price I prefer the Blendtec Pro 800 which has a longer warranty. For commercial or frequent use though it is a top choice.
NOTE:
Vitamix does make a blender called
the Quiet One
which is specifically designed with noise dampening for use in businesses but we removed it from this guide as there are too many complaints from users about reliability.
See Current Pricing on Vitamix Blending Station
Other Quiet Blenders to Consider
The following blenders are quiet relative to most blenders but they didn't quite make the list of the best quiet blenders for reasons mentioned below. They might still be worth considering if you have specific budget or blender needs.
Hamilton Beach Professional 1500watt Quiet shield
Hamilton beach really does offer good blender for the price but the Quiet Shield I feel is still noisy relative to the other blenders I listed above.
Hamilton Beach Quiet shield provides an excellent 1500 watts / 2 peak HP motor and 32oz Jar. I like the controls with the 4 program settings with variable speed dial.
Overall, the Hamilton Beach Quiet shield offers similar performance, features, and price range and it comes down just personal choice.

See Current Price on Hamilton Beach Quiet Shield
NOTE:
There is also the
Hamilton Beach HBH850 blender
which is a professional-level blender with noise dampening container, but I didn't mention it in this article because it is expensive and more than what a typical consumer needs. At this price range, I prefer the Blendtec or Vitamix models mentioned above.
Waring Commercial MX1500XTX
The Waring Commercial MXX1500XTX is a serious high powered blender that comes with a sound enclosure for sound dampening. It is designed for the commercial blender market with a 3.5 peak horsepower motor which is probably more than the typical consumer needs at home. Watch the video below to see it in action.
I didn't include this blender in my top 3 list above simply because it isn't as quiet as my favorite choices. Also, for this price I would expect more that the 2 year parts and labor warranty that it provides but that is pretty common for the commercial blender market.
Waring is a reputable, reliable blender brand and this specific blender model has been on the market for almost 10 years but there aren't a lot of consumer reviews because it is oriented for the commercial market. Overall, the Waring MX1500XTX is a very powerful blender and might be even more power than most consumer's needs.
It is priced in between the other blender models list above so it might be worth consideration if you really need the power, but I felt the Weston blender or the Blendtec 800 were better choices for noise and price.
Click Here for Current Price on  Waring Commercial MX1500XTX
The Breville Hemisphere Control Blender
2022 Update: this model has been recently discontinued so it is hard to find. The Breville Fresh and Furious is a good alternative. The Breville Hemisphere is an excellent blender and while it doesn't have a sound enclosure like the above blenders, its design allows it to naturally be quieter than most blenders.
This Breville blender was one my top choices for best blenders under $200 as it has excellent reviews from independent industry testers and consumers. For more details on the blender read the review at the link above.
Here is a example of it being used so you can hear how loud it is:

The reasons I didn't include Breville Hemisphere as a choice is because it has less power and is a little louder than my top quietest blender choices (Weston Sound Shield and Blendtec Pro 800).
Final Thoughts
All the blenders in this article are good blenders but if sound, performance, features, and price are the deciding factors then I would go with the Weston Sound Shield Pro blender for value or the Blentec Pro 800. Both models are excellent choices if you just want a quiet blender for smoothies.