Blendtec Professional 800 Review – Is this quiet blender right for you ?

If you are looking for a home blender that matches the power and quietness of what you see in your local smoothie shop then the Blendtec Professional might be your best choice. The big questions are if it really is the right blender for you and is it worth the price ?
In this Blendtec 800 review I will explain the pro's and con's and how it compares to other top blenders. The goal of this review is to help you to decide whether the performance and near-silent operation are worth the money.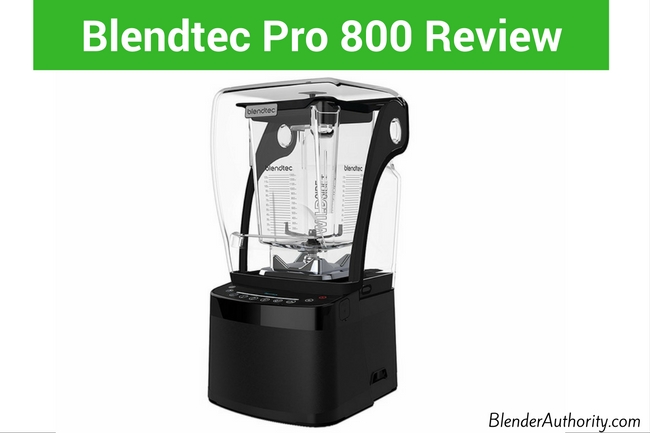 Blendtec Pro 800 Features
Blendtec advertises that the Professional 800 is "the quietest blender in the world". It is modeled after their popular commercial blender called the Stealth 875 which is used in many smoothie stores, coffee shops, and high volume commercial settings. The Blendtec Stealth 875 is our favorite commercial blender.
In fact, the 800 Pro is essentially the same blender as the Stealth 875 but the Stealth 875 has more programming features and a shorter warranty since it is for commercial use.
Design
The most visible feature of the 800 model is the truly unique sound enclosure made of thick plastic which works extremely well and is easy to remove. Blendtec blenders are powerful and loud noise is a complaint with Blendtec blenders so having the 800's sound enclosure is a key feature.
In addition to the sound enclosure, the 800 has a special design that reduces the sound of the air intake (air intake is what cools the motor when blending). For noise, the Professional 800 doesn't get louder than about 67 decibels, which is a noise level comparable to a very quiet vacuum cleaner.
Also, the sound enclosure doesn't impact ease of use as you can open and close the sound enclosure while blending.
Despite the sound enclosure, the size of the 800 is still very reasonable compared to other high speed blenders and can fit under upper kitchen cabinets when not in use. It is about the same height as the new Vitamix Ascent blenders and two inches taller than the Blendtec Designer 725. The 800 with sound enclosure measures 17.25 inches tall x 8.5 inches wide x 9.2 inches deep.
It does weigh 16.2 pounds which is more than other Blendtec blenders because of the 800's more robust commercial design. Also, it is worth mentioning that the heavier base of the Professional 800 helps provides stability for that much power and therefore keeps the blender from moving around on the counter when in use.
The Professional 800 has the same powerful 3.8 horsepower motor as their Designer 725 (The 725 which is louder than the 800 was tied for 1st place in 2017 by Consumer Reports as their top blender choice). The 3.8 peak horsepower uses 15 amps at 1800 watts which is stronger than Blendtec's other residential models which use a 1560 watt, 3.0 peak horsepower motor.
What I like about the Blendtec 800 is that it uses the same jars as its other blenders so it is fully compatible with past models in case you already have Blendtec jars. The Pro 800 comes with Blendtec'c popular 90oz Wildside+ Jar that has 5 sides for efficient blending.
If you are new to Blendtec, then you might not be aware that Blendtec uses a proprietary flat blunt blade design so it won't get dull over time and you can't cut yourself when cleaning the jar.
Controls
You get six pre-programmed cycles, and 11 speed settings, along with a Pulse option, which allows you to manually add some power at any speed level. The touchscreen controls are completely flat, easy to use, and easy to clean.
The preset programs are :
Batters – Sauces, dips, dressing, batters.
Mixed  Drinks – Mixed Drinks and crushing ice.
Smoothie – All smoothies and milkshakes.
Frozen Treats – Ice cream, sorbets, frozen yogurt.
Whole Juice – For liquefying ingredients into juices.
Hot Soups – A long blend cycle to make hot soups and hot chocolate.
Pulse – Chop, mince, or stir ingredients at high speeds.
The controls are the main difference in the Pro 800 vs Stealth 875 commercial blender. The Pro 800 does not allow you to create your own programs or change the existing programmed controls which really isn't necessary for a residential blender (Smoothie shops will typically create their own preset blending programs for specific recipes or drinks that they make many times a day).
Overview of the Blendtec Pro 800

Performance
The 800 Pro blender is powerful. Blendtec's blunt blade design smashes and liquefies pretty much any ingredient you put in there which is different from a conventional sharp blender blade which cuts and chops ingredients.
The 800 has the same motor and jar design as the Blendtec Designer 725. The 725 is a Consumer Reports top blender pick for 2017 so the 800's performance is the same for the 725.
The only area that the 800 might not excel at is certain thick recipes using the Wildside Jar since it doesn't have a tamper. You either stop the blender mid-blend and move the ingredients around with a spatula or you can buy a separate Blendtec Twister jar which is designed for blending thick recipes.
Blendtec Professional 800 Review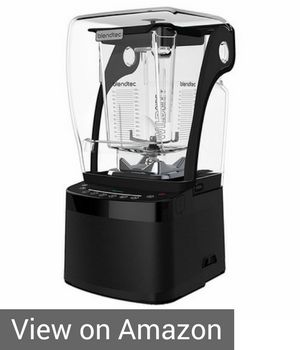 Positives : The Blendtec 800 provide amazing power and quiet. Designed for users that want a professional blender like what they see at their local coffee shop. Proven motor and blade design that can puree anything. Nice preset controls and adjustable speed slider is ideal for those who want hands-free blending.
Easy to clean and a nice modern look. The base is flat and liquid-resistant, so you can simply wipe it down. Backed by a full 10 year warranty as well as a 30-day money-back guarantee.
Negatives: This is a professional-grade blender that comes at a professional-grade price. It does not have a tamper and can therefore can struggle in properly blending thick recipes like nut butters and ice cream.
It is heavier that other high speed blenders so might be an issue if you want to store it after every use.
Overall Opinion: The Blendtec Pro 800 is the ideal choice for customers want a professional blender for home. It has very high user reviews and ratings. The 800 is also our top choice for best quiet blender on the market.
-> Click Here for Blendtec 800 current price<-
Blendtec Professional 800 vs Other Blenders ?
Blendtec 800 vs 725
Those wishing to spend less for the same horsepower and the same degree of versatility, might like to check out the Blendtec Designer 725(Here is a good price on the 725 with the Wildside and Twister jars). It is the closest Blendtec consumer model to the 800.
The Designer 725 comes with six pre-programmed cycles as well, and even more speed settings.  One thing you don't get with the Professional 725 is sound dampening.
The 725 is powerful is louder than the 800 but it is expected for a blender with a 3.8 HP motor.
Both are good blenders but for not much more in price, the 800 offers a sturdier base and full noise dampening features vs the Designer 725.
Blendtec 800 vs Vitamix
While Vitamix does offer a quiet blender like Blendtec for the commercial market (called Vitamix Quiet One), Vitamix does not make any noise dampened models for the home market.
The Blendtec 800 has a 3.8 peak horsepower motor vs Vitamix's 2.2 horsepower motor so the Blendtec truly is a commercial strength blender.
There are a lot of Vitamix models on the market (see our Vitamix buying guide) but the closest Vitamix models to the Blendtec 800 would be either their 780 or new Ascent A3500. Like the Blendtec 800, both of these Vitamix models have digital touchscreen controls and preset blending programs.
The Vitamix blenders provide a little more versatility with food prep and blending thick recipes with their tamper. Although, Blendtec's power and Wildside Jar design perform very well at blending especially with smoothies. Also, you can add Blendtec's twister jar at a later date for use with thick recipes if you find that you want a tamper.
We wrote more about comparing Blentec vs Vitamix overall in our Blendtec 575 review post.
There are many consumers that specifically prefer either a Blendtec or Vitamix but they both blend well and have excellent warranties so it is more of a personal preference.
In regards to the Blendtec 800 specifically, the main differences from Vitamix are the 800's stronger motor and impressive noise dampening design. Other than that, the Blendtec 800 costs more than the Vitamix 780 or A3500.
Final Thoughts
Overall, if you want a powerful yet quiet blender like you see in your favorite coffee shop then the Blendtec 800 is a top choice. While it is expensive for a home blender, it has a full 10 year warranty and is designed to last.
On the other hand, the price can be too high for some buyers, and not everyone needs a 3.8HP motor to prepare their favorite drinks and meals. If noise dampening isn't an important factor for you then the same powered Blendtec's Professional 725 or the slightly less powerful Designer 625 are good alternatives. Both of those models have similar digital touchpad controls and use the same Wildside+ jar as the 800.
All in all, the Professional 800 is a great choice for serious users who want ease of use, reliability, and noise dampening.