Hamilton Beach DrinkMaster Review – The Classic Mixer

Many people are drawn to the Hamilton Beach DrinkMaster because of its cool retro look, but the big question is if it provides good performance for the price compared to other blenders on the market?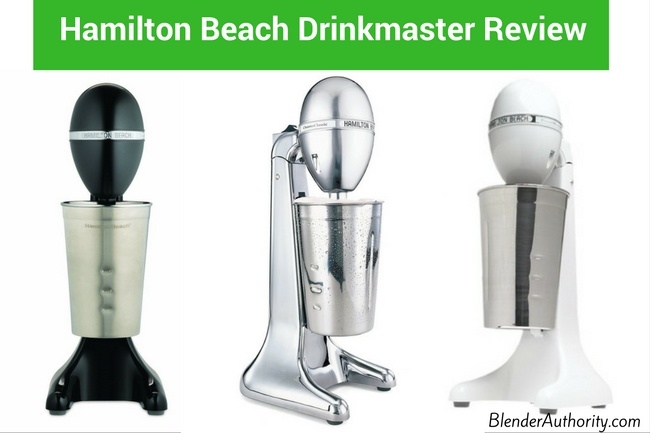 In this Hamilton Beach Drinkmaster review, I analyze whether this drink mixer is a good buy or a pass. I will also be taking an in-depth look at user reviews and compare it to other similar devices on the market. Finally, I will discuss the pros and cons of the Drinkmaster Classic and who this is best suited for.
The Features And Performance
The classic style and design of the Hamilton Beach 730c Drinkmaster takes you back to the old days of malts and shakes made with fresh fruit, thick chocolate syrup and real ice cream. Now you can mix all these delicious drinks right in the comfort of your own home.
The most unique feature of the DrinkMaster from Hamilton Beach is its retro drugstore soda-fountain style. It is available in three different color variations: White (Model #727B), Black (Model #729), and Chrome (Model #737C).
It is important to note that the chrome version is not completely made out of chrome but the top part, is in fact, chrome covered plastic. Yet, this mixer still has a very nice and solid feel to it. It is medium sized and fits in most narrow spaces and is stylish enough to complement any kitchen style.
The 70 watt motor is on the weaker side in terms of power relative to some other blenders in this price range. Although, if you use the proper ingredients and don't overfill it then the power is adequate for mixing milkshakes, malts, and basic fruit smoothies.
It is important to understand that the DrinkMaster Classic is designed as a simple appliance with a simple spindle blade. It is not designed as a blender which can puree difficult ingredients like kale or nuts and perform other blending functions.
The Hamilton Beach malt mixer allows for two different speeds which is perfect for whipping up milkshakes, malted milk, healthy drinks or even a fruit smoothie. The professional style stainless steel cup holds up 28 ounces which a decent size to hold enough raw ingredients for making multiple servings.
A tilting head and removable spindle allow for easy access and effective cleaning. The mixer comes with a 2 year warranty for any manufacturer defects that might occur.
Hamilton Beach DrinkMaster Review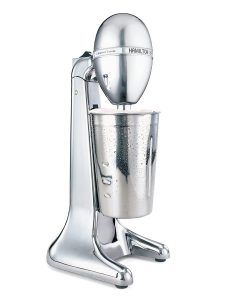 Positives: It is perfect for someone that wants that vintage feel in their kitchen. It is narrow and compact and fits into most small kitchen spaces. While is only has a 70watt motor, it works OK for making simple milkshakes, malts, protein shakes, and simple fresh fruit smoothies. Hamilton Beach has a strong reputation for making affordable, reliable blenders and mixers. A nice positive is that it is very simple to clean.
Negatives: It is important to remember that this is more of a mixer versus a blender. In other words, it is not made to crush ice and liquefy fruit. For the best results you need to use a lot of liquid and use smaller chunks of ice cream and fruit. Furthermore, you should not overfill the mixing cup because this will result in spillage. Some Customers found that the two settings can limit the use and performance. There are some customers that felt misled that the mixer base was made of chrome colored plastic and not real chrome metal but the Drinkmaster is solidly built.
Overall Opinion: The Hamilton Beach Drink Master 730c classic look offers a fun way to make simple malts and milkshakes, but the 70 watt motor and blade design does limit its performance. If you don't overfill it and use proper ingredients with adequate amount of liquid then it will work fine. There are similar mixers and blenders at this price range which I compare below, but the Drinkmaster classic is a good option for the price if used properly.
Click Here for Hamilton Beach Drinkmaster Price
Hamilton Beach Drink Mixer vs Other Drink Mixers
Hamilton Beach milkshake maker versus Hershey Easy Blend Milkshake Machine
Hershey's Easy Blend is slightly more expensive and is the closest comparison to the Hamilton Beach Drink Mixer. It has a higher watt range at about 85 watts. It also comes standard with a 28-ounce stainless steel cup. However, the Hershey's Easy Blend reviews are not as favorable as the Hamilton Beach 730c Mixer. With multiple Hersey Easy Blend customers being dissatisfied with the size of it, motor breaking, and other complaints relating to its strength and usability.
While the Hamilton Beach Drinkmaster has a slightly weaker wattage it seems to be much more durable than the Hershey Easy Blend.
Beach Drink Mixer vs Nostalgia Two-Speed Milkshake Maker
Being slightly cheaper than the Hamilton Beach milkshake maker, the Nostalgia Milkshake Maker has a weaker wattage than the Hamilton Beach, at 65 watts. The Nostalgia has average reviews with most customers complaining about instability, a cheap feel, and clumpy instead of smooth milkshakes.
The Hamilton Beach Drinkmaster has better performance, better reviews, and is backed by a well-known blender brand. The Hamilton Beach Drink Maker is also much more stable and should last longer.
Beach Drink Mixer Vs Waring Drink Mixer
The Waring drink mixer falls into the higher price range for drink mixers. The Waring drink mixer has a much stronger motor but it is still not able to blend large frozen fruit, crush ice or large lumps of ice cream. However, this blender is a better option for someone looking for a more powerful drink mixer with a commercial quality build.
I am not sure that Waring's higher price is justified when you can get a high speed blender for this price range that offers more versatility and power.
Overall, if you want a stronger, drink mixer then the Waring is a good choice but if you will just be using it occasionally for milkshakes then the Hamilton Beach Drinkmaster should suit your needs.
Hamilton Beach Drinkmaster vs Vitamix
Yes, I realize the Vitamix is significantly more expensive than the Drinkmaster but it was worth a quick comparison if you looking for a good blender that can easily do everything that the Drinkmaster can do. Vitamix blenders can purify anything with its variable speeds and powerful motor.
If you decide to look at Vitamix then reference our Vitamix comparison guide. For compact size and performance, the Vitamix 750 is a good choice and a serious upgrade to a basic milkshake mixer like the Drinkmaster. The Vitamix has about 7x more horsepower than the Hamilton Beach 730 classic mixer and the Vitamix can perform many more functions than just mix.
Overall, the Vitamix is at a different price range than any of the classic malt mixers and worth considering if you have the budget and will be using it a lot. The Vitamix will last significantly longer with much stronger performance and versatility than the Hamiton Beach Drinkmaster but you pay the price for that.
Final Thoughts
Hamilton Beach Drinkmaster is pretty decent for the price but its performance is somewhat limited by the power of its motor.
All-in-all the Drinkmaster classic is a decent product made by a reputable brand. It should hold up if you use it properly and have realistic expectation on what it can do. In other words, don't overfill it and don't use hard ingredients in it. I would not advise someone to get this product if they want to use it on a commercial level.
In summary, if you love the retro look and will occasionally be making simple milkshakes, malts, protein shakes and fruit smoothies then the Drinkmaster is a decent value.