Nutribullet vs Magic Bullet Test – Which Blender Did we Pick ?

In this Nutribullet versus Magic Bullet comparison, I provide all the details you need to know to when comparing these blenders and provide the conclusive results from our blending tests of both blenders.
I have written extensively on this site about all of the Nutribullet blender models on the market after using the product for many years. One of the most common questions I get is "How does the Magic Bullet compare to the Nutribullet blender ?" To answer that question, we put both blenders through numerous blending tests to decide on a winner.
Magic Bullet vs Nutribullet Brands
Both products are made by the same company, Homeland Housewares. The Magic Bullet was the first bullet blender and became hugely successful through its popular infomercials.
Years later the company introduced its more powerful Nutribullet blender line.
There is one main Magic Bullet blender model but there are many Nutribullet blender models. I will limit this comparison to the Magic bullet versus the lowest powered original Nutribullet model called the "600".
(The other blenders in the "Magic Bullet" product line are the Mini Bullet , Juice Bullet, and Baby Bullet which are not included in this review as they don't offer the same functionality as the main Magic Bullet blender)
Magic Bullet and Nutribullet blenders essentially perform similar tasks such as food prep, dicing, smoothies, and blending shakes, but there is a noticeable difference in performance which I discuss below.
NOTE – MagicBullet cups and accessories are NOT interchangeable with Nutribullet as Nutribullet blenders are wider with larger blades.

| | Nutribullet 600 Original | Magic Bullet |
| --- | --- | --- |
| POWER | 600 watts | 250 watts |
| CAPACITY | 24 ounces | 18 ounces |
| CONTROLS | Single Speed | Single Speed |
| BLADES | Milling blade & Extractor blade | 4-prong Cross blade |
| SIZE | 13" Tall x 5.25" Wide | 12" Tall x 4.75" Wide |
| BEST USE | Stronger motor and more versatile. Great for green smoothies. | Good for small tasks and basic food prep. |
Nutribullet Blender – Winner
The Nutribullet product line was introduced as a powerful upgrade to the Magic Bullet. Both blenders work exactly the same with similar design. Yet, the Nutribullet provides a noticeable improvement over the Magic Bullet both in performance and build quality. It is just slightly larger in size than the Magic Bullet.
The Nutribullet 600 is the original Nutribullet model and is the lowest powered Nutribullet blender with 600 watts and is about 2.5 times more powerful than the Magic Bullet.
The more powerful Nutribullet 600 has a larger capacity 24 oz cup versus the Magic bullet's 18 oz cup and the Nutribullet comes with both an extractor blade and milling blade. The Nutribullet NBR-12 is a 12 piece set that comes with 2 blades, one Tall 24oz cup, two 18oz short cups, recipe book and various cup accessories.
Positives: The Nutribullet 600 outperforms the Magic blender in pretty much every comparison blending test we performed especially when it comes to pureeing foods for smoothies or grinding hard ingredients.
It continues to be a top selling Nutribullet model and it is the only Nutribullet model that includes their popular flat grinding blade which can easily mill grains, nuts, and seeds (Related video: Nutribullet grinding flaxseed).
Negatives: There really aren't any serious negatives about the Nutribullet 600 that I have found except that the blade will be replaced over time if you use it frequently.
Overall Opinion: The Nutribullet is a big improvement over the Magic bullet both in blending results and in the quality of construction. The Nutribullet's larger 24oz container is more useful for meal-size smoothies versus Magic Bullet's smaller, narrower 18 oz jar. (Editor note: The Nutribullet 600 is also compatible with the larger 32oz Nutribullet cup which is an extra purchase)
For performance, the Nutribullet can handle blending hard vegetables, nut butter, seeds, and frozen fruits, whereas the Magic Bullet will struggle at finely blending those ingredients. Nutribullet's blade design seems to be more effective at blending than Magic Bullet's blade.
I would definitely chose the Nutribullet 600 over the Magic Bullet based on my tests and experience using these blenders.
Click Here for Nutribullet 600 Current Price
Magic Bullet Blender – Runner Up
Advertised as a blender and food processor in one, it is powered by a 250 watt motor and has similar design features as the Nutribullet. It is designed to be compact and simple to use.
Magic Bullet offers multiple accessory packages. The popular 11 piece set (Model: MBR-1101) comes with one blade and three blending cups(12oz and 18 oz capacity) and is sold directly by Magic Bullet and most retailers.
The other variation is the 17 piece Express Mixing set package which comes with an additional blade(flat milling blade) and more cups. The Magic Bullet has a standard 1 year warranty and a recipe book.
All of the Magic Bullet cups are the same and just differentiated by their capacity. The main blade is the Cross blade for blending, grating and chopping (the larger Express Mixing set also includes a Flat Blade for milling, whipping, and grinding).
Positives: Very compact (12 inches tall with cup x 4.75 inch diameter) and fine for small food prep and simple blending jobs. Fine for the occasional user who wants a small appliance for simple food prep, blending baby food, grinding coffee, and basic blending jobs. Affordably priced.
Negatives: The 250 watt motor can limit the performance when blending smoothies or purees. In our blending tests, the Magic Bullet struggles with fibrous vegetables, nuts, some food prep, and thicker recipes that don't have much liquid. The capacity of the tall cup is 18 ounces which can be very limiting when you are making smoothies. User reviews are mixed about reliability as the Magic Bullet's design is lighter grade quality compared to the Nutribullet so parts can break. The performance for blending smoothies can be inconsistent. The Magic Bullet leaks based from our tests.
Overall Opinion: This blender was unique when it was first introduced and there are now other similar inexpensive competitors like the Bella Rocket blender, yet the Magic Bullet continues to be a consumer favorite at a decent price. The infomercial makes it look pretty amazing but consumers should understand that the motor and capacity is limited as shown in our blending test video below. When you compare the Magic Bullet to the Nutribullet 600 you can really see the difference in build quality and performance. Related article: See our Magic Bullet review for more details on this blender.
Overall, the Magic Bullet is fine for simple blending tasks and small food prep jobs but personally I would choose the Nutribullet 600 which I review above.
Our Nutribullet versus Magic Bullet Blending Test

Below is a video showing the performance results between the two models that I reviewed above. You can see how the Nutribullet 600 blended better than the Magic Bullet across multiple blending tests.
| Blender Test Results: | Magic Bullet | Nutribullet 600 |
| --- | --- | --- |
| Fruit/Ice Cube Smoothie | Yes | Yes |
| Grinding Nuts | Somewhat | Yes |
| Milling Flour | Somewhat | Yes |
| Raw Vegetable Smoothie | Poorly | Yes |
| Chopping Onion | Poorly | Yes |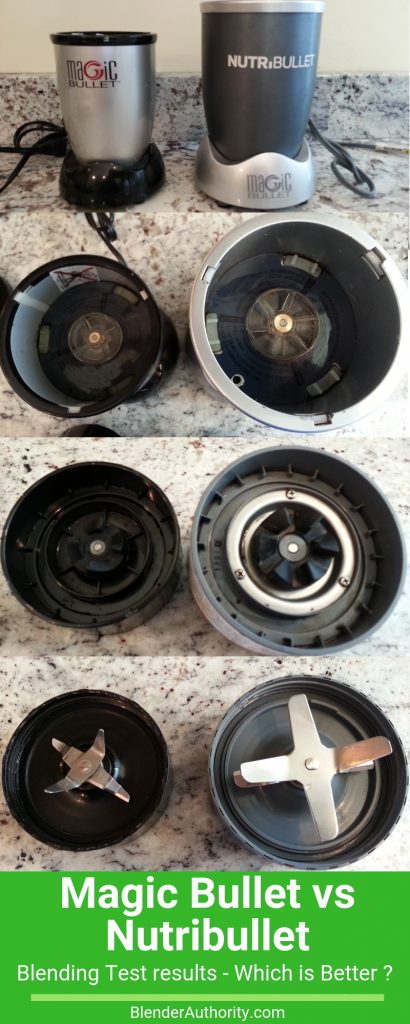 Final Thoughts – Our Choice !
I don't really see a reason to get a Magic Bullet when compared to the performance and power of the Nutribullet blender. The Nutribullet offers a serious improvement in blending performance and capabilities for a slightly higher price.
The Magic blender feels too "dainty" to me for a blender and build quality just isn't as good as the Nutribullet blender line, yet there are many consumers who like the Magic blender. Also, I was very disappointed in the amount of leaking that I experienced with the Magic Bullet.
For all the reasons listed above, I feel that the Nutribullet 600 is the better bullet blender especially if you will be making smoothies.
– > Click Here for Nutribullet 600 pricing and user reviews
SIDE NOTE – If you will be mostly blending healthy smoothies then you might want to consider a more powerful 900-watt bullet blender model which we discuss in our Nutri Ninja or Nutribullet comparison guide.