Baby Bullet Review – how did this baby food system perform in our tests ?

–> Update – Nutribullet changed the Baby Bullet name over to Nutribullet Baby. Same product with new design colors so no change to our original review.
The Baby Bullet has been a popular baby food maker for years. We put the Baby Bullet to the test and share our honest thoughts on this blender in the review below.
We answer all your questions, give the positives and negatives, and explain how it performs versus other similar blenders on the market. In a hurry ? Skip to our Baby Bullet review section.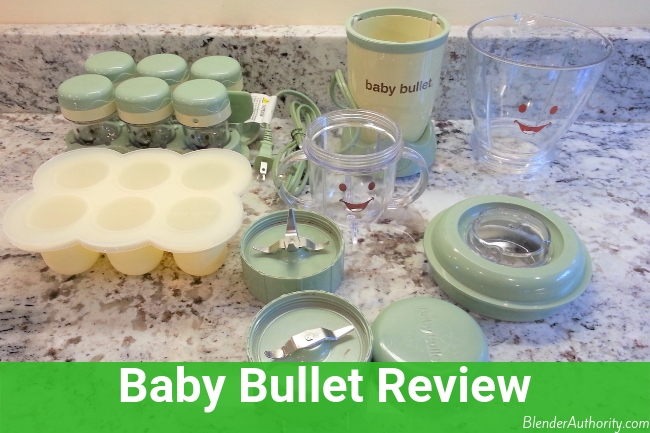 What is the Baby Bullet Blender ?
The selling point of the Magic Bullet Baby Bullet food making system is the ability to make your own baby food for much cheaper than buying from the store.
Besides costs savings, the big benefit of making your own baby food is that there is no preservatives or added sugars and you can easily create your own recipes to meet your baby's tastes. Did you know that store bought baby food has a shelf life of 2-3 years ?
The Baby Bullet is made by the same company that makes Magic Bullet and Nutribullet blenders and has a similar blender design. The main difference of the Baby Bullet vs Magic Bullet is the accessories.
It comes with:
Single-speed 200 watt blender base.
Milling blade for grinding seeds, oats, and grains.
Baby blend blade for blending.
32 oz batch bowl with lid for larger recipes.
12 oz short cup for small recipes.
6 storage cups with lids and date dial.
12 serving (2 oz serving) frozen storage holder.
Baby Bullet cookbook and pocket nutritionist.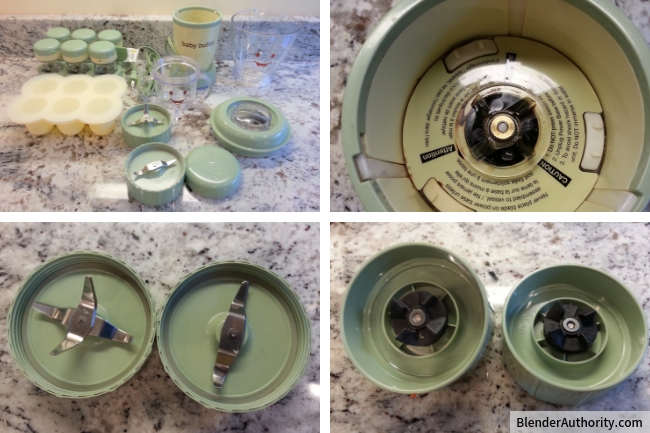 All containers are BPA free and the jars are dishwasher safe. It is not recommended to use the jars in a microwave. To defrost ingredients either put the frozen serving in the refrigerator or place the sealed container in warm water until ingredients soften.
The user manual provides a step-by-step guide for what foods to use at every stage as well as recipes to follow. It also outlines typical feeding schedules and how to make and store baby food.
Performance Test
The Baby Bullet is made to blend soft foods and mill grains. While the infomercial does a good job really selling this product, we wanted to see how it performed in our own tests.
We performed multiple blending tests using both of the blades in the two blending jars across multiple foods.
Our tests found that is did well across the ingredients that we tested. We were not surprised by the results because a 200 watt motor should be enough power to blend soft ingredients.
We found it easy to use and didn't find any issues in operating the blades or jars.
Watch the video below to see the blending tests results and an overview of the blender.
Baby Bullet Review
Positives: Quality puree in small batches and easy to use. Easy to clean without the hassle of multiple parts like other all-in-one blender/steamer devices. The accessories and recipe book are useful for new moms that don't know where to start.
Performed well in our blending and milling tests. It did not leak which is an issue with some other bullet blenders. Continues to get generally good overall feedback from users after years on the market.
Negatives: Compared to other baby food makers, the Baby Bullet is one of the few that also requires you to pre-cook the food before use. As a blender, it is limited to just blending small batches of soft or precooked foods.
Overall Opinion: The Baby Bullet blender is a great baby gift and perfect for parents that want step-by-step system for making baby food.
You can honestly use any blender to make baby food but the Baby Bullet's accessories and guidebook with recipes are really useful. It is very compact and won't take up much kitchen cabinet space.
It doesn't steam foods like an all-in-one baby food makers but we found those all-in-one solutions to be limiting and prefer using a separate food steamer (see opinion about Baby Bullet Steamer in the Q&A section below).
->See Baby Bullet current price
Baby Bullet Alternatives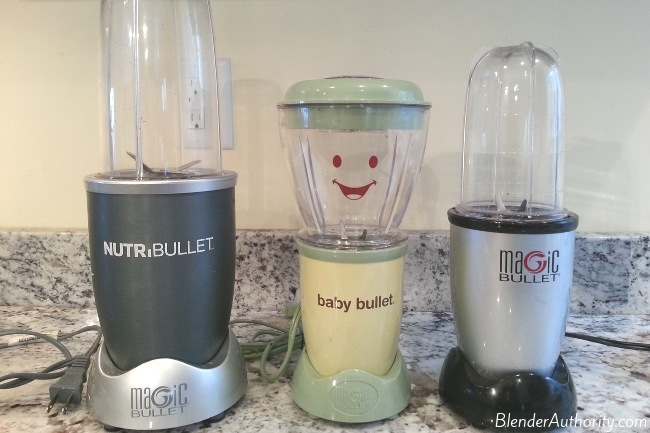 Baby Bullet vs Magic Bullet
The Baby Bullet is essentially the same blender as the Magic bullet but with slightly less power. The Magic Bullet motor has 250 watts versus Baby Bullet's 200 watts.
Editor Note : The Magic Bullet is a slightly larger diameter so the Baby bullet blades and cups are NOT interchangeable with the Magic Bullet.
We own and have tested both blenders. The blending results are very similar between both blenders and the blending blade is the same design.
Besides the slight variation in blending power, the only real difference is that the Baby Bullet provides accessories and a recipe book specifically designed for making and storing baby food.
One issue we have with the Magic Bullet that we didn't experience with the Baby Bullet is that the Magic Bullet blade leaks.
While the Magic Bullet is cheaper than the Baby Bullet, the Baby Bullet accessories are useful for someone who wants a step-by-step system for baby food.
Otherwise, if you don't care for the accessories, then we would just get the more powerful Nutribullet 600 or 900 rather than the Magic Bullet. Nutribullet blenders have more power, blend better, and can make a lot more than just baby food which allows you to use them for many years.
Beaba Babycook vs Baby Bullet
The BEABA Babycook is an all-in-one steamer and blender. It is arguably the most popular model and allows you make baby food almost hands-free.
The Babycook uses a flat blade like those used in traditional food processors in a nice wide jar with 4.5 cup capacity. The Babycook also offers unique features like auto shut-off and reheating.
Whereas, the Baby Bullet offers more blending power with a unique cookbook and food storage accessories, but it does not off all-in-one steaming/blending capability.
One issue that users have with the BEABA is cleaning in that you will have to run vinegar or a similar cleaner through the machine to keep it sanitary. Whereas, bullet blenders are easy to rinse or clean in the dishwasher.
Personally, the biggest deciding factor is price. The Beaba Babycook is 3x the price of the Baby Bullet. You are paying for convenience as the Babycook is really just a basic food processor with a steamer. For busy moms, the Beaba Babycook is very useful as an all-in-one solution with auto shut off but you pay more for it. Whereas the Baby Bullet offers a more complete step-by-step manual and food storage accessories for a much lower price.
Baby Brezza vs Baby Bullet
The Baby Brezza is another steam/blender combo unit that is priced less than the Beaba Babycook but more than the Baby Bullet.
The Brezza has very mixed reviews with complaints about the steamer results, durability of parts, and performance. Whereas, the Baby Bullet proven blender design is much more reliable.
I have a hard time justifying the price of the Baby Brezza with such concerns about performance and quality. If you really want an all-in-one steamer/blender device then go for the Babycook (see above).
If you are fine with steaming foods separately then then Baby Bullet offers a much lower price and better blending results than the Baby Brezza.
Baby bullet vs Nutribullet
These two blenders are from the same company. The Nutribullet offers much more blending power and is built more robust compared to the Baby Bullet with larger blades and sturdier motor base.
The Nutribullet 600 is about the same price as the Baby Bullet with 300% more blending power.
Nutribullet can easily blend baby food as well as smoothies with difficult ingredients such as raw ingredients, nuts, and seeds. Whereas, the Baby Bullet is limited to blending soft foods but its selling advantage is the accessories and complete baby food cookbook and user manual.
Again, the Baby Bullet is great if you want the step-by-step system for making baby food, but the Nutribullet is a better blender and can be used beyond blending baby food.
Ninja Blenders vs Baby bullet
There are many Ninja blenders but the most comparable to the Baby Bullet is the Nutri Ninja personal blender. The Nutri Ninja is very similar to the Nutribullet 900 with 900 watts of blending power versus Baby Bullet's 200 watts.
As mentioned above, the Baby Bullet is designed for blending soft foods so 200 watts is enough power for that.
If you want a blender for smoothies, food prep, and ability to blend raw ingredients then Ninja's higher power allows you to do those tasks. Yet, Ninja blenders don't provide any of the baby food accessories.  NOTE – I personally prefer the Nutribullet 900 over the Nutri Ninja (see Nutribullet vs Ninja comparison).
Baby Nuk vs Bullet
The Nuk baby food maker is sold in large retailers and is more affordably priced compared to the Baby Bullet. The Baby Nuk blender offers 250 watts power compared to Baby Bullet's 200 watts and also comes with various baby food storage containers.
The reasons I would avoid the Baby Nuk is quality and performance. The Nuk has many complaints about parts breaking and poor blending results. Whereas, the Baby Bullet is based on the top selling Magic Bullet design which has sold millions of blenders with good reviews.
Also, Baby Bullet's manual is much more comprehensive for someone new to making baby food. If you are attracted to Nuk's low price then you would be better off buying a full-size cheap blender for similar price that lasts longer with better performance.
Immersion Blender vs Baby Bullet
Immersion blenders are great for making baby food and you can also use it for other food prep activities in the kitchen.
The advantages of an immersion blender is it is easy to clean and you won't outgrow it like you would with a Baby Bullet.
The advantage of the Baby Bullet is the accessories, manual, and various blades for baby food. See our favorite immersion blenders for making baby food.
Most Common Questions:
Do you need the Baby Bullet Steamer ?

Many people buy the separate Baby Bullet Steamer which is useful for steaming fruits, vegetables, cooking eggs and sanitizing baby bottles. While it is convenient to use, you can easily steam food without the Baby Bullet steamer. It really is a personal preference if you want another appliance device or not.
I just use a stainless steam steamer basket like this one which I already use for cooking and I didn't want to take up more cabinet space with a steamer appliance.
How to Use the Baby Bullet ?
Let steamed foods cool.
Add food to the blending jar and screw the blade onto the jar.
Press the jar down and twist into the motor base to puree. There is only one speed but there is also the ability to pulse the ingredients. The motor can be run up to a minute without pause.
Most people will make multiple servings at once which is why they provide the various storage accessories. You can either store the servings in the storage cups or frozen in the silicone storage tray.
It is suggested that you can either refrigerate the food for up to 3 days or freeze it up to 30 days.
FOOD STAGES GUIDELINES:
Stage 1 (4-8 months)
Start with single-ingredient purees using simple low allergy foods. Introduce 1 new food each 4 days. First meal typically made with simple soft foods like banana, sweet potato, pear, apple, avocado, brown rice.
The recipes are typically single ingredient that you puree with 1/4 cup breast milk, prepared formula, or water.
Stage 2 (9-12 months)
Solid food transition that typically occurs at 4-6 months and double birth weight (12-15 pounds). Baby can sit upright and can push food out of mouth at this stage.
These recipes introduce multi-ingredient purees and certain softer solid foods.
Stage 3 (1 year +)
Use blender for mixing bits of soft veggies and making parts of the meals that include solid foods.
What can you make with the Baby Bullet ?
It can puree cooked fruits and vegetables and grind grains.
Can I blend frozen fruits and vegetables ?
No. steam frozen ingredients 1st before blending
How long to blender fruits and vegetables in a baby bullet ?
Blend to your desired consistency. Typically though you shouldn't need to blend over 30 seconds.
How much liquid to add to recipes ?
It depends on how thick you want it. The recipes depend on the size of the Baby Bullet containers. Start with 1/8 to 1/4 cup of liquid and add more up to 1/2 cup if it is too thick.
Baby Bullet container sizes ?
The Single-Serving storage cups hold approximately 2 ounces.
The Short Cups hold approximately 12 ounces.
The Batchbowl holds approximately 32 ounces.
Final Thoughts – Should you buy it ?
There are quite a few different baby food makers on the market and and honestly any blender can make baby food because you are just blending soft ingredients.
The Baby Bullet has everything packaged together and is worth it if you are going to use it. We enjoyed using it and liked how easy it was to clean and store.
If you don't feel the need for the all-in-one type of product, then you could also just use a basic blender and get a set of small food containers for storage.
Leave any questions in the comments section below !