Nutribullet 600 vs. Nutribullet Pro 900 vs. Nutribullet RX Review

We have personally used Nutribullet blenders for over 7 years so we can offer our experiences in comparing the Nutribullet 600 vs Nutribullet Pro 900 vs Nutribullet RX 1700 to help you decide on the best Nutribullet to buy.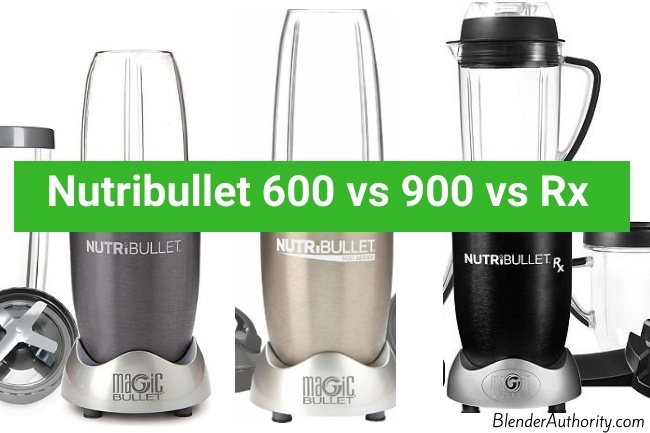 2023 Update
– Since we originally wrote this post, Nutribullet has introduced multiple new models which we have reviewed on this website.
Despite all these new Nutribullet models, we believe that consumers should focus their decision making on the 3 Nutribullet models that we review below because they continue to be best sellers for Nutribullet with 1000's of reviews. Our top Nutribullet choice (900 Pro) has not changed.
The reason why we continue to stick with the 900 Pro as our favorite Nutribullet model is because it offers a nice balance of size, power, and versatility for making not only smoothies but also dips, dressings, and grinding nuts and seeds. Also Nutribullet keeps introducing and discontinuing their new models in recent years which makes it very difficult to get replacement parts and accessories.  Whereas, the 3 models that we review below continue to be top sellers after many years and you can easily get replacement cups and blades. OK, let's get to the reviews…
Nutribullet 900 Review – #1 Top Pick

Positives: This model was designed to improve blending and pureeing that some felt the original Nutribullet 600w model lacked. It offers a higher strength 900 watt motor with higher RPMs allowing it to blend ingredients to a better consistency. The PRO Extractor blade design and higher 900 watts of power allow you to mill dry ingredients without the need for a separate milling blade.
Besides the higher strength motor, this model comes with the new PRO extractor blade that integrates the extractor blade and milling blade into one blade. Also the Nutribullet Pro has a larger 32oz capacity.
Negatives: There were some initial complaints years ago with leaking which was fixed with the new base/blade design. The added power makes it noticeably louder than the Nutribullet 600 model and it isn't designed to blend ice without liquid.
Overall Opinion: After 7 years years of extensive use, the Nutribullet 900 remains our top choice for performance and price. It is the most popular Nutribullet model with very high review ratings among consumers. It continues to be a top choice in multiple independent blender tests for personal size blenders. 

While it isn't the most powerful Nutribullet blender, the 900 compact size offers plenty of power and versatility for making smoothies, grinding nuts, and various food prep activities. It is a very versatile blender with a high-strength motor than can compete with larger, more expensive blenders. The 32-ounce container is a good size for holding enough raw ingredients to make larger, meal replacement drinks.
For ease of use, compact size, and versatility the Pro 900 blender is a great choice as a single serve blender and offers "the best bang for the buck". Despite all the different new Nutribullet models, it is still our favorite Nutribullet blender model.

-> Click here for Nutribullet Pro 900 Current Price
Nutribullet 600 Review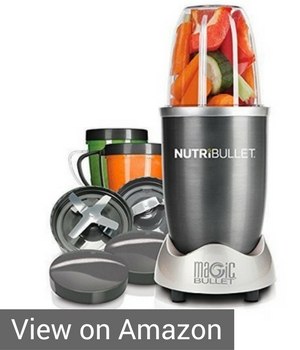 Positives: Less noise than the other models but still offers a strong motor and adequate power for most uses. Slightly cheaper than the 900 Pro. It is the only Nutribullet model that comes with a separate milling blade for grinding dry ingredients like nuts, oats, and spices.
Negatives: The 600 watt motor is less powerful than the other Nutribullet models which can affect the consistency of some smoothies depending on the ingredients. It can have a harder time blending out blackberry seeds versus the stronger Nutribullet 900 or Rx models. It comes with a 24oz jar but the 32oz jar (not included) works fine on this blender.
Overall Opinion: The 600 model is the least powerful of the Nutribullet models and the lowest cost. Overall, it is a good model and an upgrade from the popular Magic Bullet blender series. The milling blade is excellent and this blender does a good job blending smoothies.
Some users prefer the stronger motor of the 900 or RX models but the 600 is stronger than other single serve blender brands and still has very good overall reviews. A good blender for the price. The only drawback for some users is the 600 model's capacity is limited to 24oz. It is a great choice for making small smoothies(makes about a pint glass of finished smoothie) and food prep.
-> Click here for Nutribullet 600 Current Price
Nutribullet Rx Review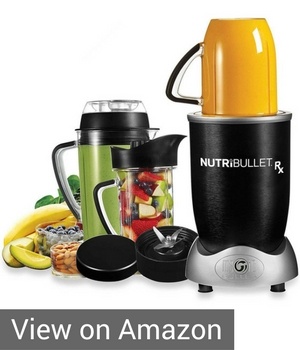 Positives: Very powerful 1700 watt motor that can turn almost any raw ingredient into purified form quite quickly. Larger, heavy-duty build compared to the other Nutribullet models. Its power almost competes with the more expensive Vitamix personal blender S30. The key unique feature of the Nutribullet Rx is its built-in heater to create soups. The Rx uses a pre-programmed blend cycle.
Negatives: It is louder and we personally didn't like the pre-programmed feature. We like having control of how long we want to blend it and only found the AutoBlend useful for specific smoothies. The Rx has plenty of power for smoothies but we don't find it as useful for other blending tasks because of the size and autoblend settings. There are some complaints are about the blade gasket getting chewed up by the blade and some felt it wasn't designed well for how strong the motor is. Also, the Rx model does carry a higher price.
Overall Opinion: The Nutribullet Rx model (Model N17-1001) was created to be a hands-free, high speed smoothie blender. Its blending power is intended to compete with more expensive blenders and some users might like the convenience of making healthy soups with it but not sure how effective the heating function is. Also we don't like heating up ingredients in plastic containers.  It is very powerful for blending smoothies and continues to get good reviews but we prefer the 900 due to size, simple controls, and better versatility.
Click here for Rx Model Current Price
| | Nutribullet 600 | Nutribullet 900 | Nutribullet Rx |
| --- | --- | --- | --- |
| Watts | 600 | 900 | 1700 |
| Horsepower | 0.8 | 1.2 | 2.3 |
| RPM | 20,000 | 25,000 | 30,000 |
| Capacity | 24 oz | 32 oz | 45 oz |
| # of Speeds | Single | Single | Single |
| Warranty | 1 year | 1 year | 1 year |
| Unique Feature | Basic model includes milling blade | Larger capacity and speed than 600 model | Heating function and has a pitcher. |
Our Personal Choice?
We personally chose the
Nutribullet Pro 900
due to its motor strength, reasonable price and the fact that it doesn't have any preset blending functions that can break.
  The Nutribullet 900 is our top choice among
small blenders on the market
based on performance and price.
The smaller Nutribullet 600 is also a great choice at a lower price with plenty of power for smoothies but a smaller 24oz container.
Reader Tip – We have never had a problem with our Nutribullet blenders but you can get a very low-cost 3-year appliance warranty plan on Amazon.com if you are concerned about your blender breaking.
Still trying to decide on the Nutribullet 600 vs 900 ? Watch our demonstration video :
For more details
Continue reading below to learn more about specific models…
Are Nutribullet Accessories Interchangeable Between Models ?
The cups and blades for the 600, 900 Pro and many of the newer models are all interchangeable EXCEPT THE Rx model. The cups and base for the Rx model are not interchangeable with the other models because the diameter of the Rx base is larger.
The Milling blade only comes with the 600 model because of the power of the 600. You can technically use the milling blade on the 900 but the Pro Extractor blade is designed to replace the milling blade. The Pro Extractor blade can be used on any of the standard size models like the 600 and 900.
Regarding the cups, the motor strength of each model will determine the cup capacity. The max cup size for the 600 model is the 24oz tall cup because of the 600 watt motor. Whereas the 900 watt models and stronger can all handle the larger 32oz colossal cups. The RX has a 45oz capacity.
New Blade Design
Nutribullet introduced the Pro 900 with a new Extractor Pro Blade which combines the functionality of the milling blade and the extractor blade (see picture below). The higher power of the 900 eliminates the need for a separate milling blade.
There are some old comments online about leaks and strength of blade on the original Nutribullet blade design from years ago. Nutribullet has refined its design and blade assembly over the years that addressed those potential issues but it is important to make sure you don't overfill the cup and check that the blade base is screwed on securely to prevent leaks.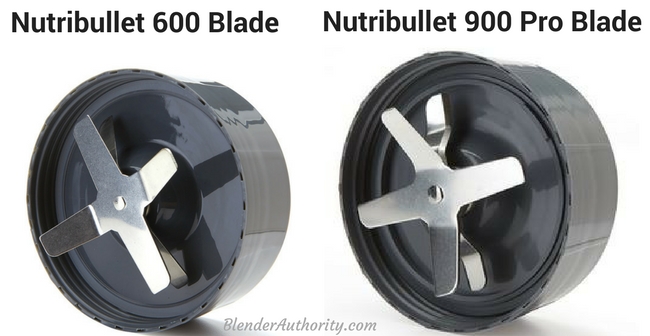 Washer Blade Issue
Some users have experienced the Nutribullet blade washer coming out after use sometimes. The rubber washer fits snugly so it won't usually come out on its own but sometimes it does when you remove the lid after using the machine. (See picture to the right)
Personally, it was never a problem for me because I would use a flat butter knife to take the washer out every so often to clean any potential dried food.
The picture on the right shows what our washer looked like after a couple uses before washing by hand. You can see the little green residue from vegetables after using it. It is no big deal and takes 5 seconds to clean it in hot water. TIP – If you rinse the blade thoroughly right after blending it usually removes the residue.

Consumer Reports Nutribullet Confusion
Consumer Reports conducted an test in early 2014 on the Nutribullet 900 where they broke the blade crushing ice and said do not buy it. In prior years the Nutribullet has passed the Consumer Reports durability tests with no issues and Nutribullet claimed they hadn't received any broken blade complaints after selling them for years so they weren't sure why Consumer Reports had issue with the blade. Also, Nutribullet emphasized that they don't market their blenders for crushing ice without liquids or other ingredients.
In September 2016, Consumer Reports retested the Nutribullet Pro 900 doing a stress test crushing 7 large ice cubes 45 times to simulate rigorous use and found that the Nutribullet passed. They found that the newer Nutribullet 900 blades are thicker and improved.
Overall, the stress test is beyond what normal use would be for the Nutribullet blender but Nutribullet 900 passed. Nutribullet says that their blenders are not intended for crushing ice only and that ice should be blended with liquid and not be more than 25% of total ingredients (Make sure to read the user instructions when you get the blender).
Side note – If you are looking to buy a Nutribullet replacement blade later on, make sure you only buy authentic parts. Do not buy from a 3rd party company that makes a "Nutribullet compatible blade".
For additional comparison of the 3 Nutribullet models(600/900/Rx) you can read through the details below.
Click to read note about Nutribullet Lawsuit
November 2017 – There was news in 2017 about a lawsuit against Nutribullet from some users that we want all our readers to be aware off. The news says the Nutribullet containers caused ingredients to overheat which resulted in the jar bursting and injuring some customers. The articles state that Nutribullet claims it is from misuse and the company has sold more than 40 million blenders worldwide without this issue. Nutribullet commented this issue is "contrary to the hundreds of millions of uses by satisfied NutriBullet customers worldwide". Since this lawsuit was announced nothing has changed from Nutribullet in regards to their product design and major retailers continue to sell them.
We will continue to use our Nutribullet blender and have always followed the usage guidelines without any issues after 6 years. If you feel that you want to evaluate alternative blenders then take a look at Ninja versus Nutribullet comparison article.
We will continue to update this post if anything changes. 
AUTHOR NOTE – For any blender you buy make sure you read the instructions and warnings for proper use. Blenders operate at high speeds which creates friction that results in heat. High powered blenders like Vitamix can even create hot soups from cold ingredients from this friction and therefore are designed to run for longer blending cycles. Many blenders state you should never put hot ingredients in the blender because it creates pressure. Also you don't want to overblend which can cause overheating. Nutribullet's instructions state to not run more than 1 minute consecutively and to never use any hot ingredients. 
Nutribullet 600 vs 900 vs Rx Comparison
Similarities
1. Simple Operation : All three models have the same design and use the same procedure for blending. A slight difference with the Rx is that it uses pre-programmed hands free timing so you aren't supposed to hold it(it made us a little nervous though).
To start off, put all your ingredients in the blending cup and seal it up by firmly screwing on the blade attachment.
To start blending, you have to push the cup down towards the base and twist to lock it in. As soon as you apply pressure on the cup, the motor starts spinning the blades. The blending stops as soon as you let go.
If you want to let the blender work on its own, press down and twist the cup to lock. If you want the blending to stop, simply twist the cup in the opposite direction to release the lock.
2. Powerful Blades: All three models have one speed setting but have different RPM (rotations per minute) capabilities.
3. Versatile: All Nutribullet blenders can shred, blend, grind and chop all kinds of food and ingredients.
4. Easy to Clean: All cups have a wide mouth and are dishwasher safe. The base can be hand wiped and blades, hand washed.
5. Leak Proof: The cups and lids are designed to prevent spillage.
6. Durable Material: The cups and lids are made of BPA-free plastic which is microwave safe.
Differences
1. Motor Power:
Nutribullet 600 comes with 600-watt / .8 horsepower motor than can produce 20,000 rotations per minute.
Nutribullet Pro 900 comes with a 900-watt / 1.2 horsepower motor that produces 25,000 rotations per minute.
Nutribullet RX comes with a 1,700-watt / 2.3 horsepower motor than can produce 30,000 rotations per minute.
The more number of rotations a blade can do in a minute, the finer and smoother the texture of the liquefied food will be. This can make a noticeable difference depending on the person's taste and ingredients.
On the contrary, the higher the wattage, the greater the electric consumption will be. But, considering that blending only takes a few seconds, this factor is negligible.
Nutribullet 600 vs 900 Noise ? A common question we get is noise level. Generally, the more powerful the motor the louder the noise. The 900 motor has a higher pitch noise level versus the 600 but it isn't typically an issue for users and is similar to other blenders with that power. Noise level starts in the high-80 DB levels for Nutribullet blenders.
2. Capacity:

Nutribullet 600 has a 24-ouce capacity.
Nutribullet Pro 900 has a 32-ounce capacity.
Nutribullet RX has a 45-ounce capacity.
In terms of capacity, the Nutribullet 600 was designed for a single serving. The Nutribullet Pro 900 as a double serving(or meal replacement smoothie). And, Nutribullet RX is family size.
3. Accessories:
The Nutribullet accessories that go along with the blenders differ from version to version. Here are the detailed lists.
Nutribullet 600 is a 12-piece set with all these things included in its box:
One Power Base with a 600-Watt Motor
One 24-Ounce Jar
One 18-Ounce Jar with Handle
One 18-Ounce Jar without Handle
One Milling Blade
One Extractor Blade
One Lip Ring with Handle
Two Lip Rings without Handle
Two Re-Sealable Lids
One User Guide and Recipe Book
One Pocket Nutritionist
Nutribullet Pro 900 is a 13-piece set with these things included:
One Power Base with 900-Watt Motor
One Extractor Blade
Two Flip Top to go Lids
Two 32-Ounce Colossal Cups
Two Handled Lip Rings
Two Regular Comfort Lip Rings
One User Manual/Cook book
One Pocket Guide containing glossary of few ingredients, detailing their nutritional content, health benefits, seasonality, and preparation requirements.
One Recipe Book
2022 UPDATE

–
The Nutribullet Pro 13-Piece Set is the most popular
(

Click here for current pricing

)
.
Some retailers still sell other variations like the 9-piece set(model  NB9-0901), 13-piece set(model  NB9-1301), or 15-piece set(model NB9-1501) but the 13 piece set is the most popular.
Nutribullet RX is a 10-piece set with the following inclusions:
One High Torque Motor Base (1700-Watts)
One 45-Ounce Oversized Jar with Handle
One 30-Ounce Short Jar with Handle
One "SouperBlast" Pitcher with a 2-Piece Lid
One Extractor Blade
One Comfort Lip Ring
One stay-fresh Lid
One Lip Ring without Handle
One Blade removal tool
One User Guide
One Nature prescription Book containing Recipes
4. Controls:

Only the Nutribullet RX has the autoblend and built-in heater for soups.
In this RX model, there is a "G" button located at the front of its base that will activate the heating function. Within seven minutes, it will turn your blended smoothie into a hot beverage.
5. Price:

The prices of these different versions of the Nutribullet blenders may fluctuate but, in general, the Pro 900 will be more expensive the Basic 600 model by about $30-40. And, the RX model will be more expensive than the Pro 900 by $30-50.
In regards to the Nutribullet vs Magic Bullet Comparison, the Magic Bullet suffers in blending quality with its 250-watt motor as compared to the weakest of the Nutribullet Models which at least has a 600-watt motor.
Final Thoughts
While the Rx has more power than the Pro 900, we don't really have a need for the Rx autoblend function. Also we are not big fans of the "Heat" feature of the RX because you are heating up the foods in plastic cups. (This is different from a high powered Vitamix that blends so fast that it can literally make hot soup due to the blending speed).
Many consumers feel the price difference between the basic Nutribullet 600 and Nutribullet Pro 900 is negligible and they like the strength of the Pro 900 motor.
For the price difference between the Pro 900 and the RX model it is up to you how much power you need but the 900 Pro offers enough power for large personal smoothies. Also, Rx cups are not compatible with any other Nutribullet blenders because the Rx cups have a wider mouth.
We feel that the Nutribullet Pro 900 is the best Nutribullet blender because it has a nice balance of power, ease of use, and accessories for the price. Also the replacement accessories for the 900 Pro are easy to find..
2023 UPDATES
– Nutribullet has introduced multiple new models in recent years which we have written extensively about(see links below) but we still like the 900 Pro model the best.
The LEAN model was introduced in late 2016 which takes some some nice features from the 900 Pro and Rx (read our Nutribullet LEAN review) but we still prefer the Nutribullet 900 or 600 model if you are on a budget.
 The Nutribullet Select is an updated blend of other models with the new variable speed/preset program controls. (See Nutribullet Select Review)
The Nutribullet Prime is a slight upgrade to the 900 with similar price. In comparison to the 900 Pro, the Prime has 100 watts more power, extra to-go cup, and Auto-off program. (visit our Nutribullet Prime review)
Nutribullet MAX is the same as the Prime blender with some different accessories. It has some nice features like the 1 liter pitcher but I don't really like the auto-blend. (See Nutribullet MAX review )
Nutribullet Balance Review- The Nutribullet Balance is essentially their 1200 watt blender with new technology at a high price. The app for measuring ingredients is time consuming to use versus just using a measuring cup. The recipes are already free to access online with Nutrition data. We honestly don't see the need for the Balance model.
Nutribullet Combo blender is the 1st full size blender from Nutribullet that is designed to also work with single-serve cups. The cups are not compatible with other Nutribullet models. For more details, see our full Nutribullet combo review).
FINAL THOUGHTS -We've researched them all and personally just stayed with our Nutribullet Pro 900, which we have used for years and it still works great after over 1,000 uses. Read more about the Nutribullet 900 and see current price .