Waring Pro Blender Reviews: A 2023 Guide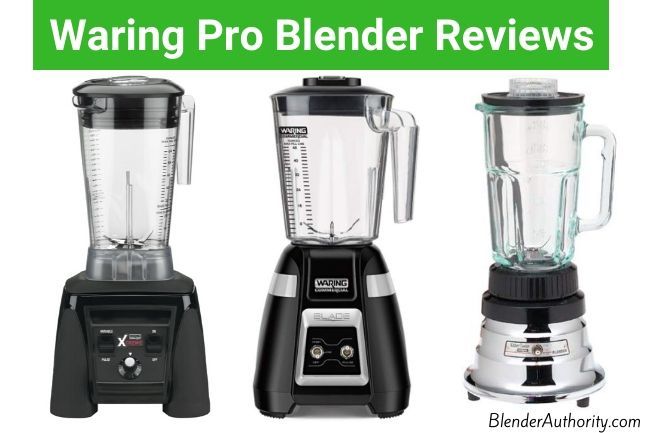 Waring blenders have been around since 1937 and even popularized the term "smoothie" in the 1940's. The company has evolved over the years and makes a wide range of kitchen appliances.
For blenders Waring is better known in the commercial blender market versus the consumer market but they do sell a full range of home blenders under the "Waring Pro" product line.
The Waring Professional blender line is made up of 3 blender lines: 1. Bar blenders, 2. Food and Beverage, and 3. Special blenders.
In this post we will cover our top choices from from those 3 blender lines and give you the positives, negatives, and overall thoughts.
What is the difference between Waring Blender product lines?
Waring Bar blender models (WPB05 and WPB80) use the classic Waring chrome "waterfall" design. They use a 500 peak watt motor and 40 oz container. These models are simple to use and are entry level blenders.  You can get a stainless steel carafe for these models which is great for cold drinks like milkshakes.
Food & Beverage models (PBB225, PBB201 White, PBB204 Red, PBB209  Black, PBB212 Green, MBB518 Brushed metal, MBB520 Copper) are a little more heavy duty than the bar blender models by offering a 550 watt motor and unique cloverleaf design jar for efficient blending.
Specialty Blender models (Models MBB1000 Inverted blender, MX1200RXT XTREME Variable speed , MX1000RXT XTREME, HPB300 MegaMix, PBB25 Stainless Steel blender, TG15 Tailgater blender). There is a variety of blenders in this product line and these are the most powerful Waring blenders on the market. The specifications and designs vary too much among the models to do a simple comparison so we limited the choices below to our top picks.
While the Waring Pro
consumer
blender line is built with some "professional features", it isn't built to the same standards of their
business
blender product line, so we eliminated some of the consumer models due to durability concerns.
The 3 models that we list below are what we feel are the best choices for consumers based on performance and reliability.
1. Waring MX1200XTX Xtreme Food Blender Review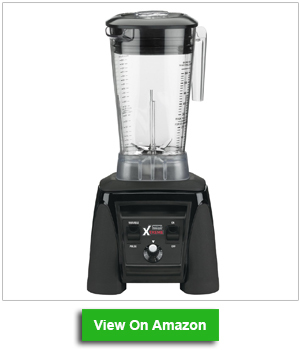 Features:
3.5 peak horsepower motor
BPA-free copolyester material
Stainless steel blades
Comes with variable speed control
"Raptor Jar" with 64-ounce capacity
Positives:
Waring has promised "Xtreme" results with this high-powered blender, and in many ways, they deliver. THIS IS A VERY POWERFUL blender that easily competes with top brand like Vitamix and Blendtec.
The variable speed control provides a lot of versatility. Designed for use by serious chefs that want a blender for a wide range of food prep uses besides just blending drinks.
This blender is perfect for anyone who frequently prepares sauces, smoothies and baby foods from harder and thicker foods, including carrots, cucumbers, avocados and more.
Negatives:
Ultimately, this blender is in many ways aimed towards professional use. Although you can use it in your home, it is pricier than many other blenders on the market, making it better suited for serious users.
It only offers a warranty of 3 years for the motor and 2 years for parts of labor because it is designed for high volume users and businesses. This is a shorter warranty than competing consumer blenders at this price range.
Overall Opinion: The USA-Made Waring MX1200XTX packs a lot of power and is designed for heavy use (rated for up to 75 blends daily). For the price we would probably go with a Vitamix. A Vitamix will offers the similar power and features with up to a 10-year full coverage warranty and like Waring is also built in the USA. We also like that Vitamix uses a tamper for blending thick recipes.
Click Here Waring MX1200XTX current price
2. Waring BB300 Bar Blender Review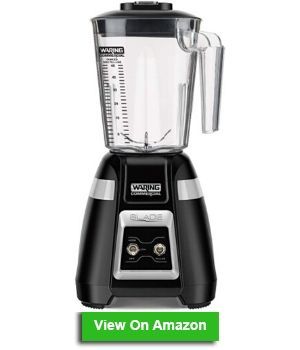 Features:
Very powerful 1 horsepower motor
High and low-speed settings with pulse toggle
48 ounce co-polyester jar and lid
16 inches tall by 7.625 inches wide
1-year warranty
5-year motor warranty
Optional stainless steel jar
Positives:
Powerful blender at a reasonable price. Designed for simplicity with toggle controls and no electronics or blending programs.
The BB300 is a bar blender which means it can blend drinks FAST and easily crush ice or frozen ingredients. The motor is designed to handle 25-49 drinks a day without overheating.
Ideal blender for frozen cocktails, dips, salsa, smoothies, milkshakes and any drink.
Negatives:
Simple controls that doesn't have variable speed controls. Can be loud but has a rubberized jar pad for sound dampening.
Overall Thoughts: Great professional quality blender with simple controls that won't break. Very sturdy feel and designed to blend any drink you can imagine. This would be our choice if you like to entertain and need to blend a lot of drinks.
Also, if you have been looking for a high-powered blender that doesn't use a plastic jar then you can get the stainless steel jar part# CAC138 for this blender or just buy this blender with the Stainless jar rather than the plastic jar . (The MX1200 that we reviewed above only works with a plastic jar)
Click Here for Waring BB300 current price
3. Waring BB155 Bar Blender Review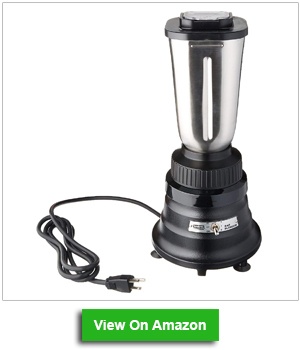 Features:
2 speed toggle control
.75 Horsepower motor
44 ounce Stainless steel blending jar
Positives:
This simple blender is designed for ease of use. This model uses Waring's popular round "waterfall" design and 2 speed toggle switch.
It is better made than the similar looking WPB05 blender as the BB155 is built with metal gears and replaceable drive system for long term use.
Although it is something of a "one-trick pony" (as it is aimed towards making drinks over all other functions), it is a solid choice if you are looking for drink blender that can focus on doing one particular task well.
Negatives:
The BB155 is Waring's simplest professional blender so it isn't made to blend as frequently as the above blenders but is plenty for most consumers. After all, it is rated for creating up to 25 drinks per day which is more than the average homeowner could make (even during holiday party season).
This blender also has a smaller 44 ounce capacity compared to other full-size 64 ounce blenders.
Overall Opinion: This blender is ideal for frozen drinks and smoothies and perfect for those that want a simple, well built blender. It is not as powerful as the two Waring blenders above but the BB155 has a lot of power for a 44oz jar. Not the best choice if you love making soups, sauces or baby food with your blender.
Click Here for Waring BB155S Blender current price
Waring blenders we didn't include:
We reviewed every Waring blender and only listed the models we would recommend for performance and durability. We continually update this guide if models change.
We didn't include the entry level WPB05 as the gear assembly is made with plastic and there are too many user complaints about durability.
Final Thoughts
Waring markets many of its its consumer appliances as "professional" as many are specifically designed for use in restaurants, cafes, and other business establishments rather than for use at home.
This is good for the consumer as they are able to get well-built blenders designed to handle heavy use. The above three Waring blender models are our top picks and provide good options for any consumer.
If you are still trying to decide on a blender then please leave any questions in the comments below.