Best Smoothie Blender – Our Favorite Smoothie Makers for 2023

If you are new to smoothies and want to find the best smoothie blender for your budget then you have come to the right place. Updated for 2023. There are a lot of blenders on the market and performance can vary dramatically between the different models.
We love smoothies and have reviewed a lot of blenders. In this guide we have narrowed it down to the absolute best smoothie making models.
First there are a few things that you need to understand when deciding on a smoothie maker. Let's get started.
Smoothie Blender Criteria
Your Goals : If you are really focused on making raw food smoothies then you will want a blender with enough horsepower to puree nuts, seeds, fibrous vegetables, and other difficult materials. If you just want to make simple fruit smoothies then you can probably get by with a weaker blender. Also the better blenders have enough power to make a lot more than just smoothies such as hot soups, bread dough, nut butters and more.
Power : Watts and horsepower are typically the main factors for evaluating blending strength but you should also consider the container size for proper comparison. For example, if you are comparing a full size blender with a personal blender that have similar power, the smaller personal blender can typically blend better because of the smaller container.
Size : If you are just looking to make single-serve smoothies then you might not need a full-size blender and would be fine with a popular personal blender. (For personal blenders try to get one with at least 900 watts of power and a minimum 24oz cup capacity).
Budget : With blenders you generally get what you pay for. Blenders tend to have a higher likelihood of breaking versus other appliances due friction on the motor. The higher priced brands like Vitamix and Blendtec have better warranties, more powerful motors to handle a wider range of tasks, and will last a very long time. Some of the more affordable brands like Ninja, Oster, and Hamilton beach make great smoothie but they are typically built with more plastic parts and offer shorter warranties.

Best Blender for Smoothies in 2023
SIDE NOTE: We focus on full-size countertop smoothie blenders in this guide. If you want a single-serve smoothie blender then check out our detailed guide to the best personal blenders on the market.
#1 Vitamix Pro 750 – Highest rated and most versatile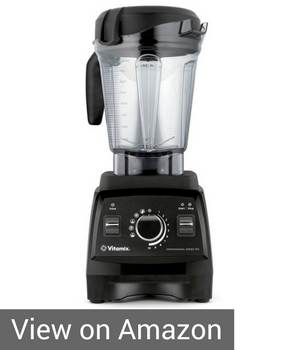 We have written about the Vitamix 750 before as it continues to be one of the top blenders on the market. It is part of Vitamix's G series blender line which offers impressive power with a clean design and useful controls.
It is the highest rated blender by Consumer Reports and continually gets top reviews from users.
Positives: The 750 blender has a nice range of speeds and is simple to use. Proven design and very reliable. Vitamix is the brand choice for professional restaurants and commercial kitchens. Useful preset blending programs for hands-off blending. Full coverage 7 year warranty.
Negatives: Expensive for some consumers. The low-profile container design can struggle blending small portions sometimes.
Overall Opinion: Top performance and ratings. The Vitamix 750 is a good choice if you want a blender that can do anything and will blend any smoothie ingredients into a fine puree consistency. Also, it has a smoothie blending program for hands-off ease of use.
See our Vitamix 750 review for more details. (Tip: Save money and consider getting a factory refurbished 750 model which is "like-new")
-> Click Here for Vitamix 750 Current Price.
Runner Up Vitamix Model:
The ever-popular
Vitamix 5200
is an excellent lower cost alternative choice to the Pro 750 model. The 5200 has Vitamix's classic tall container design which allows it to blend small batches slightly more efficiently than the 750. The 5200 is versatile and continues to be a choice among serious chefs. It is an awesome smoothie blender and also ranks at the top in all blending tests. Honestly, the 5200 is our favorite blender for people new to Vitamix because of the simple controls, tall pitcher design, and consistent performance. Although, the 5200 doesn't have any preset blending functions
.
#2 Blendtec Designer – Top smoothie store brand
Blendtec is a leader in blending innovation and its blenders are used in more professional smoothie stores than any other blender brand.
Blendtec blenders are very powerful and designed to puree anything (They have a famous "Will it blend" Youtube channel where they literally pulverize an Iphone).
What makes Blendtec Designer series blender unique versus Vitamix is Blentec's dull blade, sleek modern design, digital controls, and Wildside+ jar design.
Positives: Proven to blend anything and an excellent choice if your focused on making raw food smoothies. This blender has a sleek, modern design with digital controls. Very good for smoothies, pureeing, and crushing ice. Market leading full coverage warranty. Smaller size than Vitamix which is nice if you have limited counter space. Blendtec is the brand of choice in commercial smoothie stores.
Negatives: High price can be an issue for some consumers. You are paying for the performance, quality and reliability. Doesn't have as wide a range of true speeds as the Vitamix which might be important if you are doing a lot of food prep and don't want to puree all the ingredients. Some people prefer Vitamix blade design which pull ingredients down into a vortex for even blending versus Blendtec's blade smashes ingredients around in the jar.
Overall Opinion: When choosing a high performance blender most people narrow their decision to either a Vitamix or Blendtec Designer. It just comes down to personal preference. Blendtec is excellent is you want want a hands-off smoothie blender and like the modern look. It can puree any tough ingredient to a very fine consistency.
I have slight preference for Vitamix's heavier build, built in tamper, and ability to also do more food prep but Blendtec is an awesome blender. The Blendtec Designer 625 was ranked highly by Consumer Reports for its ability to make iced drinks and smoothies. See our detailed Blendtec Designer review if you want more details on this blender.
->Click here for Blendtec Designer Current Price
#3 Ninja Professional – Affordable smoothie blender
Dramatically dropping down in price from the Vitamix and Blendtec above, the Ninja Professional blender is a good smoothie blender for the money. It tested well in many independent blender tests and the Total Crushing Blade design works very well with ice and frozen drinks.
Positives: Affordable and has been a consumer favorite with 1000's of positive user reviews. Works pretty well for smoothies and excels at crushing ice. It has a lot of power for the price.
Negatives: The blade design won't bring the ingredients down into a vortex so it doesn't puree some difficult ingredients as well. Doesn't have a tamper which is really useful to have for thick recipes. It isn't as versatile as more expensive blenders. Only has a 1 year limited warranty.
Overall Opinion: The Ninja Professional has continued to be Ninja's most popular blender line. It scored very high in Consumer Reports smoothie test even ranking above many blenders that are 2-3x in price.
Overall, The Ninja Pro is a good blender if you just want to make smoothies and frozen drinks. It isn't as powerful as the above blender choices but it does well for smoothies. It is worth ranking it as #3 for smoothie blenders based on performance for the price. There are multiple Ninja Professional blender models, but I suggest the BL660 because it has more power and includes the single-serve blending cups so you can use it as a personal blender.
-> Click Here for Ninja Pro Blender
#4 Breville BBL910XL Boss – Sleek and powerful
The Breville BBL910XL Boss is Breville's most powerful consumer blender. It was initially priced in line with Vitamix and Blendtec because it is just as powerful but we didn't recommend the Breville in comparison. Recently this blender has come down in price which makes it a compelling choice if you want a sleek high powered blender that some consumers said works better than their Vitamix or Blendtec.
It has a sturdy, brushed metal design with modern digital controls. Powerful 1500 watt motor and large 68oz pitcher with tamper. The useful one-touch blending programs are: Smoothie, Green Smoothie, Frozen Dessert, and Soup. It also comes with a variable speed dial for more control in order to make nut butters, mill flour, and make sauces or dips.
Positives: Powerful and well built. Sleek brushed aluminum design with digital controls. Excels at making any smoothie with a single touch of a button. Good for making dips, smoothies, milkshakes, iced drinks, and serious pureeing tasks.
Negatives: It is loud. Heavier than other brands. Not built in the USA like Vitamix and Blendtec and has a shorter warranty. While consumer love this blender,  independent blender comparison tests like Serious Eats and Consumer Reports found that the Vitamix and Blendtec blenders performed slightly better overall across a range of tests.
Overall Opinion: If you want a very powerful smoothie blender then this Breville is worth considering. (It even has a "Green Smoothie" blending button). While the Breville performs well and has a beautiful design, we do have a concern over the warranty.
Breville has a limited 7 year warranty on this blender model and we had a hard time finding the details on what the warranty covers. Whereas, Vitamix and Blendtec are made in the USA and they are known for having a very generous FULL coverage warranty for 7-10 years(depends on model). Considering that blenders can have a higher likelihood of breaking versus other appliances due to wear and tea we would pay a little more for the Vitamix or Blendtec to have peace of mind.
-> Click Here for Brevile Boss Current Price
#5 CleanBlend – Powerful yet affordable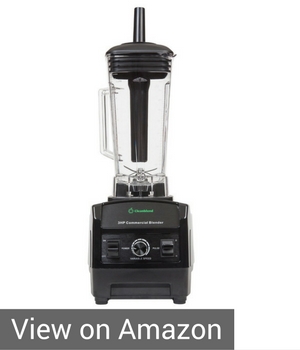 The Cleanblend it offers high performance strength at a very reasonable price. It looks very much like a Vitamix 5200 and has plenty of power.
Positives: 1800 watts is a lot of power and it performs very well. It looks just like a Vitamix 5200 and is hard to beat the performance for this price.
Negatives: This blender is built by a newer company which has been selling only this blender model since 2012, but the user reviews are very strong. It is not built as solid as a Vitamix or BlendTec so long-term reliability might be a concern.
Overall Opinion: The Cleanblend 3 horsepower blender is a powerful blender at a really good price. It continues to get very strong reviews. If you really want a powerful smoothie blender then the Cleanblend is a good option.
If you plan to do a lot of food prep and horsepower intensive blending tasks like making nut butters and dough then a refurbished Vitamix 5200 might be a better option long term for durability.
We wrote an extensive review about the CleanBlend commercial blender which covers the blender in detail.
#6 Breville Hemisphere Blender
Breville makes some wonderful kitchen appliances and the Fresh and Furious BBL620 is the company's mainstream model that replaced its popular Hemisphere blender. If features 1100 watts of blending power that performs very well due its unique Kinetix jar design and motor.
We ranked it higher than more powerful blenders because the Breville offers nice features and design for the money. Also, it has ranked very well in multiple independent blender tests from Good Housekeeping, CNET, America's Test Kitchen, and Consumer Reports.
Positives: Breville has an excellent brand reputation and this blender is well built with a sturdy feel. This blender has a beautiful design with nice controls. Strong scores in multiple independent industry blender tests.
Negatives: It is loud but similar to other blenders with this power. Wish this blender used a metal drive socket rather than plastic.
Overall Opinion: The Breville BBL620 a is nice looking blender with great features. As mentioned, it ranked well in multiple blender comparison tests and it is a good blender for smoothies and frozen drinks.
It doesn't quite match the performance of higher powered blenders but is a good choice from a very reputable brand.
-> Click here for Breville Hemisphere Current Price
#7 Oster Pro 1200 – Affordable with nice features
Oster is a well established blender brand and while they do have a high performance consumer blender line (listed farther below), the Pro 1200 watt blender offers a great price with some really nice features if you just want a solid affordable smoothie blender.
It has pre-programmed settings for smoothies, milkshakes, and dicing as well as 7 speeds from pulse to puree. Uses a 6 cup Glass jar pitcher which is a nice feature if you don't want a plastic pitcher.
Positives: Nice features and has good overall consumer reviews after being on the market for 3 years. Dual-direction blade technology improves blending results. Well built for the price and includes a 10 year all-metal drive warranty.
Negatives: It can struggle blending some ingredients. There are some user complaints about the reliability of the optional food processor and smoothie single-serve cup accessories.
Overall Opinion: A good blender for the price if you just want to make smoothies, frozen drinks, and basic food prep. Not designed to handle the range of tasks that a more powerful blender can do but overall a good blender for the price. Works well for smoothies if you use enough liquid for proper blending. The Oster 1200 is our favorite cheap blender.
-> Click Here for Oster 1200 Current Price
Smoothie Makers that didn't make the list
Cuisinart Hurricane Pro – Cuisinart introduced their high-powered Hurricane blender line in recent years. While is blends well there are some concerns that we have about it and prefer the other blenders we listed above which are similar in price. To learn more, read our detailed Hurricane blender review that we linked to.
Final Thoughts
We review a lot of blenders on this site and there are a lot of factors that we used when choosing our favorite smoothie blenders for this guide.
Keep in mind, that most blenders can handle blending a basic smoothie with fresh ingredients. Yet, not every blender can properly blend a green smoothie. The reason is that vegetable smoothies have difficult to puree ingredients such as kale, hard vegetables, frozen fruits, fruits with seeds, and nuts. All of the blenders in this post work well for any smoothie.
Finally, a big factor that we used in evaluating blenders is reliability as blenders are prone to breaking over time. Therefore, we removed a lot of blenders from the list above that we felt didn't meet reasonable reliability standards.
All of the smoothie makers in the list above provide good performance and reliability for the price. We will continue to keep this post updated. Please leave any questions below and we will answer them !