Cuisinart Hurricane Blender Review – Does it compete with other top blenders ?

Cuisinart is a popular brand name known for its wide range of kitchen appliances yet the only blenders they are known for is hand blenders. Due to the popularity of smoothies and blending in recent years, they introduced their high-speed Hurricane blender line with the 2.25 horsepower CBT 1500 and the 3.5 horsepower CBT-2000 models.
Both Cuisinart Hurricane blender models offer nice power for a good price, but there are a lot of competing blenders in this price range.
In this review I will cover all the positives and negatives for both the CBT 1500 and the CBT 2000 Hurricane Pro models to help you decide if the Hurricane blender is the best choice for your needs.
Hurricane Blender Overview
Cuisinart introduced their Hurricane blender line a few years ago as their first entry into the competitive, high-powered blender category. Most people don't realize that Cuisinart and Waring are both owned by Conair and Waring is well known as a top blender brand. Therefore, it only makes sense that Conair would introduce high performance blenders for the Cuisinart brand.
Cuisinart has two Hurricane blender models with the CBT 1500 targeted to the mainstream consumer and the more powerful CBT 2000 Pro targeted toward towards consumers that want commercial blender strength but can't afford a high end blender like a Vitamix.
Both models have Cuisinart's Blend-logic technology which adjusts blending strength based on the amount of food added to the jar and results in a more consistent blending result. This is a unique feature that many blenders do not have. Other blenders that offer preset programming just blend based on a preset timer and don't adjust for the amount of ingredients in the blender.
The controls offer some nice features but there are some key differences in the CBT 1500 vs CBT 2000 models which I will get into below.
First off, let us review the Cuisinart Hurricane CBT 1500 blender.
Cuisinart CBT 1500 Review
The Cuisinart Hurricane Blender CPT 1500 has a powerful 1120 watt, 2.25 peak horsepower motor which is enough for typical blending tasks. It does have a heavy duty design but the exterior gun-metal gray base is plastic not metal.
The illuminated touch pad control is a nice feature with buttons for on/off, pulse, smoothie, low speed, high speed, and ice crush. The LCD display screen features a programmable 3-minute timer.  The timer will count up if no time is selected. Take some time to read through the instructions to understand how to best use the control features. Here is a link to the manual for more details on the controls.
The CBT 1500 uses a four-prong stainless steel blade and 60-ounce BPA-free plastic jar which is similar in size to other competing blenders on the market. Some nice features about the jar are the clear measuring marks and the removable built-in measuring cup in the lid so you can add ingredients during blending through the hole without fully removing the lid. Although, some users mention that the lid can be hard to remove after blending sometimes.
This blender also features overheat protection feature to prevent the motor from overheating. If It happens, you just need to unplug it, and then wait for fifteen minutes before using it again.
Positives : The Hurricane CBT 1500 offers good power for the price. A decent blender for making smoothies and drinks. The controls are simple and easy to keep clean although it will take a little bit of time initially to figure out which settings you want to use for certain blending tasks.
The CBT 1500  has a nice look and sturdy feel to it. This blender uses a conventional blade and pitcher design for creating a vortex for even blending. The 3 year warranty is decent and longer than other blender brands like Ninja.
Negatives : Doesn't have a variable speed control so you are limited in the number of speeds as it only has low, high and a couple preset functions. The lack of speeds can be an issue if you are looking to do more food prep with your blender where you don't want to liquefy the ingredients.
Does not have a tamper for moving around ingredients in thick recipes that don't use a lot of liquid. Although Cuisinart advertises that is is quiet, it is not noticeably quieter than competing blenders with this same power.
The square jar design can cause ingredients to stick in the corners with thick recipes like making nut butter.
Overall Opinion : While the CBT 1500 blender decent power for the price there are some concerns that I have about it. My main concern is reliability as despite the relatively high overall ratings from users there are multiple complaints from users  about the motor and jars breaking within the first year.
The CBT 1500 has come down in price since it was first introduced and it offers a competitive power for the price but I am concerned about the reliability of it over time. Consumer Reports said it performed "Very Good in overall performance" but it did rank below many other similar priced blenders in their rankings for performance.
My final opinion is that although I like Cuisinart products, I can't recommend the CBT 1500 as there are better choices. I would suggest instead choosing one of the similarly priced blenders I that listed in my Vitamix Alternative guide. Otherwise, the Hurricane Pro CBT 2000 that I review below has really come down in price and offers more power, features, higher independent test ratings, better warranty and stronger customer reviews than the CBT 1500.
Cuisinart Hurricane PRO CBT 2000 Review
The CBT 2000 is a serious step up from the CBT 1500 both in performance and features and is marketed as their commercial blender for home use. It is Cuisinart's most powerful blender and appears to use commercial quality features from their sister company Waring.  The CBT 2000 features a powerful 1500 watt, 3.5 peak horsepower motor as well as variable speed dial with 10 different speeds ranging from 1,500 up to 25,000 RPM. On the front of the speed dial is a Turbo burst button that you can push to blend up to 30,000 RPM.
For controls, the CBT 2000 has a digital control screen with buttons for start/stop, pulse, and clean. It also has buttons for 3 preset functions: smoothie, ice crush, and soup. You can also use the up or down arrows to adjust the timer clock for hands off blending. The most unique feature is the custom memory function that remembers your preferences when it comes to blender settings, length of blending, etcetera.
The preset functions work pretty well and the soup function is a nice program to have in that it blends for a preset 6 minutes and has a enough power to turn raw ingredients into a hot soup. Typically only the strongest blenders have enough horsepower to create hot soups from raw ingredients.
The jar is a large 64 ounce BPA free Tritan Plastic with a tight fit lid with removable measuring cup.
The industrial build quality is very nice with an all metal drive, all metal ball bearing blade assembly, 6 prong stainless steel blade, removable rubber base dampening pad and sturdy base.
Like the CBT 1500, the CBT 2000 has an overheat sensor and BlendLogic smart technology to adjust blending based on the amount of ingredients in the jar.
The Hurricane pro blender comes with a 3 year limited warranty as well as a 10 year motor warranty.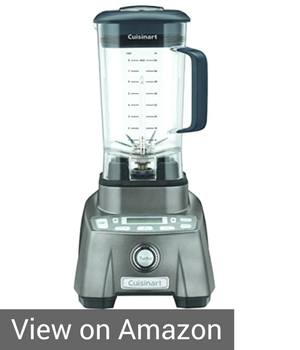 Positives : The Cuisinart Hurricane Pro packs a lot of power with some really nice control features.
In 2017 the Cuisinart CBT 2000 rated near the top of all blenders in Consumer Reports overall blender tests despite Cuisinart's much lower price compared to their top picks.
The CBT 2000 price has really come down since it was first introduced in the market so it is very well priced for the features and power that you get. (I've seen it under $200 recently)
Negatives : Most of the negative of the Hurricane Pro are minor issues but I will list them here.
It is loud but similar to other blenders with this power. The black rubber lid is a hard plastic which works fine but some people prefer the flexible soft rubber lids like Vitamix's. There is no tamper which is a nice feature to have with thick recipes like ice cream and nut butters. (Without a tamper you have to stop the blender and stick a spatula in the jar to move the ingredients around)
When doing tasks that don't involve much liquid like crushing ice or making nut butter, the square jar design can struggle moving thick ingredients around efficiently.
Overall Opinion : The Cuisinart Hurricane Pro offers a lot of power and has good reviews from consumers and testers. The recent low pricing I have seen on this blender make it an attractive choice.
The only issue to be concerned with is that Cuisinart doesn't have an established history in the high powered blender market so you might want to buy an inexpensive extended warranty for peace of mind.
Again, it is a good blender for most users but if you are looking for a commercial strength blender for heavy use then warranty and reliability is something to consider. For the price, the Hurricane Pro is definitely worth considering.
Click Here for Hurricane Pro Current Pricing
Cuisinart Hurricane vs Vitamix
In comparing the Cuisinart Hurricane Pro vs Vitamix, Vitamix is a better choice if you are looking for a commercial strength blender that you will be using frequently. While the Cuisinart Hurricane has nice power and features, Vitamix consistently outperforms other blenders for reliability, design, and functionality across a wide range of blending tasks.
There are a lot of Vitamix models so reference our Vitamix buying guide for an updated list of our favorite Vitamix blender models.
Cuisinart Hurricane Vs Ninja Blenders
Ninja has a lot of blender models but the closest to the Cuisinart Hurricane Pro CBT 2000 is the new Ninja Chef blender. The Ninja Chef has similar power and price as the Hurricane and strong initial customer feedback. The build quality on the Hurricane is a little stronger looking but both blenders are powerful.
For controls, both blenders have variable speed controls but the Ninja offers more preset functions. The Ninja Chef does offer a couple useful features that the Hurricane does not such as a tamper and the blender works with Ninja's personal size blending container for small batches and personal smoothies.
For reliability, both blender models are relatively new to the market, but Ninja sells a LOT of blenders and they offer decent blenders for the price. (They don't compete with Vitamix and Blendtec which are twice the price).
Overall, the Cuisinart does have more horsepower and a sturdy feel but the Ninja has some useful features. Both blenders are good choices for a similar price so it comes down to personal preference.
See current price on Ninja Chef
(For more details see our Ninja Chef review)
Final Thoughts
Cuisinart Hurricane blender series does offer some nice features but I do have some reliability concerns with the CBT 1500 model.
The CBT 2000 is definitely an improvement over the CBT 1500 and recently the CBT 2000 has been selling for an excellent price.
The Hurricane Pro CBT 2000 ranked near the top for Consumer Reports testing and has some really nice features. If you want a commercial strength blender for a reasonable price then the Hurricane Pro is a good choice.