Best Vitamix Alternative Blender in 202

Completely updated for 2023 – The biggest change is we removed the Oster Versa Pro 1400 blender due to reliability and replaced it with the Hamilton Beach Pro 1800 blender.
There is a wide selection of high performance blenders in the mid-price range as is seems to be a popular price point with consumers that want a decent blender but don't want to spend $400+ on a high-end blender.
Fortunately, there are some good performing yet affordable high-powered blenders that can meet the blending needs for most users.
In this article I narrow it down to a list of 5 choices for best blender in this price range that performed well in tests, features, performance and customer feedback.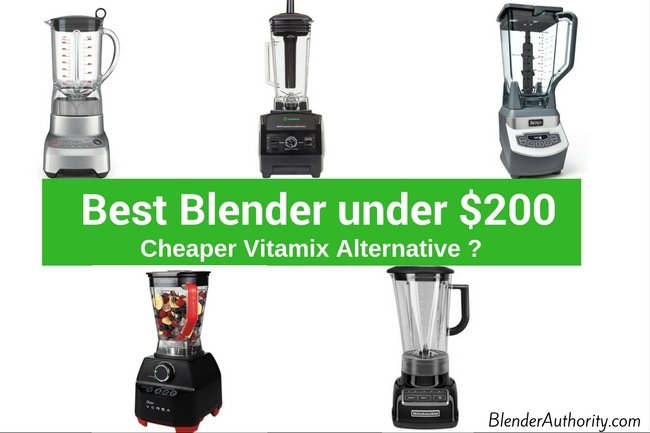 This guide covers quality high speed blenders that are priced less than a Vitamix and is for those of you who want a blender that will last longer, perform a wider variety of tasks, and have more blending power than a cheap blender.
In a hurry? Here are the best blenders :

Side note
– While I provide some excellent Vitamix alternative blenders in this article that will be fine for most users, understand that Vitamix carries a premium price for long term quality, warranty, and performance that is hard to beat. Another alternative is considering a certified reconditioned Vitamix (
see available models
) which is less than a new Vitamix blender but still has a full 5 year warranty.
Selection Criteria
I have reviewed a lot of blenders and blender brands on the market. The $100-200 is the most popular blender price range because it offers a lot of performance for the money and can meet the needs of most consumers.
In this price range, you should expect a blender to hold up after reasonable use and be able to perform a wider range of blending tasks compared the cheaper budget blenders.
Blenders generate a lot of friction when blending ingredients which results in a lot of wear and tear. This is why low-cost blenders have one of the highest occurrences of failure compared to other kitchen appliances.
When choosing blenders to recommend, I put a lot of weighting into factors like how a blender performs in independent tests, brand reputation, customer service, the length of time on market, and user feedback. All of this criteria was considered when narrowing it down to these 5 blenders

#1 Cleanblend 3HP Blender – Affordable Vitamix Alternative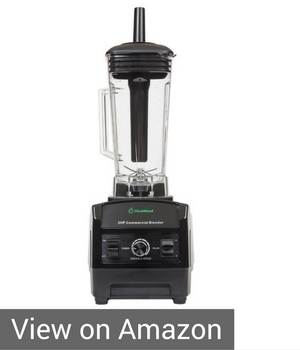 Most people haven't heard of CleanBlend blenders because they are relatively new in the blender world. CleanBlend saw the demand for high-end blenders and decided to create a similar high-performance blender at a more affordable price.
Essentially, CleanBlend makes one blender model with a similar look and performance of Vitamix for half the price.
The CleanBlend 3HP looks almost exactly like the popular Vitamix 5200 with a very similar design, accessories, and controls. In other words, if you don't have $400+ to spend on a Vitamix then the CleanBlend might be a good alternative for you. The big question is does Cleanblend perform like a Vitamix?
CleanBlend Blender Overview
For performance, Cleanblend is probably the most powerful blender in this price range with good reviews and independent tests. (There are some other unknown brands for sale on Amazon with similar blender strength that didn't have reviews or brand reputation). The Cleanblend offers an impressive 3 peak horsepower, 1800 watt motor for a great price. It is the most powerful of all the blender models listed in this post.
In an extensive multi-year blender test, testers found that the Cleanblend made a smoother smoothie than the Vitamix 5200 and ranked it very well among many blenders that were tested (NOTE- Testers picked the Vitamix 5200 overall though because it provided the most consistent performance across all blending tasks).
CleanBlend comes with a 5-year warranty vs. Vitamix 7 year warranty. CleanBlend is able to make it more cost effective because it is made overseas vs Vitamix is made in the USA.
(Side Note: The CleanBlend warranty only covers original purchaser from Cleanblend, Amazon.com, or registered affiliates. In other words, don't buy a used Cleanblend blender because your warranty will be void. Source)
Positives: Cleanblend HP blender provides the most power for the price and has very high consumer ratings. Testers found that it performed very well and there were only minor differences in performance compared to top-tier blenders. The CleanBlend company seems very responsive to customers and even gave a customer a replacement blender for free with their money back. Another positive is this blender has a large capacity 64oz jar which is larger than many other blenders in this price range.
Negatives: Some users said that Cleanblend's jar feels a little "cheap" compared to other brands(like Oster and Vitamix) that use a heavier duty plastic. Although, Cleanblend does use "Tritan" BPA-free high-impact plastic like Vitamix and Oster. Testers mentioned that the variable speed on Cleanblend isn't that "Variable" meaning that the difference between "high" and "low" speeds wasn't very noticeable. The Cleanblend is loud.
Cleanblend is a newer company so you won't have the history of Vitamix or other quality blender brands but Cleanblend seems to have very good customer service from the research I did. Cleanblend has been on the market since 2012 and I found very few complaints. Like a Vitamix, the Cleanblend is tall and won't fit under countertop kitchen cabinets.
Also, the Cleanblend High-Performance blender doesn't have a recipe book but you can get recipes at their website.
Overall Opinion: I couldn't find any major faults with the Cleanblend when you consider the power that you get for the price. There are now a lot of Vitamix-looking brands but the Cleanblend is the only one I could recommend due to independent tests and number of reviews. While it doesn't have the reputation of the Vitamix, the Cleanblend blender is a good option for the price (reference: Cleanblend blender review)
In summary, the Cleanblend provides similar performance to a Vitamix except for some heavy duty tasks. For smoothies, the Cleanblend is excellent.
See Current Price for Cleanblend 3HP Blender
#2 Hamilton Beach Professional 1800 watt – Professional Quality
The Hamilton Beach Professional (model 58800) blender is a powerful 1800 watt (2.4 peak Horsepower motor) blender with quality features from a very well-known blender brand.
It is well built with an all metal gear drive, stainless steel blade, thermal protection to prevent overheating, and heavy duty base.
Nice design features include dishwasher safe Tritan BPA-free 64oz pitcher, rubberized base for cushioning, variable speed dial, and tamper.
Positives: Very powerful and well built for this price range. Hamilton Beach is a reliable blender brand and this model comes with a 5 year limited warranty. Has a nice study feel and clean design that looks nice sitting out on the kitchen counter.
Nice simple controls with variable speed dial, pulse, and start/stop button. Useful tamper and built-in measuring cup in the lid.
Negatives: This blender isn't as well known so there have been no independent comparison tests done on it (Author Note – It has a very similar design to several of its other popular models that have proven performance). For this price there are no real negatives on this blender.
Overall opinion: For this price range (under $200) the Hamilton Beach Professional 58800 is a very sturdy blender and well priced for the performance . It has come down in price since it was originally introduced. It has been on the market since 2017 and has strong feedback among users. The design is very similar to some of their other popular models.
For performance, this blender can easily make smoothies, crush ice, and handle difficult blending tasks like nut butters and thick recipes. Overall, it is an excellent blender if you want a powerful, well built blender with simple controls.
See Current Price for Hamilton Beach 58800 blender
Difference in the Hamilton Beach 58800 vs 58850 blender ? They are the same blender but the 58850 model adds in preset blending programs and a digital countdown timer for more money.
Cleanblend HP vs Hamilton Beach Professional 58800 ?
Since I just reviewed the Cleanblend and Hamilton Beach blenders above, you might be wondering which is better since they are about the same price ?
Well, both are excellent blenders but we went with the Cleanblend as it has more reviews and independent tests. Also the Cleanblend has stayed with its original design since 2012 so it has a lot of time for feedback from users over the years.
While Hamilton Beach is a much more well-established brand in the blender space we gave a slight advantage to the Cleanblend since this specific model has been on the the market for 5 years with no issues.
Overall, I think you would be happy with either blender as both offer excellent peformance at a similar price.
Ninja BL660 – Best Value (Top Seller)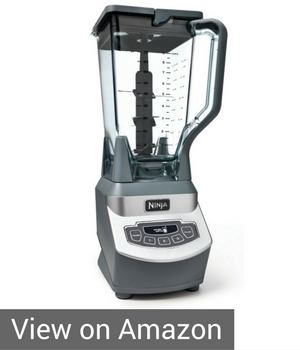 I wrote a comprehensive guide to Ninja blenders in another post and the Ninja Professional BL660 is a good choice at the low end of the price range.
The Ninja blender line is competitively priced and one of the best-selling blender brands on the market. The big difference in the Ninja Professional vs. other brands in this price range is the design of the Ninja blade. Ninja has a patented, multilevel "Total Crushing" blade that blends and chops at all levels. Whereas, a traditional blender just has the blade at the bottom of the pitcher and pulls the ingredients down to the blade to blend.
BL660 blender is also called the Ninja Pro 1100 as it provides 1100 watts of blending power which is plenty of power to make frozen drinks, crush ice, make healthy green smoothies and do basic food prep.
There are multiple blender models in this Ninja Professional blender line. The lower priced NJ600 is the most popular model but if you want a blender to make smoothies then the BL660 is the better choice. The BL600 not only comes with the traditional large 72oz blending pitcher but also comes with two single-serve jars and blending blade to make personal smoothies.
Positives: The Ninja BL660 continues to be a best-seller with excellent customer reviews. It provides strong blending power and users seem to really like the unique "Total Crushing Blade". The BL660 is unique in that it offers both a large capacity blender pitcher but also can work as a personal blender using the 16oz Nutri Ninja jars that are included.
Negatives: Some tests found that the total crushing blade doesn't puree some ingredients like kale and celery as well as a traditional blender blade. The other negative is concern over longevity because Ninja uses a lot of plastic.
Overall Opinion: The BL660 has been a strong bestseller for 5 years and has 1000's of strong reviews. It offers a 2-in-1 capability working as a full-size blender as well a personal blender so you don't need to own a separate personal size blender. Many people like the unique Total Crushing blade but it might not blend some ingredients as well as the other blenders in this guide. If you don't have a need for the single-serve jars/blade then consider the lesser priced Ninja NJ600 which is very similar.
See Current Price for Ninja BL660
Breville BBL605XL Hemisphere Control Blender – Tester Favorite
Update: This model has been hard to find as it looks to have been discontinued and replaced with the BBL620 which is an excellent and very similar alternative. 
The Breville Hemisphere Control Blender BBL605XL is another solid blender to make our list of top blenders in this price range because of how well it performed in numerous independent blender tests.
Breville has an excellent reputation for making high-quality appliances and is a leader in the Juicer market. The Breville Hemisphere Control BBL605XL is their top selling blender and has been on the market since 2012. (I love my Breville juicer).
The Breville Hemisphere blender has a sleek design with a really nice control panel. The buttons light up and it has an LCD countdown timer. It comes with 5 speeds and three pre-programmed controls for smoothies, ice crushing, and pulse. The pitcher has a 48 ounce capacity and made of Tritan copolyester.
The Breville BBL605XL is most recognized for its unique Hemisphere Control pitcher. It has a rounded bottom so that the ingredients consistently flow toward the blade preventing food to be trapped under or around the blade. Cooks Illustrated Magazine agreed that Breville's hemisphere jar design did improve blending quality vs other pitchers. The pitcher has a 48oz (6 cup) capacity and is made of high-strength Tritan plastic (Tritan polyester plastic is considered the most test high-strength plastic and is used by brands like Blendtec, Vitamix, and Oster.)
Performance – The Breville Hemisphere control blender has solid reviews among independent testers. Good Housekeeping rated the Breville BBL605XL highly with 4.5 out of 5 stars saying "With almost perfect performance and every state of the art feature imaginable, including ice crushing and smoothie settings, five variable speeds, a smooth electronic control pad with lighted buttons, and an LCD timer that counts up, as well as down, for pre-programmed settings, this blender is a top choice…..Smoothies come out velvety and margaritas thick and extra smooth. "
CNET also rated the Breville BBL605XL with strong marks for performance and design. America's Test Kitchen did a rigorous test in a commercial kitchen setting of many blenders and found that the Breville Hemisphere continued to perform well after extensive testing for performance and longevity. They rated the Brevile Hemisphere control blender as their top affordable blender if you didn't have the budget for their top model which was a Vitamix 5200.
The Sweet Home's test rated the Breville Hemisphere BBL605XL as their top budget pick. 

Positives: As you see above, the Breville Hemisphere Control blender has consistently ranked well among testers. It is very well built and Breville ranks well for quality among consumer appliance brands. It has a very nice look and feel with sleek controls. Consumer reviews are strong overall.
Negative: I did find some customers having motor problems with Breville BBL605XL after a couple of years of use. NOTE- America Test Kitchen did a follow up in 2014 after their initial 2012 recommendation of the Breville Hemisphere and said that Despite heavy use after 2 years, they still recommended it as their top budget blender but mentioned the Vitamix 5200 as their top selection for serious blender users. (The Vitamix 5200 is consistently a top choice in most blender tests. See my Vitamix review).
A negative about the Breville Hemispshere is that it has a 750 watt motor(1 horsepower) which is lower than other blenders in this price like the Oster Pro and Cleanblend but it seemed to perform well in head-to-head blending tests. At only 750 watts of power, it will struggle with making dry nut butter, milling flours, and making bread dough.
Overall Opinion: I own a Breville juicer and love it so I did a lot of research comparing the Breville Hemisphere Control vs Vitamix and other blenders on this list. The blending tests showed that the Breville did pretty well against many blenders but it only has 750 watt motor which limits its performance. If you want a blender mostly for blending and puree then it should be fine but it might struggle with some other tasks. Some tests said the Oster Pro provided smoother blender consistency than the Breville Hemisphere.
Breville Hemisphere is a good blender for the price but I would pick one of the top 2 choices above which have almost 2x the power and better features for the same amount of money.
See Current Price for Breville Hemisphere Control Blender
KitchenAid KSB1575 Diamond Blade Blender – Classic Blender
The KitchenAid Diamond Blender KSB1575 is a classic blender backed by a solid reputation for quality. I still have an older kitchenaid blender that has a similar design and works pretty well.
The KSB1575 is Kitchenaid's most popular blender model with unique Intelli-speed Motor control, diamond blending system, and well-built construction with a steel-reinforced drive shaft.
It comes with a large 60oz pitcher which is almost as large as pitchers from high-end blenders like Vitamix. The pitcher design is a traditional tall, narrow shape which helps to concentrate the ingredients near the blade to make the 550watt motor work more efficiently.
The KitchenAid Diamond blender provides 5 speeds: 1)Stir, 2)Chop, 3)Mix, 4)Puree, 5)Liquify. It can also crush ice and pulse at any speed.
A unique feature is the "Intelli-Speed" motor which can sense the load of the contents in the pitcher and optimize the blending speed.
In blending tests, the Kitchenaid Diamond Blade blender performed similar to more powerful blenders. Testing also found that it did very well in a wide variety of blending tasks for a blender with only 550 watts. CNET testing found that the KSB1575 performed well in making pesto, milling whole almonds into flour, shredding a block of cheese, and pureeing ingredients for a green smoothie. Consumer Reports tests found that "this KitchenAid blender was good in overall performance". Popular Mechanics did an "Abusive blender test" back in 2009 and the older Kitchenaid 5 speed models(similar to this KSB1575 model) performed well.
Positives: Good customer feedback and backed by KitchenAid brand reputation. The Kitchen 5-speed Diamond Blender has positive overall testing performance from CNET.com, ConsumerReports.org, and Good Housekeeping. The intelli-blending is a nice feature and this blender offers good performance despite only having a 550watt motor. Comes in lots of colors and has an attractive "classic" blender look.
Negatives: Despite the positive tests done on this blender, I did some digging and a complaint I found multiple times is the "coupler" breaking on the Kitchenaid 5-Speed KSB1575 (The coupler is underneath the pitcher where the blade locks into the motor drive). It does seem to have happened to numerous people so I thought you should be aware of it. Kitchenaid supposedly changed the coupler to metal with nylon coating to fix that issue.
Also, some people experienced the motor going bad within a year. Although, considering all the tests and reviews on this blender it doesn't seem to be a common issue. The only other negative is it comes with a weaker 550 watt motor than other blenders in this price category, but it did still perform well in typically difficult blending tasks. (Note- Kitchenaid provides a no-hassle 1 year full warranty as well as a 5 year limited warranty on this blender.)
Overall Opinion: I included the KitchenAid KSB 1575 in this list because it tested well in multiple blender tests and has strong customer feedback. I love the Kitchenaid Brand(their standup mixer is a workhorse). Their blenders are OK but not always the best. My biggest issue with the KitchenAid blender is it is only 550 watts. The narrow container design and intelli-speed blending feature really help the Kitchenaid Diamond blender perform well despite the 550 watt motor. It has been on the market for almost 4 years and continues to get solid reviews overall. It has come down in price since it was first introduced which makes it a popular blender for the money.
See Current Price for KitchenAid KSB1575
Hamilton Beach Professional Blender – Another good choice
The Hamilton Beach Professional 1500watt Quiet Shield Blender is new to the market (mid 2016) and very similar to our #2 choice above.
Hamilton Beach makes some excellent low-cost blenders but they added their Professional Blender line in 2016 to compete for the growing demand for high-speed blenders. The 1800 watt model above costs more and is one of our top picks.
The Hamilton Beach 1500 watt Professional blender has a unique quiet blending shield that goes over the the blender jar. The motor provides 1500 watts of power with a 2.0 peak horsepower which is plenty of power for blending.  It offers nice control features with a control dial that is similar in design to the Vitamix's S50 personal blender with 10 variable speeds and 4 preset functions.
The jar capacity is 32 ounces and comes with a tamper to help with blending thick mixtures and nut butters. Hamilton Beach offers a 5 year limited warranty on their Professional blender series.
Positives: It has very good reviews and Hamilton Beach makes quality blenders at good prices. It has a nice design and controls. This model offers plenty of blending power especially for a 32oz container size.
Negatives: Not a lot of reviews on this blender. While the container is quieter the blender can still be louder than other "Quiet blenders". The pitcher capacity is only 32 ounces compared to 48oz-64oz jars that the other blender in this list use which can be limiting if you want a full size blender.
Overall Opinion: The Hamilton Beach Professional 1500 blender has some nice features, quality, and power for this price range. The initial reviews on this blender are very good. My main concern with this blender is that 32oz is pretty small for a full size blender. If you like Hamilton Beach blenders then this is a good option but not my top pick because of container size. (Side note – this would be a good alternative to the expensive Vitamix S series personal blender if you want a powerful personal blender for smoothies).
See Current Price for Hamilton Beach Professional 1500 Blender
Final Thoughts
After a lot of research, the Cleanblend is our top choice if want Vitamix-like performance but don't want to pay that much for a blender. The Hamilton Beach Pro is a close 2nd with its blending power and price.
The Ninja, Kitchenaid, Hamilton Beach, and Breville are all solid blenders for under $200 with solid reviews and performance but didn't quite match up to my top two picks.