Guide to Superfood Smoothies
Are you ready to boost your smoothie with superfoods ? They have become mainstream in recent years as these special foods are packed with nutrition.
What are Superfoods ?
There is no official definition of a "superfood," but it can be described as a food that contains a high level of essential nutrients and other components that could benefit your health and well-being. This mostly refers to foods (especially fruits and vegetables) whose nutrient content may have more health benefits than other foods. The EU has banned health claims on packaging if they aren't supported by scientific evidence, which prompted many food brands to fund academics to research the health benefits of their products.
No specific food can offer health benefits, energy, and all the nutrition we need to nourish ourselves. The US Dietary Guideline recommend healthy eating patterns, which represent the sum total of what individuals habitually eat and drink every day. The eating pattern is more predictive of the overall health status and disease risk than individual foods and nutrients.
Even though superfoods alone won't make you healthier – adding these nutritious foods to an already balanced diet can bring great health benefits.
Best Superfoods for Smoothies
Despite what you may have heard, you don't need to take expensive dietary supplements to give your body access to the vitamins and minerals it needs. Nutrients work best in your body when you get them the natural way: in the amounts found in foods and balanced with each other.
When you take high doses of a certain vitamin or mineral via supplements, it could interfere with how your body absorbs other important nutrients.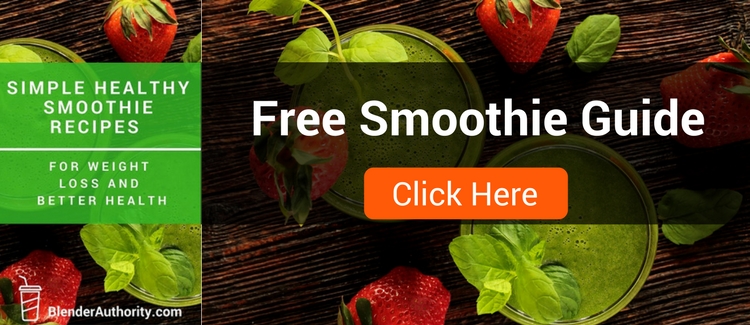 Berries
Various types of berry fruit have been called 'superfoods,' and no wonder, since they are some of the healthiest foods around. Berries contain antioxidants, which help keep free radicals under control.
Some of them, especially raspberries and strawberries, contain ellagic acid, which may help protect against cancer-causing agents. The most common ones are blueberries, strawberries, raspberries, cranberries, and blackberries. When berries are not in season, it is just as healthy to buy them frozen.
Chia Seeds
Chia is an increasingly popular food ingredient among consumers and manufacturers. It is an excellent source of omega-3 fatty acids, antioxidants, fiber, iron, and calcium. It may represent a more sustainable source of omega-3 fatty acids than seafood. Eating one ounce of chia seeds each day  would provide you with 18% of your daily calcium needs, 27% of phosphorus and 30% of manganese.
Leafy Greens
Leafy green vegetables are an important part of a healthy diet. They offer numerous health benefits, including reduced risk of obesity, heart disease, and cognitive decline. These include kale, spinach, cabbage, romaine lettuce, and beet greens. They are a great source of vitamin A, vitamin C, and calcium, as well as several phytochemicals. Spinach is very mild in taste in smoothies and goes well with berries.
Turmeric
Turmeric is one of the most scientifically studied foods. Studies have found that it helps with joint pain and arthritis and it's been linked to the delayed onset of type 2 diabetes. Curcumin is the active compound in turmeric which has powerful antioxidant and anti-inflammatory effects. Its absorption can be enhanced by pairing it with fats or other spices.
Nuts
Nuts are a good source of monounsaturated fats and plant protein, which may be a factor in reducing the risk of heart disease. Nuts have anti-inflammatory and antioxidant properties, which can protect against free radicals and antioxidants in your body. The most used nuts include hazelnuts, walnuts, almonds, pecans, and pistachios. Read about our favorite nuts for smoothies.
Goji berries
Goji berries can help with age-related eye diseases because they contain high levels of healthy antioxidants. They also contain large amounts of vitamins A and C, similar to other berries including blueberries and raspberries.
Cacao
Raw cacao is different than the common 'cocoa' and is an unprocessed version of the cacao bean. Eating cacao is associated with reduced risk of coronary heart disease and stroke. It is full of magnesium, which is important for a healthy heart and helps turn glucose into energy. Cacao contains a compound called phenylethylamine, which helps elevate mood and increase energy. While it does have all these amazing benefits, it also adds a rich chocolaty flavor to your smoothies. Here are 5 Cacao Smoothie Recipes
Spirulina
Spirulina is a type of blue-green algae which is high in protein and vitamins, which makes it an excellent dietary supplement for people on vegetarian or vegan diets. One tablespoon of dried spirulina contains 20 calories, 8 mg of calcium, 4 g of protein, 14 g of magnesium and many other amazing components. You can add it to your smoothies in powder form, which will make your smoothie green.
Maca
Maca is a plant that grows in central Peru. It is a relative of the radish and has a smell similar to butterscotch. Maca root contains many chemicals, including fatty acids and amino acids. It helps with energy boosting and hormonal balance and acts as a natural aphrodisiac. You can add a teaspoon of maca powder to your smoothies for that extra boost of energy in the morning.
Superfood Smoothie Recipes
Here are some healthy and delicious superfood smoothies to help kick-start your day.
Peach Refresher
1 peach – pitted
1 pear – chopped
1 orange
1 tbsp quinoa cooked
1/2 tsp turmeric
1 cup coconut water
1 cup ice
Berry and Yogurt Delight
1.5 cups of frozen berries
6 Tbsp natural yogurt
1 cup of almond milk, unsweetened
1/2 cup handful of raw oats
1 ripe banana
1 Tbsp mixed seeds
Healthy Chocolate Smoothie
¼ cup roasted unsalted hazelnuts
2 Tbsp unsweetened cocoa powder
1 cup chopped ripe pear
1.5 cups coconut water
1.5 tsp vanilla extract
2 cups ice
Handful of seasonal fruit, as garnish
Final Thoughts
Superfoods are an amazing boost to any smoothie and we especially love them in smoothie bowls. To learn more about our favorite healthy smoothie ingredients, visit here