3 Soothing Smoothies for Sore Throat Relief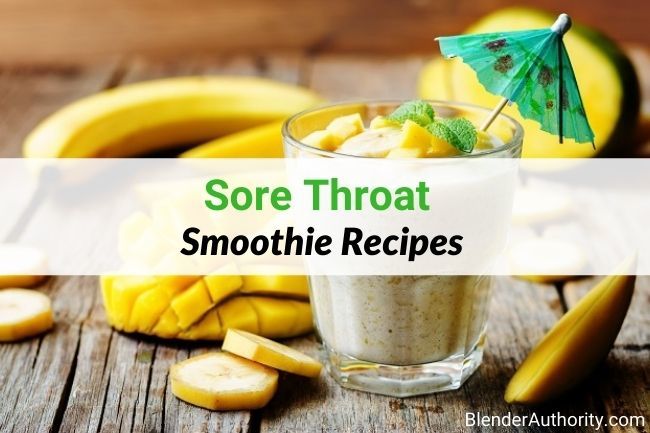 Having a sore throat can be downright annoying and can take away the desire to eat or drink anything.
Fortunately there are some specific ingredients that naturally soothe the throat and can be used in healthy smoothies as a excellent way to boost your immune system and support sore throat relief.
How to Naturally Relieve a Sore Throat
Before we get into our favorite throat healing foods and smoothie recipes, here are a couple of tricks that can relieve sore throat naturally as you wait for your immune system to overcome it.
Salt Water Gargle
Salt is known to get rid of bacteria and put a stop to fungi and yeast growth in your mouth. Of course, you wouldn't want to put large quantities of salt in your mouth, so what you'd do is make a solution of salt in water.
The National Cancer Institute provides a helpful salt water gargle recipe that you can try containing ⅛ tsp of salt, ¼ tsp of baking soda, and a cup of warm water. If needed, you can rinse every few hours.
Apple Cider Vinegar
Apple cider vinegar may be more palatable than salt water to some. It's known for its antibacterial and antimicrobial properties. The acid content can help fight bacteria and break up the mucus.
You can dilute up to two tablespoons of apple cider vinegar in a cup of water and gargle one mouthful at a time. Taking small sips is also recommended and you can repeat the process a few times.
These simple remedies help indeed, but if you want to try something with a little more taste then a specially designed smoothie is a great supplement for sore throat relief.
Many smoothies contain nutritious fruits, vegetables, and roots that provide enough vitamins and anti-inflammatory compounds to keep your throat healthy. This is why it pays to take a closer look at the best ingredients for sore throat smoothies.
Favorite Ingredients to Drink
Here are the most potent plants and foods for sore throat smoothies. You can experiment with them to create a custom smoothie that is both tasty and effective.
Turmeric
Curcumin is the active ingredient in turmeric that's known for its anti-inflammatory and antioxidant properties. There are two ways to add this super root to your smoothies.
Most people add about a teaspoon of turmeric powder. You can also grate the fresh root and give your smoothie an extra bit of texture.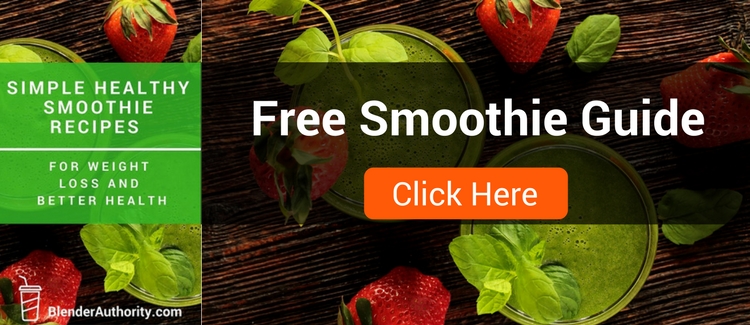 Ginger
Ginger is a relative of turmeric and it has a long history of use in alternative medicine. The root contains gingerols which have powerful antioxidant and anti-inflammatory effects.
It also prevents the growth of bacteria that might be responsible for your sore throat and it may ease the pain.
Pineapple
This tropical fruit is rich in vitamin C, vitamin A, iron, and calcium. In addition, the potassium content can boost your immune system.
Half a cup to a cup of pineapple is enough to get all the beneficial nutrients in your smoothie. It's best to blend fresh slices or use organic pineapple juice that doesn't contain any sweeteners.
Honey
A tablespoon of honey alone can work wonders for sore throat. And it's a perfect natural sweetener for your smoothie.
Honey helps ward off throat infection and relieves pain. Plus it works great with other herbs like mint that can relieve sore throat.
Lemon juice
Lemon is packed with vitamin C and other antioxidants that can help with sore throat and the common cold. A couple of tablespoons of lemon juice are enough to give your anti-inflammatory smoothie an extra punch of vitamins.
It adds acidity and combines well with honey, ginger, and turmeric. What's more, lemon promotes saliva production, which moisturizes your mucous membranes.
Cinnamon
When it comes to adding taste and fragrance to a smoothie, cinnamon is almost unparalleled. This spice has a lot of antibacterial benefits that make it a perfect choice for a sore throat.
You can add cinnamon to taste, but about ½ teaspoon is enough to achieve the desired results.
Mint
Mint is a popular ingredient in cough drops for its slightly numbing effect. It's best to source fresh mint and add a few leaves to the smoothie. It also gives your smoothie a new layer of taste that's refreshingly sweet and tangy.
Best Sore Throat Smoothie Recipes
Now that you know what ingredients to use, it's time to take a closer look at how to mix them.
Spicy Mango Banana Smoothie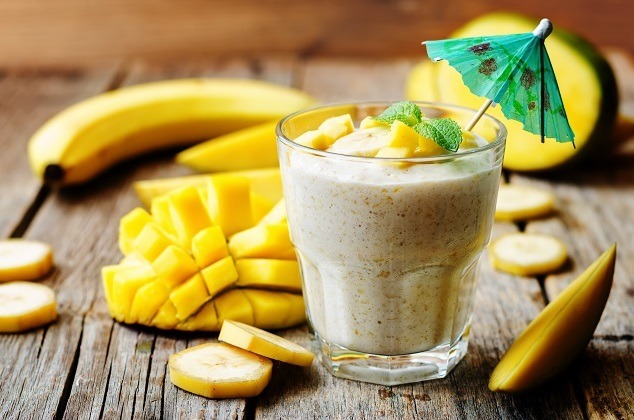 This one is quick and simple to make and makes use of a few anti-inflammatory ingredients. Don't hesitate to give it a try.
½ mango
1 banana
1 tsp of turmeric root (freshly grated)
1 tsp of ginger root (freshly grated)
A pinch of black pepper (ground)
½ cup of milk (almond or coconut)
Optional : 1 cup of spinach
Turmeric Ginger Smoothie
This tasty drink utilizes a number of ingredients that can relieve sore throat. Here's what you need:
2 tbsp of lemon juice
2 small/Medium frozen bananas
1 ½ tbsp of honey
½ tsp of turmeric
½ tsp of ginger
4-6 mint leaves
1 cup of almond milk
Put all the ingredients in the blender and mix until you get the desired consistency. The recipe yields about two small glasses of smoothie. You can drink one right away and keep the other in the fridge for later. Chilled smoothies can be particularly effective at relieving throat pain.
Sore Throat Green Smoothie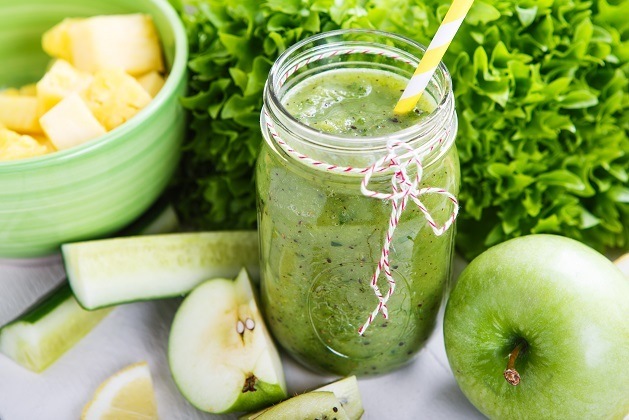 This green smoothie can help fight cold as well. This is a great detoxifying recipe to drink every week.
2 cups of spinach
1 banana
3 small carrots
½ cup of pineapple
½ orange (peel included if desired)
½ apple (remove core)
1 cup of orange juice
½ cup of ice
Place all the ingredients in a blender and add ice. Run it at high speed for about a minute and you're done.
Give these smoothie recipes a try and let us know what you think !