Nutribullet Pro Plus Review – Is it an improvement over other models ?

The Pro Plus 1200 watt blender is one of Nutribullet's latest models that integrates popular features from its past blenders and our readers have asked if it is better than the original Nutribullet Pro blender.
I have tested and written about Nutribullet blenders for over 7 years and in this Nutribullet Pro Plus review, I'll clear up the confusion and answer all of your questions to help you decide if this model is the best one for you.
What's the Difference Between the Nutribullet Pro and Pro Plus ?
Let's first answer the #1 question I get about the Pro Plus, which is comparing the Nutribullet Pro vs Pro Plus.
The Nutribullet Pro is part of the original Nutribullet lineup. It is also called the Pro 900 as it has a 900 watt motor.
Whereas, the Pro Plus was introduced in late 2019 and has the same design and shape as the original Pro 900 but uses a 1200 motor which is 33% more powerful than the original Pro model.
Besides motor strength, the other main differences are the Pro+ has a new blade design and adds a pulse button and autostop.
The most noticeable difference in performance besides motor strength is that the Pro+ starts up slowly and builds up to full speed versus the 900 Pro starts at full speed.
Both models use the same 24 ounce and 32 ounce blending jars and the jars are compatible between the 2 blender models. The blades ARE NOT compatible between the 2 models.
Nutribullet Pro Plus 1200 Features
The Pro+ keeps the same design look of its classic blenders and features a powerful 1200 watt motor with new blade design. It has a newly designed blade assembly similar to their Balance blender with no separating washer and 6 prong blade
The packaging includes one 1200 blender base, one extractor blade, one 32oz colossal cup, one 24 ounce tall cup, 2 flip top lids, 2 lip rings, and one pocket recipe guide.
Jar is BPA free and is top-rack dishwasher safe. The blade should not be put in the dishwasher.
Product Specifications:
| | |
| --- | --- |
| Motor : | 1200 watts |
| Capacity : | 32oz capacity |
| Controls : | 1 speed plus pulse and auto shutoff |
| Accessories : | 32oz jar, 24oz jar, 2 lids, 2 cup rings, recipe book |
| Dimensions : | 15" tall x 5" wide x 5" deep (inches) |
| Weight : | 5.5 pounds |
| Colors : | Gray finish |
| Made in : | Made in China |
| Warranty : | 1 year limited warranty |
Performance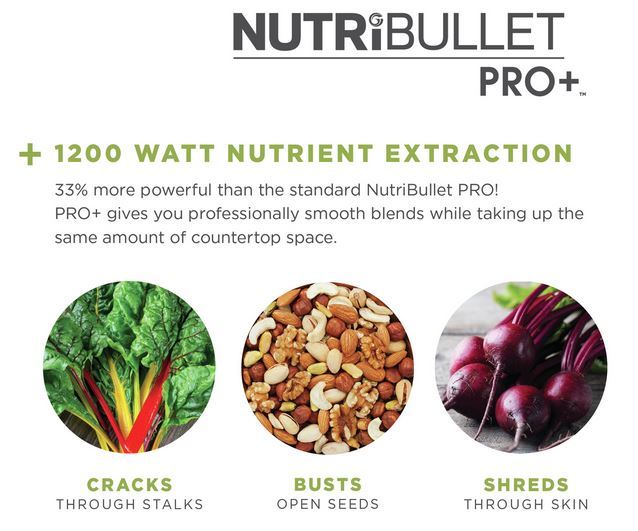 The 1200 watt motor allows you to make any smoothie and pulverize raw fruits, vegetables, nuts, seeds, and ice. It can even blend ingredients that are difficult for many personal blenders like hard roots (turmeric, ginger), blackberry seeds, and fibrous vegetables such as kale.
For pureeing you just twist the blade onto the base and it will stop when it is done pureeing. Otherwise use the pulse button if you want to control the consistency for thicker recipes like salsa, food prep, and dips.
Like other Nutribullet blenders, the Pro Plus is not designed to crush ice only. It will blend ice as part of a recipe as long as you use enough liquid.
Nutri Pro Plus Review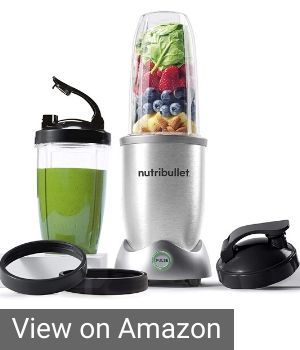 Positives: Nutribullet n12-1001 pro plus is a great blender that is a noticeable upgrade to our favorite Nutribullet Pro. Customer feedback is excellent. The 1200 watt motor is a lot of power for a 32 ounce container and can blend any raw smoothie you can imagine. I like how it builds up to full speed so it doesn't overwhelm the blade right away.
Negatives: I don't really have any negatives about this blender. It is loud but not any louder than less powerful bullet blender models. It can heat up ingredients if you let it blend too long with autoblend.
Overall Opinion: For the same price as the popular Nutribullet 900 Pro, the newer Pro Plus is a great deal. I haven't always been a fan of Nutribullet's newest blenders but I like the Pro+.
It has more power than almost all personal blenders. It combines a proven design with the most useful features that customers liked on its newer models such as the pulse button, auto shutoff, and slow start.
With ample power and a reasonable price this is a great portable blender for any smoothie lover.
Click Here for Nutribullet Pro+ Current Price
Pro Plus vs Other Nutribullet Models
Originally Nutribullet just offered the 600, 900 Pro, and Rx where each of those models had distinct differences in power (Note – all 3 continue to be top selling models).
In recent years it has become confusing for customers (Trust me, I get a lot of Nutribullet questions) as Nutribullet has introduced so many similar models like the Lean, Pro 1000, Max, 1200 Series, Prime , Select, and Nutribullet 1200 Balance.
I have reviewed all of those models over the years and the Pro Plus n12-1001 takes popular features from those other models to match consumer demand.
Here are the most popular comparison models :
Nutribullet Pro vs Pro Plus
At this beginning of this article I summarized the main difference in comparing the nutribullet pro plus vs Pro 900 but here is a detailed overview.
While keeping with the same looking design and same cups, the Pro+ model adds in desirable features that are improvements over the 900 Pro.
Improvements of the Pro+ include:
33% more powerful motor
Auto shutoff
Pulse button
New blade design
No rubber washer ring to clean in the blade
Builds up speed to reduce impact on motor
Suction cups on bottom to keep blender from moving around
Comparing Accessories:
CUPS: The classic(threading on outside of cup) 18oz short cup, 24oz tall cup, and 32oz colossal cup all work with the both the Pro and Pro+.
BLADE: The blade is designed differently between the Pro 900 and Pro 1200 Plus models and are not compatible between models.
Overall, I would go with newer Pro Plus as the stronger motor, new blade, pulse button, and slow speed build-up are all nice improvements over the original Pro 900 blender. Especially since the price is the same between the two blenders.
Pro Plus vs Nutribullet Balance
Both the Balance and Pro Plus have a 1200 watt motor and use essentially the same parts. The Balance blender is unique in that it uses a bluetooth app to help you measure out ingredients so you know the exact nutritional profile of your recipes.
The Pro Plus doesn't have bluetooth connectivity which I think is a good thing as there are a lot of user complaints about the App and bluetooth connectivity with the balance blender. I don't find the app useful as it is time consuming and you don't need the app for recipes. Recipes are free online already and I would rather just use a measuring cup.
The classic 18oz cup, 24oz cup, and 32oz colossal cup all work with the Nutribullet Balance and Pro+. The blade design is the same.
Pro Plus vs Nutribullet Pro 1000
The Pro 1000 is a new model which uses Nutribullet's new blade and jar design so the jar threads are on the inside. This makes the Pro 1000 accessories not compatible with other Nutribullet models except the Nutribullet Combo blender.
The Pro 1000 kept a simple clean design and no pulse button. It is the same blender as the Select but the Select offers more features like multi-speed controls and a top loading pitcher.
Between the two models, I prefer the power, extra pulse control, and original jar design of the Pro Plus.
Pro Plus vs Rx
The Rx is Nutribullet's most powerful personal blender model with a 1700 watt motor and 45 ounce capacity. The Rx is one of Nutribullet's original models and has been on the market for many years. It uses a larger diameter jar and features a top loading pitcher. The most unique feature of the Rx is that it has a built-in heater for making hot soups.
If you don't have a need for the Rx built-in heater or top loading pitcher then I would go with the newer Pro+ which is more compact and has plenty of power for 32oz blending jar.
Nutribullet Pro Plus vs Nutri Ninja Auto IQ
I have tested the Nutri Ninja versus the Nutribullet 900 in the past and the Nutribullet 900 is a better blender with more consistent blending results.
Also, the Nutribullet Pro Plus offers 33% more blending power and has a sturdier feel than the Nutri Ninja.
Common Questions
How to use the Nutribullet Pro Plus ?
What about Replacement Parts ?
You can find replacement parts on Nutribullet's website. Editor Note – If you don't see parts specificially listed for Pro+ model then look for the compatible replacement blade for the Nutribullet balance and the standard threading-on-the-outside "classic" Nutribullet cups.
Do you have any Nutribullet Pro+ recipes ?
Nutribullet's website has tons of recipes that are portioned for their blenders. Also check out 15 of our favorite Nutribullet smoothies to get started with.
Where to Buy Nutribullet Pro Plus ?
The Pro Plus 1200 watt model is currently not sold directly by Nutribullet but you can find it at large home goods retailers or on Amazon.com
Final Thoughts : Is this blender right for you ?
Considering the Nutribullet Pro 900 has been our top choice for personal blenders for the last 2 years, the newer Pro Plus offers nice improvements over the 900 for the same price.
For 2020, I would definitely recommend the Pro Plus 1200 watt blender for anyone who wants a powerful single-serve compact blender.
Click Here for Nutribullet Pro+ Current Price and Availability