7 Best Vitamix Soup Recipes that you have to try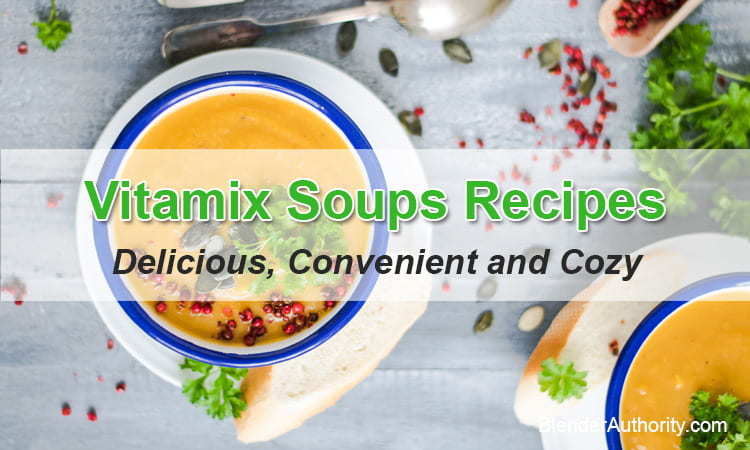 Soups are one of our favorite things to make with a Vitamix blender because it is so EASY. Thanks to the power of the motor and friction of the blades, the Vitamix blender is able to make all kinds of hot soups in a flash.
If you did not already know, the Vitamix does not just blend your soup, it actually cooks the soup while it's in the blender due to friction and speed of the motor. These Vitamix soup recipes cut down on meal prep time and save you the extra work of having to heat up a pot or chop up ingredients.
If you are looking for some simple delicious dinner ideas, here are 7 of the best Vitamix soup recipes to try.
If you are new to using your Vitamix blender, we provide blending directions for each recipe below but we also reference how to make soup with a Vitamix in this post.  All of the recipes below work with in a Vitamix 64oz standard container.
Savory Broccoli Soup
This delicious creamy Vitamix soup has plenty of healthy vegetables mixed with the creaminess of blended cashews. Cashews are a great way to get healthy fats without using cream or butter.
Ingredients:
2 cups Broccoli
1/4 zucchini
1/2 spring onion (shallot)
1/2 celery stick
1 clove garlic
1 tsp dried rosemary (or fresh)
1 tsp thyme (dried or fresh)
1 cube vegetable stock
1 cup Raw cashews
2 cups water
Instructions :
Put all ingredients in 64oz container. Start at lowest speed and quickly increase to high speed (or use Soup setting if you have presets). Blend for about 4-5 minutes until hot if using cold water(less time if using hot water) . Add salt & pepper to taste.
Roasted Red Pepper and Heirloom Tomato Soup
Tomato soups are go-to recipes if you are looking to feel warm and cozy. This Roasted Red Pepper and Heirloom Tomato Soup gives a rustic twist on an old classic. With only five ingredients, this soup is simple yet satisfying.
Ingredients :
2 or 3 large Red Bell Peppers
3 pounds Heirloom tomatoes (about 3-4 large tomatoes)
4-5 Large Basil leaves
1 Tsp salt
1/4 cup olive oil
Instructions :
Preheat oven to broil or roughly 500 degrees. Place your bell peppers on a sheet pan and roast for about 15 minutes, rotating the peppers every 5 minutes to char the sides evenly.
Remove the peppers from the oven and place them in a covered bowl for 15 minutes to allow them to steam. Once steamed, peel, deseed, and remove the stem from the peppers. Slice the peppers into medium to large-sized chunks and place them in your Vitamix.
While the peppers are roasting, destem and cut the tomatoes into large chunks. Add 1 Tbsp of olive oil to a large skillet and heat to a low temperature. Add the tomatoes and the basil to the skillet and soften them for about 10 minutes, stirring occasionally.
Pour the tomatoes and basil into your Vitamix with the peppers and cover the blender with the lid. Let the steam vent by holding a thick folded towel over the vent while you blend. Start blending on low and slowly increase the blender speed to medium-high. To puree the ingredients, blend for one minute on high.
Reduce the blender speed to low and begin to slowly add the olive oil and sea salt. Blend again on medium-high to achieve the desired consistency. You can add water if you find that the soup is too thick.
You can also add some garnishes to your finished soup. It tastes and looks even better when garnished with wholesome ingredients like chives, cherry tomatoes, fresh ground pepper, or even a basil leaf.
Coconut Curry Soup
This Thai-inspired soup is sure to be a hit. Packed with delicious vegetables and creamy coconut, this dairy-free soup can be served hot or cold. With the help of your blender, this soup can be made in no time flat. In fact, in only one hour, you can have a convenient and delicious soup.
Ingredients :
1 Head of Cauliflower
1 medium onion (chopped)
4 large carrots (chopped)
2 tbsp ginger
3 garlic cloves
1 tsp turmeric
4 tbsp Thai curry
5 cups vegetable stock
1 15oz can coconut milk
3 tsp olive oil
To add some extras, garnish it with sliced green onions, chili peppers, cilantro, or even lime juice. Add salt to desired taste
Instructions :

Preheat the oven to 420 degrees. Roughly chop your cauliflower and place on a baking sheet with a drizzle of olive oil and a little bit of sea salt. Roast the cauliflower until it is soft and browned, usually about 30-40 minutes.
Heat the olive oil in a large pot. Add the chopped onions and saute for 5 minutes before adding the carrots. Stir occasionally and cook for about 10 minutes or until the carrots and onion are brown. Add the ginger and garlic to your pot and saute for another minute. Add the Thai curry paste and turmeric and cook for 1 minute. Toss in a dash of stock to deglaze the pot, making sure to scrape any dark bits from the bottom.
Pour the contents of the pot into your Vitamix and add the remaining stock. Pull the cauliflower from the oven and add it to the blender.
Blend your soup on high until you reach a smooth consistency. Slowly add the coconut milk and continue to blend until it is fully mixed. Add sea salt to taste.
Acorn Squash Soup
The Acorn Squash recipe makes a sweet-tasting soup that is filled with vitamins A and C. You can serve it with a salad for a light lunch or enjoy it as a cozy and delicious appetizer. Making this soup from scratch takes just over an hour.
Ingredients :
2 cups vegetable broth
1/2 medium Acorn Squash (Peeled, seeded, and cooked)
1/2 cup Low fat evaporated milk (or milk substitute)
1 tsp Nutmeg
1/3 tsp cinnamon
Salt and Pepper to taste
Pinch Nutmeg or Paprika
Instructions :
Preheat the oven to 375 degrees and cut the squash in half, scoop out the seeds, and rub it in olive oil. Place your squash on a sheet pan and roast it for 1 hour.
Once squash is done, place it and all other ingredients in your high-powered Vitamix. Turn your Vitamix blender on and increase the blade speed up to 10 or high. Alternately, you can use the soup setting. Blend for around 4-6 minutes or until it is nice and warm.
Serve in a bowl and enjoy. Garnish with some roasted pumpkin seeds if you are feeling festive.
Raw Cauliflower Soup
A simple creamy cauliflower soup with no prep needed. Just blend the raw ingredients and you will have a amazing raw food soup.
Ingredients :
2 cups water
2 cups raw cauliflower
1/4 clove garlic
1 whole spring onion
1 cup raw cashews (add more if desired)
1 vegetable stock cube
1 tsp nutritional yeast
Optional: 1/2 cup shredded coconut
Instructions :
Put all ingredients in Vitamix blender 64oz container. Start at variable speed 1 and increase to highest speed. Blend to desired temperature (about 3-5minutes). Don't over blend.
Vitamix Taco Soup
This soup recipe is one of the most popular recipes from Vitamix and tastes delicious. The recipe below makes the taco soup and then just add ingredients after blending to thicken it up such as beans, corn, chicken, avocado, and tortilla chips.
Ingredients :
2 cups chicken stock
1 tbsp olive oil
1 stock celery
1 medium carrot (or 3 baby carrots)
1 Roma tomato
1 thin slice onion
2 tbsp Taco seasoning
1 slice cheddar cheese
OPTIONAL: 1 slice yellow squash & 1 slice red pepper
Instructions :
Directions: Turn blender to high speed (or use high speed lever) and run for 3-5 minutes.
The above ingredients will make the Taco soup. After you blend the broth pour it into large bowl.
Optional : add additional ingredients to thicken up the recipe and make it a full meal: 1 cooked chicken breast (diced up) / Beans / Corn / avocado
Thai Ginger Cashew Soup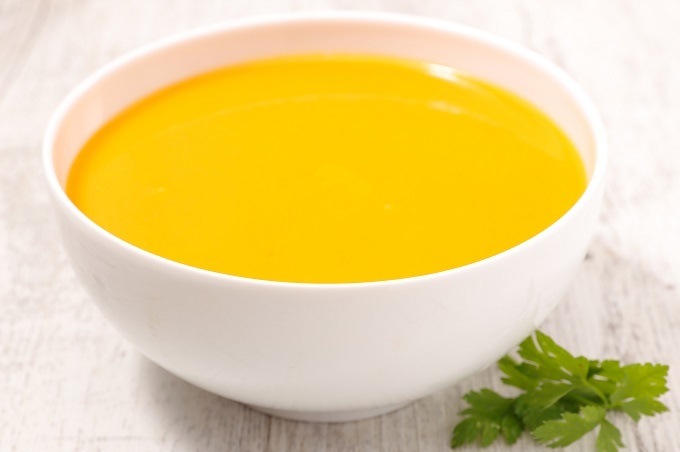 This is another popular Vitamix soup used in store demonstrations. You can modify it according to desired taste. The recipe emphasizes a "slice" of multiple ingredients as you don't want any specific ingredient being too overpowering so start with thin slices.
Ingredients:
2 cups water
1 slice cabbage
1 stalk celery
1 carrot
1 slice zucchini
1 slice red bell pepper
1 slice lemon (peeled and seeded)
1 whole green onion
1/2 clove garlic (peeled)
1 inch ginger root (fresh)
1 cup raw cashews
1 tsp honey
1 tbsp cilantro leaves
1 vegetable bouillon
Optional: 1 slice chili pepper for spice
Instructions :
Place all the ingredients in the Vitamix container and slowly increase speed from low to high. Blend 4-5 minutes until you see steam or to desired temperature
Final Thoughts
There are so many soups that you can make in a Vitamix and it is fun to experiment with different recipes. All of the above soup recipes are delicious and healthy.
Let us know if you have a favorite Vitamix soup recipe. We would love to try it.