13 Unique Blendtec Recipes You Have to Try !
Whether you've been incorporating a blender into your kitchen routine for years or if you just unwrapped a new Blendtec blender, you may not have the faintest idea of where to begin. We have some fantastic recipes that are easy enough for beginners and satisfying enough to please even the most sophisticated palates.
"Blender recipes" may seem synonymous with "smoothie recipes", but nothing could be further from the truth. Your blender is an indispensable kitchen appliance (move over, corkscrew!), and if it's collecting dust on a high pantry shelf, it's time to bring that baby down and take your kitchen skills for a whole new spin.
And to be clear, we're not knocking smoothies here! They are one of the best ways to pack a nutritional punch into your morning and a smoothie recipe certainly makes our list of favorite Blendtec recipes below. But we want you to expand your blending horizons and tap into the pulsating pulses of all things blender food prep. (Pulsating pulses was a bit much…we know. We get carried away when talking about blenders!)
1. Chocolate Cherry Smoothie
There's nothing more decadent than a chocolate-covered cherry and this smoothie is like a dessert you can enjoy for breakfast!
Blendtec Chocolate Cherry Smoothie
Ingredients
1

cup

spinach

1

cup

cherries (fresh or frozen)

1

cup

unsweetened almond milk or coconut milk

1

Tbsp

honey or maple syrup(or desired sweetener)

2

Tbsp

Unsweetened cacao powder
Instructions
Blend all ingredients until smooth. If desired top with coconut, whipped cream, or cocoa shavings.

VARIATIONS: You can substitute strawberries or other fruits for the cherries. And if you want to add some protein to the smoothie try adding a chocolate-flavored protein powder instead.
2. Chilled Cucumber Basil Soup
A delicious summer treat, Cucumber Basil soup is big on flavor and low on calories. You will impress your guests with this delicious combination and it can be thrown together in a snap!
Blended Cucumber Soup
Ingredients
2-3

large

cucumbers, peeled

1/4

cup

lemon juice

1/4

cup

water

1

Medium

Garlic clove (peeled)

1/4

cup

onion chopped

2

cups

fresh basic leaves

1

tsp

salt

1

tsp

sugar

1/4

cup

olive oil
Instructions
Cut the peeled cucumbers in half and scrape out the seeds. Then, chop them into chunks and place in blender. Add the remaining ingredients (except olive oil) and blend until smooth. Pour the mixture into a serving bowl and stir in the olive oil.

You can save some of the basil for a garnish and this chilled soup pairs nicely with grilled chicken or shrimp for a perfect summer meal. Also can add sliced avocado.
3. Hollandaise Sauce
The mark of many a great chef is a perfect hollandaise sauce. This rich and creamy accompaniment elevates ordinary meals to gourmet feasts. Your Blendtec can help you achieve chef-quality hollandaise at home.
Bear in mind that you will want to serve this sauce immediately so assemble the ingredients next to your Blendtec ahead of time but prepare it just before the meal is plated.
Hollandaise Sauce
Ingredients
6

Egg yokes

2

Tbsp

Fresh squeezed lemon juice

1/2

tsp

Salt

Pinch

Cayenne pepper

2

Sticks

salted butter
Instructions
Add the first four ingredients to your Blendtec and pulse a few times until they are mixed. If needed, scrape the sides of the blender to ensure all ingredients are combined.

Melt the butter in the microwave then slowly drizzle it into your Blendtec on medium speed. Continue to blend until the desired thickness is achieved.

Wow your guests by drizzling this decadent sauce over asparagus!
4. Blender Salsa
Who can say no to chips and salsa? This blender salsa can be whipped up using many ingredients you will typically have on hand in your kitchen.
Easy Blender Salsa
Ingredients
23

ounce

Jar diced tomatoes

2

Tbsp

tomato paste

1

Tbsp

vinegar

1

clove

garlic

1/4

cup

onion

1/3

cup

cherry tomatoes

Pinch

Sea salt (add to desired taste)

Pinch

Red pepper flakes for extra spice
Instructions
Add all of the ingredients to your Blendtec and pulse the mixture until it reaches the desired consistency. You may need to add more sea salt for taste and scale back on the red pepper flakes if you're looking for a mild salsa. Add more if you like it hot!

This salsa is simple and delicious topping for grilled chicken and the perfect accompaniment to your next Taco Tuesday gathering.
Are you New to Blendtec ?
Blendtec is widely considered one of the best quality blender brands in the world with 8 year full coverage warranty. These professional-grade blenders are worth every penny. You could skimp on blenders, choosing budget models at discount stores, but they have limited capability.
Blendtec models are durable and built to last. They come with preprogrammed cycles and professional-grade power, enabling you to crank out top-notch recipes to impress your family and friends.
Here are our reviews of the most popular Blendtec models : 575 Classic (most affordable) / 625 Designer (more features) / 800 Pro (quiet and commercial strength)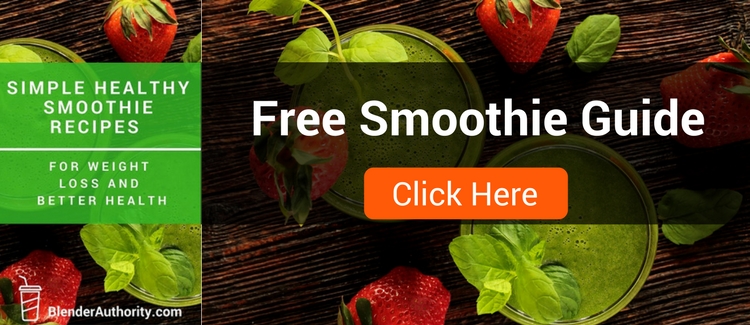 5. Blendtec Tortilla Soup
Like the popular Vitamix tortilla soup that is commonly shown in Vitamix store demonstrations, Blendtec have a unique twist with their own hot tortilla soup that can be made in 90 seconds.
Blendtec Tortilla Soup
Ingredients
1/4

avocado

1

medium

carrot

3/4

tsp

garlic powder

3/4

tsp

sea salt

1

tsp

unsalted herb seasoning (or taco seasoning)

2

Tbsp

onions

1

thick

slice pepper jack cheese

1/3

cup

red pepper

2

Roma tomatoes

1.5

cups

Warm water
Instructions
Add all the ingredients above and depending on Blendtec model that you have either select either "Soup" or "Hot" or "90" second cycle. Blend up to 3 minutes.

After blending add about 1/2 cup of tortilla chips and pulse 3 times. The Tortilla chips will thicken up the recipe.

OPTIONAL: After blending add corn, black beans, and/or choice of cooked meat.
6. Blendtec Guacamole Recipe
This is a simple recipe for making guacamole. NOTE – This recipe is made using the Blendtec twister jar which is ideal for thick recipes like dips, nut butters, dressings, and baby food.
Blendtec Guacamole Recipe
Ingredients
1/2

tsp

ground cumin

1/2

tsp

cayenne pepper

1

roma tomato (seeded & diced)

1

clove

garlic

1

chunk

white onion

2

sprigs

cilantro

1 1/2

avocado (add after you have blended the above ingredients)
Instructions
Use the Blendtec Twister jar and add all the ingredient EXCEPT the avocado. Turn blender to speed 4 until blended.

After you have blended the above ingredients add avocado and quickly blend to desired consistency.
7. Apricot Jam
You can blend up jam quite easily with a Blendtec. Using this recipe you can substitute apricots for other fruits if you want to create a different jam.
Apricot Jam
Ingredients
2

pounds

apricots

2 1/2

cups

granulated sugar

1/3

cups

water

2

Tbsp

fresh lemon juice

3

oz

liquid pectin
Instructions
1. Blend half of the apricots and all of the water and sugar to the blender jar. Use "sauces" program if you have it on your model.

Let the blended amount stand for 5 minutes. Then add other half of apricots to jar and secure lid. "Pulse" 4-6 times to crush apricots.

Add lemon juice and pectin to jar and pulse 1-2 times. Let stand for 5 minutes.

Pour blend jam into jares and store in refrigerator for 24 hours until set.

Then refrigerate or freeze.
8. Whipped Butter
Using a blender is a quick way to whip up butter which can be used to mix with jams, honey, or seasoning for special meals.
Whipped Butter recipe
Instructions
Let whipping cream sit out for 30-45minutes in order to speed up the blending process.

Add it to blending jar and blend on speed 2 for 20 seconds. Then scrape jar edges to get the cream to the center and pulse for a couple seconds.

Keep scraping cream to center and pulse another dozen times.

Repeat process until buttermilk separates from butter curds.
9. Peanut Butter Energy Balls
This is a simple and kid-friendly snack idea that we got from Blendtec. A perfect healthy snack when you need a boost of energy as it has packed with healthy fats and protein.
Get the full recipe and blending instructions here.
10. Spinach Ice Cream
Yes, you can feel good about letting your kids have ice cream everyday with this recipe. 🙂 This recipe is a blend of agave, avocado, spinach, almond milk, and a few other ingredients.
We saw this recipe from Blendtec and had to add it to this list. Seriously, you would never think to try to ingredient combination on your own.
Get the recipe and full instructions here.  (Read the user comments for this recipe for ideas of variations)
11. Healthy Pumpkin Banana Muffins
This delicious pumpkin banana muffin recipe is simple to make and includes some healthy hidden ingredients ground flaxseed. Your Blendtec blender can quickly mix up the batter and then just bake for 15 minutes.
Get all the ingredients and baking instructions here
12. Honey Whole Wheat Bread
A lot of people don't realize you can make doughs, batters and bread with a high powered blender like Blendtec (weak blenders don't have the horsepower to do so). With a blender you can just throw all the ingredients into the blender and blend/pulse. Then pour dough into a baking tin and bake.
This delicious honey whole wheat bread recipe uses simple, wholesome ingredients that your family will love. Get all the ingredients and detailed instructions here.
13. Homemade Cookie Dough Ice Cream
Quickly blend up your own vanilla cookie dough ice cream with this easy recipe. Note – In the recipe, pay attention that it is using whole milk cubes and not plain ice cubes (meaning that you will need to first freeze milk in an ice cube tray).
Get recipe and instructions here
Final Thoughts
Hopefully this list gets you inspired to try some other recipes in your blender besides smoothies.
There are honestly so many more recipes that we could add to this list such as soups, dips, dressings, ice cream, milkshakes, nut butters, spreads, doughs, etc…
If you find a Blendtec recipe that you love please share in the comments below. We would love to hear about it.