Waring vs Vitamix: Our Full Review (2023 Edition)

In this comprehensive guide to Waring vs Vitamix blenders we answer all of your questions. Whether you are shopping for home or a business this guide will help you decide on the best model for your needs.
It can be a little confusing comparing Waring and Vitamix blenders because they each have residential and professional product lines. The key difference in residential vs professional blenders is the build quality and warranty.
We separated out this guide into our top choices for residential and professional blenders lines so that you can find the model that best meets your needs. Lets get started !

Waring Blender vs Vitamix for Home Use
Vitamix only makes high-speed blenders and their residential and commercial blender product lines have a very similar look.
The main difference is the residential models aren't built for the high volume use of a business. The residential models have similar power but are built differently and provide a much longer warranty of 7-10 years compared to their commercial line.
Waring makes mostly entry-level blenders for the home market so if you want a high powered blender that competes with Vitamix's performance then you will have to choose from Waring's Commercial blender line.
Here is a comparison table showing our top pick from Waring and Vitamix that we would consider for home use.
| | Vitamix 5200 | Waring MX1200XTX |
| --- | --- | --- |
| Power : | 2 Horsepower | 3.5 Horsepower |
| Capacity : | 64 ounces | 64 ounces |
| Controls : | Variable Speed | Variable Speed |
| Blend Hot Liquids : | Yes | Yes |
| Tamper : | Yes | No |
| Dishwasher Safe Jar : | No | Yes |
| Size : | 20.5" Tall x 7.5" Wide | 18" Tall x 8.5" Wide |
| Warranty : | 7 year Full warranty | 3 year Limited motor warranty and 2 year parts warranty |
| Best Use : | Residential model. Plenty of power and proven design that excels at any task. | Built for frequent commercial use so can puree anything. Doesn't have a tamper for food processing. |
| | Check Pricing | Check Pricing |
Vitamix 5200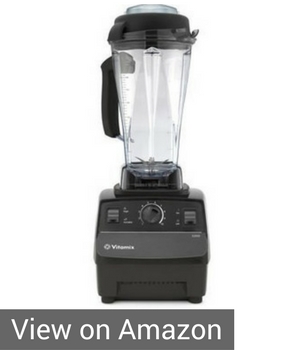 The Vitamix 5200 uses Vitamix's classic, proven design which has been a top choice in many independent blender tests. The narrow jar design can blend any recipe size and the tamper allows you to blend the thickest recipes. The 2 horsepower motor is very powerful and can make nut butters or turn raw ingredients into hot soups from blending friction.
Positives :
Proven design and durability.
64 ounce jar can handle large and small jobs.
Tamper allows you to blend thick recipes.
Industry leading full coverage 7 year warranty.
Negatives :
Narrow container can take a little more work blending thick recipes.
It is tall so it won't fit under a standard kitchen cabinet.
Waring MX1200 XTX
The MX1200XTX is designed as a blender for businesses but works great for use at home. This model is part of their MX lineup which is the closest comparison to Vitamix blenders. The MX series of blenders (Models: MX1000XTX, MX1050XTX, MX1100XTX, MX1200XTX, MX1300XTX, MX1500XTX) is designed for heavy-duty food and beverage use.
We choose the MX1200XTX model as our top choice in the MX series as it has a variable speed dial and similar functionality to the Vitamix 5200. Also the pricing for this model is similar to Vitamix. This blender is very powerful and designed for serious cooks. It offers a 64 ounce capacity pitcher and stainless steel blades.
Positives:
Lot of power to puree anything.
Variable speed controls for more versatility.
Built for high volume use.
Negatives:
Doesn't have a tamper to do thick recipes.
Shorter 3 year warranty
FINAL THOUGHTS :
While the Waring MX1200 offers a lot of power we would rather
go with the Vitamix 5200 for home use
as it offers a full coverage 7 year warranty and the tamper provides you more versatility for blending thick recipes like nut butters, ice creams, doughs, and batters.
Waring vs Vitamix for Business Use
Both brands are market leaders for professional blenders and have a range of models to choose from. Waring has a full lineup of professional blenders ranging from large one gallon capacity food blenders to small bar blenders.
Vitamix offers around 10 different models for business use ranging from food prep/bar blenders to high volume frozen drink blenders.
For Kitchen Food Prep
For food prep and professional kitchens we would definitely go with a Vitamix as the tamper is a must have. The VitaPrep 3 is an updated version of their popular VitaPrep model. The VitaPrep3 offers the newest 3 horsepower motor with improved cooling design for heavy-use kitchens. (Note- Most blenders have a built-in automatic shut off to prevent burnout and overheating, so the improved cooling design is important for reducing blender downtime).
The VitaPrep looks just like Vitamix's 5200 residential line but is built with different internal components to handle heavy use. The tamper is a must for properly blending dry ingredients or thick recipes.
The proven design can handle a wide range of recipe sizes and the vented lid will allow you to blend hot ingredients.
While Waring MX series (see Waring MX1200XTX review above) is a good alternative option for blending, the lack of a tamper is too limiting for kitchen food prep.
Since Vitamix Vita-Prep is a commercial blender designed for heavy use, the warranty is limited to 3 years on components and 1 year on labor.
Drink and Bar Blenders
Bar blenders only goal is to blend drinks fast and therefore have limited controls with no tamper as they are designed to blend drinks.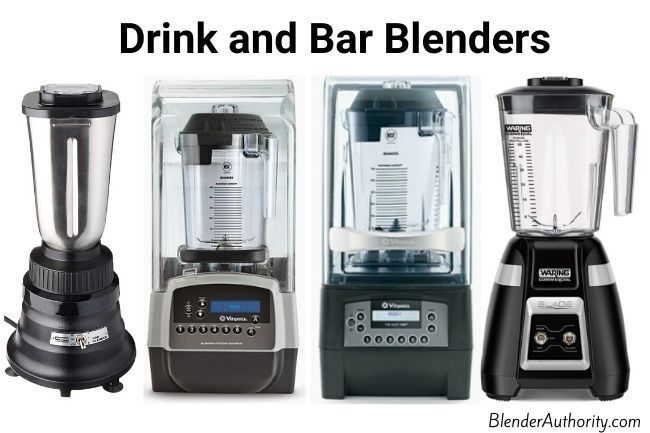 Vitamix's professional drink blenders are designed for heavy use settings (like smoothie shops) so they are more advanced with preset functions and sound dampening features. If your business doesn't need a high-volume blender then you might be fine with one of Waring's light to medium duty models which are lower priced. We provide our top choices below:
Heavy Use :
Any of the Vitamix professional blenders can blend drinks but they do have specific models designed for businesses that need to make a LOT of drinks such as coffee shops or smoothie stores (Starbuck's uses Vitamix drink blenders). The 2 models you should consider if you need a high volume drink blender are:
Vitamix Quiet One: Designed with a unique sound enclosure for noise dampening (as seen in Starbucks). It features a 48 ounce "Advance" container with no drip spout, wide range of controls including programmable settings, and design features like backlit controls for low light settings. Uses a powerful 3 HP motor.

Vitamix Touch and Go 2

: The T&G2 (Model 34013) is a smaller capacity blender(32oz) with lower 2 horsepower motor versus the Vitamix Quiet one. This is a solid blender if you don't need the capacity of the Vitamix Quiet One but want the sound dampening and other features mentioned in the Quiet One summary above.
Medium Use :
The Waring BB300 bar blender has 1 horsepower motor and 2 speeds. Easy-to-use toggle twitches are perfect for simple use. Designed to make three 16oz margaritas in under 12 seconds.
Light Use :
The Waring BB155s uses the company's classic design and 44 ounce stainless steel jar. Is it priced much less than the other models above but is perfect for light beverage tasks like frozen drinks.
Final Thoughts
Vitamix and Waring both have a long history of making quality blenders and we did our best to narrow it down to the best models that will work for your specific needs.
If want to additional information visit these related articles :
Please leave any questions that you have in the comment section below and we will happily answer them.