Guide to the Best Blender for Vegans [2023 Guide]

Blenders are one of the most used appliances in vegan kitchens on a day-to-day basis. Having the right blender can make a HUGE difference as they can simplify difficult tasks such as making nut milks, blending raw food smoothies, and making nut butters.
In this updated 2023 guide to the best vegan blenders, we give you our top choices based on blender tests, user feedback, reliability, and blender features.

What to Look for in a Blender for Vegan Meals
If you are adopting a plant-based diet, buying a quality blender will save you from a lot of food prep hassle. This is so important because a good blender will make it easier to follow a plant-based diet.
Your blender should be able to help you make:
Smoothies and purees
Soups (some can even make hot soups from cold ingredients)
Plant-based milks (such as almond and oat milk)
Raw flours
Nut butters
Vegan ice cream
Not every blender is capable of doing theses tasks on a daily basis for a long period of time and you don't want the frustration of dealing with a blender that can't blend properly or overheats. That's why buying the best blender for vegan cooking is worth taking the time to research.
Things to Consider before Buying
Power
Not everyone needs a feature-rich blender, as sometimes a simple and powerful one is all you need. For a vegan kitchen, the power of the motor is important for blending hard vegetables and handling tough tasks such as raw nut butters. For a really smooth, high-quality blend, above 1000 watts is recommended for a full-size blender.
When comparing similar blenders you have to evaluate their true "rated" horsepower and not just their peak blending watts which isn't accurate for comparison. Also, some blenders will overheat faster than others which can limit the type of blending tasks that you can do and shorten the life of a blender.
Jar Material and size
Blender jars are made of plastic or glass. Almost all of the high powered blenders use BPA-free Tritan plastic jars because they are tested for durability as some blender blades spin at speeds of 250 MPH. The downside of plastic containers is that they can sometimes scratch and might absorb odor.
Less common are glass blending jars which don't scratch or absorb odor yet they are heavy and potentially breakable, even though most of them are made of borosilicate glass which won't shatter.
Jar size does matters when it comes to buying a blender. For small blenders it is good to have at least 24 ounce capacity to make large enough smoothies. Most full-size blenders have similar size jars around 60 ounces but the motor strength will determine how much you can blend at a time and not necessarily jar capacity.
Features
Blenders can offer features like pre-set blending programs, tampers, food processing accessories, different blade designs, specialty containers, and more. Depending on the types of ingredients and blending tasks you want to do, some of these features can make a big difference.
Personally, having a tamper is a necessary feature when it comes to making thick recipes like nut butters, vegan ice creams, and thick soups.
Durability
As mentioned, blending raw or thick recipes can really test a blender's durability so avoid the low cost blenders made with weak motors as they will overheat.
Ease of Use
Do you want manual or digital controls ? Do you care about preset, hand-free blending programs ? How easy it is clean ? All of these questions are worth considering when thinking about blender usability.
For example when it comes to cleaning : some blenders have a self cleaning program where you just add warm water and soap and run it for 30-60 seconds. Whereas some blenders have dishwasher safe containers. Some brands have jars that disassemble for simple cleaning and some don't.
What are You Making in Your Blender?
Your blender choice should be suited to your needs. If you're only going to use it for smoothies, you can choose more budget-friendly options like a small personal blender or mid-range blender.
If you are going to make nut butters, grind flour, puree soups, or blend creamy vegan ice cream then you should look into high-speed, quality blenders like our top choices below.
Price
Last but not least is price. The prices range anywhere from $20 to $1,000 for a blender. Even though the price should be proportional to the quality of the smoothies and other blends, that's not always the case. When you determine what your budget is, do your research and really consider all the criteria I listed above when deciding.
Personally, raw Vegan recipes can be pretty demanding on a blender so I would pay up for a better blender that will not only perform well but also last.
 Our Picks for Best Blenders for Vegans
#1 Vitamix 7500 Blender – Best Vegan Blender
Vitamix blenders are used by top chefs for a reason – they work really well. If you want a blender that will power through any ingredient and last a long time then just get a Vitamix. They are used in more commercial kitchens than any other brand.
There are a lot of Vitamix blender models but we really like the 7500 as it offers a nice balance of simplicity and new features. It ranks at the top of many independent comparison tests and has the same performance as the more expensive Vitamix 750 Pro. It uses a powerful 1400W motor and comes with 10 variable speeds that allow you to refine every texture with precision.
Positives: Powerful and reliable. It gets rave reviews from users and professionals. It can make any vegan recipe such as healthy vegan smoothies, hot soups from cold raw vegetables, smooth sorbets and ice cream, turn nuts into creamy nut butters, grind raw oats into flour, healthy dressings and dips, crush ice, and more. The wide range of true variable speeds and tamper are extremely useful features to have for a wide range of blending and food prep jobs.
This blender is self-cleaning; just add warm water and a bit of dish soap, turn it on the highest speed and it'll be clean in under a minute.
Negatives: The low profile jar isn't the best as blending small recipes under 2 cups(preferably over 4 cups). This model doesn't offer any preset blending programs which are not necessary but some people enjoy having.
Overall Opinion: This is our top choice as a blender that can handle any vegan blender recipe you throw at it and this model will will last a long time. Eat healthier and avoid the frustration of weak blenders by getting this Vitamix. See our Vitamix 7500 review for more details.
If you
want an upgrade
to the Vitamix 7500 with preset blending programs then consider the
Vitamix 750
  or new
Ascent A2500

.
#2 Cleanblend Blender – Powerful for the Price
Cleanblend is less well known but they continue to get rave reviews for their 3 horsepower commercial blender that has strikingly similar look to the classic Vitamix blender.
It offers a powerful 1800 watt, 3 horsepower motor with essential features like variable speed dial, pulse switch, and lid tamper.
Positives: Great price for this much power and it has proven to be a quite reliable brand. Strong reviews and test results. It can power through raw vegetables and thick recipes.
Negatives: For the price there really aren't any serious negatives. It is a little tall and won't fit under kitchen cabinets if you keep it on the counter for storage. It doesn't have the same power to turn cold raw ingredients into hot soup from friction like a Vitamix can do.
Overall Opinion: A worthy alternative choice if you don't have the budget for a Vitamix.
#3 – Oster 1200 – Favorite Cheap Vegan Blender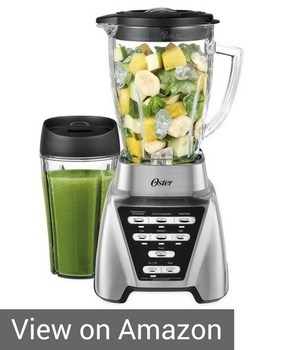 If you are on a tight budget then the Oster 1200 with glass jar is a worthy choice. When you get under a $100 you will sacrifice some power and durability but the Oster has 1200 watts of power with a 10 year limited warranty on its all-metal gear drive.
Positives: Provides a glass jar and is better built than competing blenders in this price range. The blade is larger than past Oster models and uses a dual-direction motor for better blending.
Negatives: Not as powerful as the above blenders but is decent for blending smoothies, chopping, and basic food prep. Doesn't have a tamper which is really useful to have for thick recipes.
Overall Opinion: A decent blender for this price range but it won't offer the performance as our #1 and #2 choices above. Does well with smoothies, chopping, and food prep but will struggle with thick recipes like some nut butters, dough, and raw ingredient soups.
For a little extra you can get it with the food processor attachment).
Other Blenders to Consider :

Cuisinart Hurricane
– This powerful high-speed blender from a well-known brand has a lot to offer for the price. This model is Cuisinart's foray into the high-speed blender market and it blends very well. We have a preference for the Cleanblend or Vitamix blenders that we listed above over the Cuisinart for performance and reliability, but the Cuisinart is still a great blender at its current price. See
Cuisinart Hurricane blender review
for more specifics.
Blendtec Designer
– Blendtec blenders typically compete head-to-head with Vitamix for performance. While we do like Blendtec and their blenders can puree anything we went with the Vitamix as our top high-performance blender for Vegans. We choose the Vitamix 7500 over Blendtec because it performs beautifully with thick recipes and food prep but also because Vitamix has a nice range of variable speeds, simple design, and the tamper is a must have for thick recipes. See our
Blendtec Designer review
for details.
Also, the lower-priced Blendtec Classic is worth considering if you don't care about the features of the Designer series.
Nutribullet 900
– The Nutribullet Pro 900 is our favorite small blender for Vegans and our
top choice among personal blenders
. It is perfect if you want to make green smoothies, grind nuts, make vegan dips and dressings, and do small food prep tasks. It does quite well at pureeing raw vegetables and fruits for smoothies. Keep it mind that it doesn't have a tamper or a removable lid and only has a 32-ounce capacity so you are limited in the tasks that you can do.
Final Thoughts
Vegetarian recipes can be demanding on blenders whether it is making vegan flours, nut butters, raw soups, and fibrous green smoothies. We really narrowed down our choices above to the blenders that will not only perform well but also last, and we focused on offering a choice for every budget.
Please leave a comment below if you have been researching any other blenders that we didn't mention or have any questions, and we will be happy to answer them.