Dash Chef Series Blender Review

We have received questions about our thoughts on the Dash Chef Series Blender due to its unique look, strong performance, and reasonable price so we put together this review.
Who is Dash ?
The Dash appliance brand was started in 2010 by an experienced department store executive Evan Dash who wanted to bring innovative new products to the home market.
They offers a range of kitchen appliance products so they don't specialize in blenders.
Key Blender Features
The Dash Chef Series is a powerful blender that comes with a 1400 watt 2.25 horsepower motor. It is well built with a metal drive socket that connects to the blending container.
This elegant-looking blender comes in 6 vibrant colors and stands tall at 22 inches in height.
The Dash Chef Series Digital blender comes with a 8.5 cup capacity BPA-free plastic pitcher so it can process large batches. The Japanese stainless steel blades of the blender are sturdy and durable.
This blender also comes with a food tamper so you can push the food down into the blade to easily process thick ingredients.
There are 2 models for this blender. The models are identical except one has digital controls and the other does not.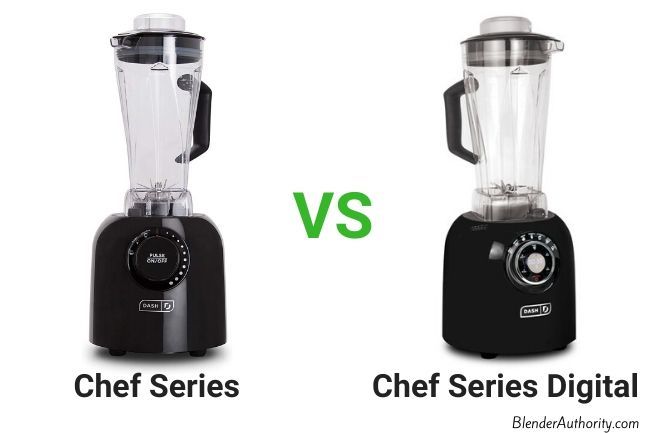 Dash DPB300 Chef Series Power Blender
doesn't have the digital control but offers 3 preset blending programs (soup, frozen, smoothie), variable speed dial, and pulse button.
Dash DPB500 Chef Series Digital Blender is the same blender as the DPB300 model above but adds in 3 more blending functions for a total of 6 (rinse, puree, soup, crush, smoothie and frozen) and a digital display with a 10 minute timed start/stop for hands-free blending. Additionally, you can choose the manual feature and set the blender at any of the available 10 speeds or use the pulse button.
Cleaning this blender issimple, all you need to do is add warm water, dish soap and use the rinse program and the blender will start self-cleaning.
Included in your purchase is a recipe book with a 1-year warranty on the blender and a 7-year warranty on its motor.
Performance
The Dash Chef blender is a powerful 1400 watt (2.25 hp motor) blender which competes with Vitamix and Blendtec blenders in terms of power.
Dash's jar design is strangely similar to Vitamix's proven, patented classic tall jar which means it performs very well and can handle any task you would expect from a high powered blender such as puree hot soups, nut butter, crush ice, mill grains into flour, and raw food smoothies.
The 10-speed levels are very important to have if you want more control over finish texture and don't want puree everything.
This blender effectively crushes ice, although you may find little chunks, unlike some other blenders, however, if you crush it long enough, you'll eventually get fine powder-like ice.
This blender makes awesome smoothies, shakes, and frozen fruit desserts. You can also use it for making sauces and dips, mashing, pureeing, and preparing baby food.
The highlight of this blender though is that it gives you the option to make piping hot soup from cold ingredient like a Vitamix (which very few blenders have the power to do). When you use the soup preset program, it reaches 165 degrees in just 8-mins .
Dash Chef Series Blender Review
Positives: Let's talk function first. The preset programs that come with the Dash blender are something you'll appreciate if you don't want to think about blending time and speed. The fact that you can use this blender in hot and cold food preparations is also a plus.
When it comes to looks, the blender's clean design is definitely unique. The build quality with heavy-duty Tritan plastic jar, quality blades, commercial motor, and all metal gear drive are well done.
The digital model with countdown timer and additonal presets are nice to have but not essential.
Negatives : This blender is quite large measuring almost 22 inches tall with the container! Although large size is common among powerful blenders, keep in mind that it won't fit under a standard-height kitchen cabinet if you keep it on the counter.
A few design issues on this blender are the control dial of the blender is a little stiff to turn and the power button will continuously flash unless you remove the jug or unplug the blender.
It's also not the quietest blender out there but similar in noise to other high-speed blenders.
It only offers a 1 year warranty which is standard for most blenders but less than other high powered blenders like Vitamix, Blendtec, or Cleanblend.
Overall Opinion: The Dash blender have some really nice features and good performance for the price. Consumer Reports gave it excellent rating for durability and it performed well in blending tests for blending frozen drinks, smoothies and pureeing.
Recently, you can find the non-digital model for low $100's and the Dash premium digital model for mid-$100 price points which is excellent for this amount of power and build quality.
We still prefer Vitamix blenders (see below) but for the price the Dash Chef Series blender is a good buy.
– > Click Here For Chef Series base model current price
-> Click Here For Chef Series Digital model current price
Dash Chef Blender vs Vitamix
There are many Vitamix blenders out there, but the closet comparison model to the Dash Chef blender is the Vitamix 5200 blender.
Actually, the Dash container looks very similar design to the patented Vitamix container on the Vitamix 5200. (Surprisingly, the Vitamix jar fits perfectly on the Dash blender).
Features:
Both models have similar motor strength and jar design. The Vitamix rubber lid is a little easier to work with getting on and off and we prefer the simple controls of the Vitamix blender. Vitamix controls are easy to use and we like the smoothness of the Vitamix speed dial compared to Dash's.
The Dash digital blender, however, comes with preset programs, an option that isn't available in the Vitamix 5200 (only available on more expensive Vitamix models).
Performance:
In blending comparison tests, the Vitamix still has the advantage for performance and blending results but not by much. Vitamix is very well built and has proven itself for reliability but you pay more for that. Whereas, the Dash Chef blender is less known and seems good quality at a lower price point.
Warranty:
The Vitamix 5200 comes with a 7-year warranty, while the Dash only comes with a 1-year warranty on the product and 7-year warranty for the motor only.
Which one would we recommend ?
Get a Vitamix if you want a blender that will consistently outperform and last a long time (here our are top Vitamix choices). Get the Chef Blender if you want close to Vitamix's performance for less but understand that it might not last as long if you plan to be a frequent user.
Dash Digital Blender vs Dash Arctic Chill Blender
The Dash Arctic Chill blender comes with a small 16-ounce container, making it more of a to-go blender when compared to the Dash Digital blender that processes larger batches.
As mentioned before, the Dash Digital blender can almost prepare anything you can think of, while the Dash Arctic Chill blender only prepares small batches of smoothies, juices, and crushes ice. It doesn't give you many processing options.
There have been multiple complaints about poor jar design of the Dash Artic Chill blender and leaking so we would avoid the Dash Chill blender. There are much better personal blenders on the market if you are looking for a small blender.
Chef Blender vs Dash Vacuum Blender
These two blender models aren't really comparable as they are designed for different end users.
Vacuum blending is the latest trend in blenders as the blender removes oxygen from the blending container before blender to reduce nutrient loss, reduce froth, and improve storage time.
Dash's Vacuum blender is 800 watts and has a vacuum pump built into the base of the unit. This blender is really just designed for blending simple liquid drinks like smoothies and Dash recommends not using any hard ingredients like ice. Also you can't add ingredients during blending or use a tamper.
Whereas the Dash Chef blender offers 2x the power and is designed for heavy duty blending tasks (nut butter, grinding, milling, raw food soups) besides blending just drinks .
Overall, for only a little but more money the Dash Chef Series Power blender offers a lot more power, performance, better consumer ratings, and more versatility than the Dash DVB300RMRD Vacuum blender.
Bottom Line
Final thoughts are the Dash Chef blender offers good performance and features for the price. It is a little bulky but the design is unique and it comes in 8 fun colors.
The price has come down for the Dash Chef blender since it was first introduced making it worth considering if you want a high speed blender but can't afford a Vitamix or Blendtec.
– > Click Here For Chef Series base model current price