Healthy Chocolate Smoothie Bowl Recipe
There are a lot of smoothie bowl recipes online but many that I have seen are loaded with sugar so you might as well just eat ice cream.
Personally I believe a smoothie bowl should be healthy and essentially be a thick green smoothie poured in a bowl. The main difference with smoothies versus smoothie bowls is that you add in raw toppings to a smoothie bowl such as raw seeds, nuts, and fruits. Think of a smoothie bowl as a full meal. The neat thing about smoothie bowls is they are so easy to experiment with and change the flavor.
Smoothie bowls work great as a meal substitute such as breakfast but my favorite way to use smoothie bowls is as a dessert. I use the chocolate smoothie bowl recipe below to relieve sweet tooth cravings. It tastes like a mild chocolate pudding but is so healthy and filing.
The smoothie bowl recipe below has very little sugar, healthy fats, and excellent nutrition. It is dairy free, paleo friendly, gluten free, and low carb.
I use an avocado instead of a banana in this recipe because I want the healthy fats from avocados and don't want the sugar from bananas. Also, avocado adds a nice thickness to the smoothie bowl just like bananas.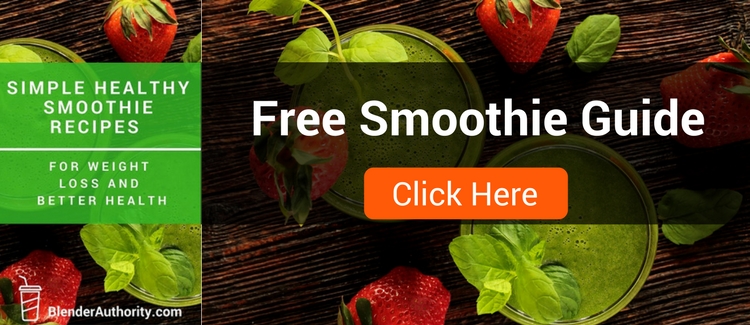 SIDE NOTE:
If you are new to Cacao Powder, it is the purest form of chocolate but has no caffeine is rich in magnesium, antioxidants, and other important nutrients.
The biggest reason why I use Cacao powder for my smoothies is that it has almost no sugar yet provides a nice subtle chocolate taste. Since Cacao has almost no sugar it helps to add a little sweetness to this recipe buy using something like a raw date or an unrefined natural sweetener like real maple syrup.
Related article: Cacao Smoothie Recipes
Healthy Chocolate Smoothie Bowl Recipe
This will make 1 full serving (or 2 small servings) as seen in the picture.
Healthy Chocolate Smoothie Bowl
Creamy chocolate smoothie bowl with very little sugar.

Ingredients
1

cup

Raw spinach

3

tbsp

100% raw Cacao powder

1

tbsp

100% real maple syrup

1

medium

Avocado

1

cup

Unsweetened almond milk
Instructions
Blend above ingredients and then added any toppings(fruit, nuts, seeds, etcetera).

Ways to modify this recipe
Add 1 Tablespoon of almond or peanut butter for a rich nutty flavor.
Add 1 Tablespoon of chopped dark chocolate for a rich chocolaty taste.
Add healthy carbs for energy if you are eating this for breakfast(examples are blend in 1/2 cup of raw oats or soak 1 tablespoon of chia seeds).
Give this simple recipe a try and let me know what you think. I would love to hear about any unique ingredient combinations that you try in this recipe.
Summary
Recipe Name
Healthy Chocolate Smoothie Bowl
Published On
Average Rating
Based on 2 Review(s)