5 Amazing Smoothies for Sleep and Simple Tips for Better Rest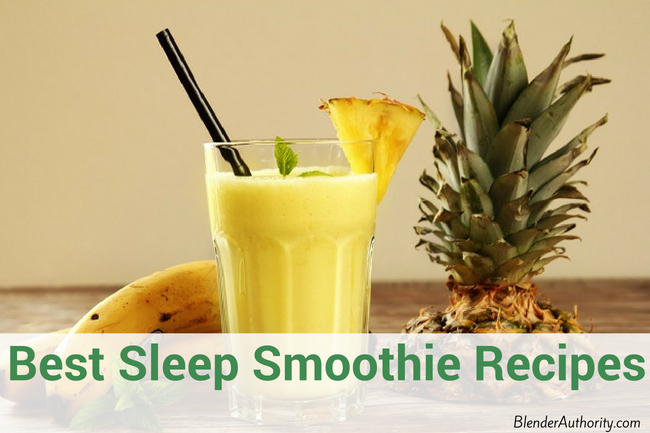 Struggling with sleep problems is no fun. When you don't get enough sleep, it affects your waking hours by reducing your neurological response times, reducing your ability to emotionally cope, and reducing your willpower to reach for that sugary snack in the afternoon.
Well, we are here to help. In this guide we provide tips on improving your sleep environment, best foods for enhancing deep sleep, and our top 5 better sleep smoothie recipes.
Tips to Sleep Well Naturally
How can you naturally sleep better ?
One of the quickest ways to sleep better is a dietary change. Start with the smoothie recipes in this article instead of an after-dinner dessert and see how much better you feel. The foods in these smoothies are packed with the nutrients, vitamins, and minerals that help regulate your personal sleeping cycle.
Make your bedroom a restful sanctuary. It's worth it to invest in your perfect sheets, pillows, and blankets. Remove as much clutter as you can, keeping only a few things in the bedroom. Change your bedside lamp's bulb to a lower wattage. You can even paint the room in restful colors like blue or green.
Try creating and following a personal night time ritual. Turn off the television an hour earlier than you normally do in the evening. Draw yourself a hot bath to help relax your muscles. Make your smoothie and take it, along with a book, to bed. Drink your night time smoothie while reading or doing some other non-tech activity.
One helpful tip is to write down all your current thoughts in a notebook, so they don't keep you up at night (This really works !). You can customize this ritual and use it to dramatically improve sleep.
Use aromatherapy. The scents of lavender, chamomile, and ylang ylang can help calm your nervous system(sources 1 2 3). You can find special lotions, creams, linen sprays, and essential oil drops to diffuse the scent. A lavender pillow is particularly soothing.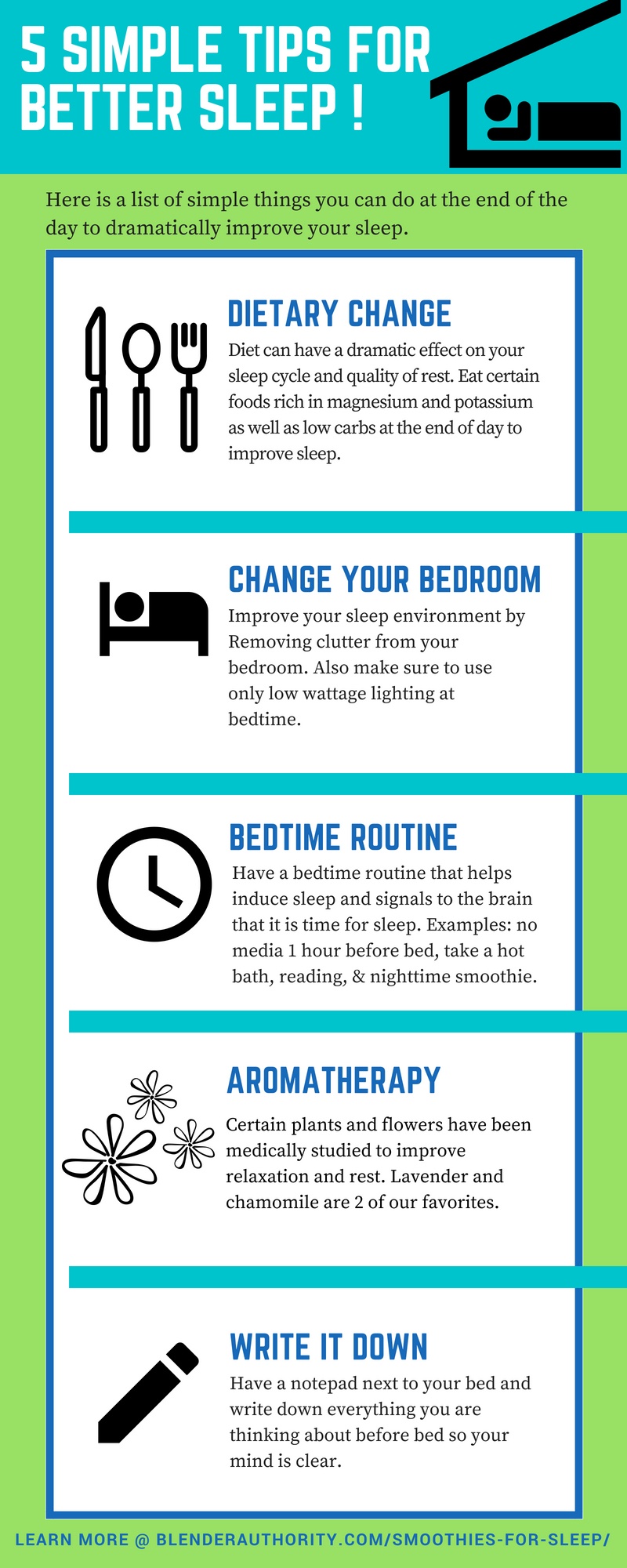 How Smoothies Help with Sleep
Since a dietary change will improve sleep, a smoothie becomes a beneficial evening snack. Sleep specialists recommend stopping all carbohydrate and sugar consumption in the afternoon. That gives your body a chance to process all nutrients you ate and drank hours before bed time.
Nutrient-deficient diets lack the essential components needed for a healthy sleeping lifestyle. The first nutrient you'll want to add to your bedtime smoothie is magnesium. It's found in almonds, cashews, spinach, and bananas.
Potassium is another nutrient that helps your body fall asleep naturally and sleep deeper. Bananas are the most popular source, but you can also find potassium in sweet potatoes, cantaloupe, and beets.
Tryptophan is responsible for why you feel tired after consuming your Thanksgiving turkey. It's an amino acid which your body uses to produce both serotonin and melatonin natural chemicals in your brain, which then make you sleepy. Together with selenium, tryptophan has long been a sleep-inducing nutrient. They both have antioxidant properties helping protect cells from damage.
Vitamin B12 is not a vitamin the human body can manufacture, so you need to get it from your diet. It's involved in every cell's metabolism, and your metabolism is directly related to your sleep-wake cycle in the brain.
Best Ingredients for Nighttime Smoothies
Banana
One medium sized banana, measured at about 126 grams, has the following nutritional info: 110 calories, 30 grams of carbohydrates, and 1 gram of protein.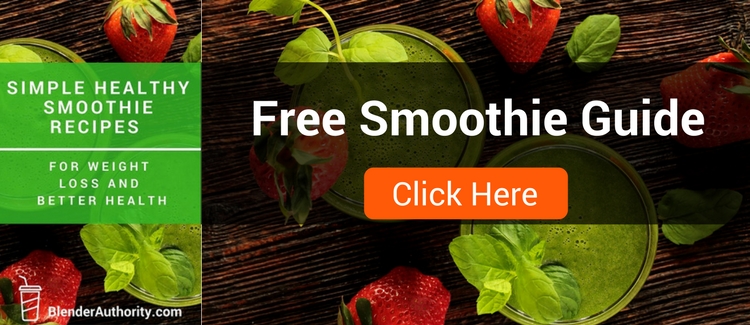 For helping with sleep, this single serving has 450 mg of potassium and 34 g of magnesium. Bananas also have no fat, cholesterol, or sodium.
Beets
Beets also have potassium, so they are an excellent food to add to your sleep inducing smoothie. One beet 2 inches in size has 266 mg of potassium.
They only have 35 calories, 0.2 grams of fat, 6 grams of sugar, 2.3 grams of fiber, and 8 grams of carbohydrates. When you add beets to a smoothie, it turns it a beautiful pink or burgundy color.
Greek Yogurt
Greek yogurt is an excellent source of tryptophan due to its high milk content that's used in making the yogurt.
Plain Greek yogurt also makes you feel full because of its protein, provides probiotic bacteria such as acidophilus to aid digestion, and is packed with calcium, which is effective at stress reduction and over-active nerve stabilization.
Almonds
Whether you add whole almonds, almond milk, or almond butter, these sleep-inducing nuts are a perfect ingredient for your nighttime smoothie for weight loss. Almond milk creates a creamy liquid for other foods in your smoothie.
Almonds have 4 grams of fiber to help you feel full, plus they provide 20% of your RDA (recommended daily allowance) for magnesium and 6% of your RDA for potassium. Almonds are low-glycemic and won't spike your blood sugar just as you're settling down for the night.
Best Sleep Smoothie Recipes
Smoothie that help you sleep use not only bananas, beets, and Greek yogurt, but other added ingredients like vanilla extract, spinach, pineapple, and oats. They boost flavor, are filling, and round out your nighttime smoothie for weight loss diet.
Make sure you're not putting caffeinated ingredients in your smoothie. That includes chocolate and cocoa bean products.
EDITOR NOTE – All of these recipes are single portions so they can work in small bullet blenders or full-size smoothie blenders.
1. Banana Beet Night Time Smoothie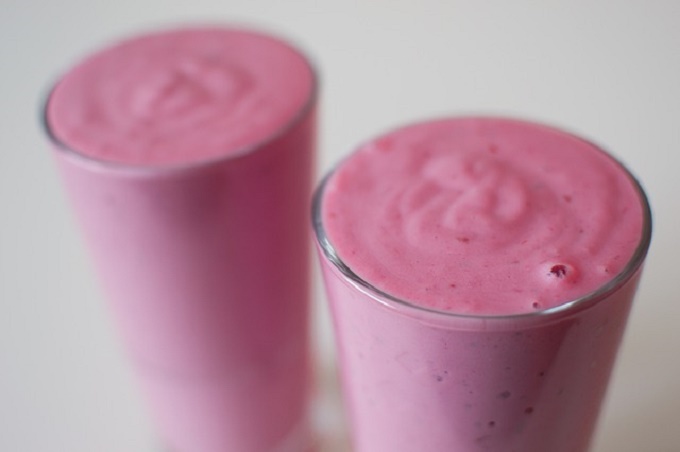 Sleep ingredients used: bananas, beets, almonds. (related smoothie recipes: Beet smoothies, Almond milk smoothies)
1 sliced raw beet
½ banana
8 ounces coconut water
1 teaspoon sliced almonds
2. Banana Almond Vanilla Smoothie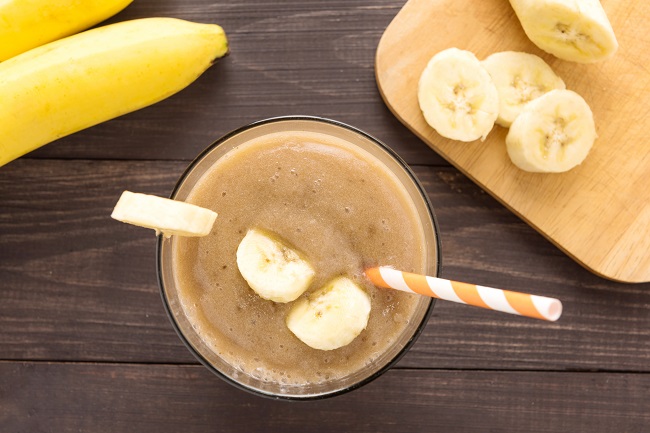 Sleep ingredients used: bananas, almonds.
1 cup unsweetened almond milk
3 frozen medium bananas, cut into chunks
2 tablespoons of almond butter
1/4 teaspoon vanilla extract
1/8 teaspoon almond extract
3. Cinnamon Sleepy Smoothie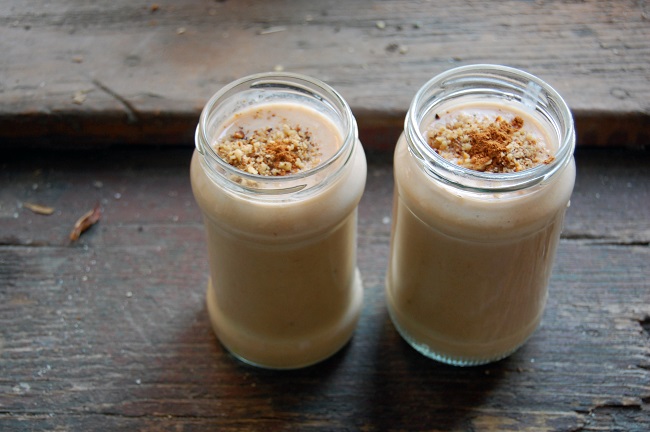 Sleep ingredients used: banana, Greek yogurt, almond milk
1 banana
1 cup vanilla almond milk
½ cup plain Greek yogurt
¼ cup old-fashioned whole oats
¼ teaspoon cinnamon
Optional: Sprinkle a small amount of crushed almonds on top
4. Pineapple Bed Time Smoothie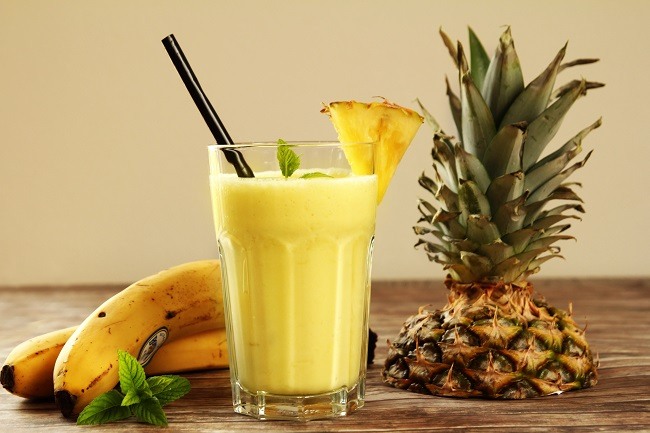 Sleep ingredients used: almond milk, banana.
¾ cup almond milk
¼ cup Greek yogurt
½ cup pineapple chunks
¼ banana
5. Sweet Cherry Smoothie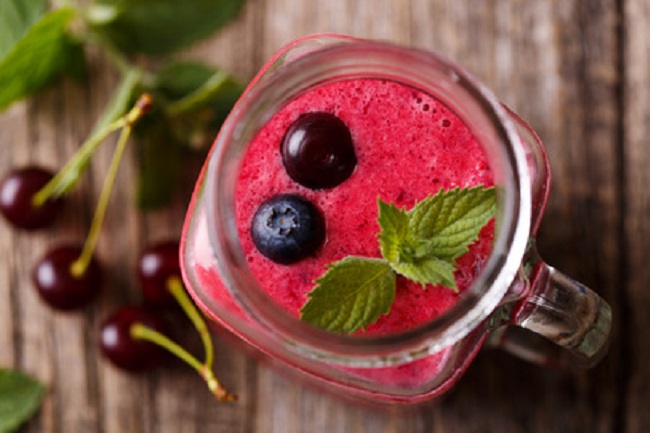 This wonderful Nutribullet sleep smoothie is rich and delicious. It is a great healthy treat for the end of day.
1 ½ Cups Unsweetened Almond Milk
½ Banana
1 Cup Cherries, pitted
¼ Teaspoon Nutmeg
1 Tablespoon Honey
Final Thoughts
It really helps to follow an end of the day routine to prepare your body and mind for sleep so review the tips at the beginning of this article.
Get started today with one of the sleep smoothies recipes above and let know us know what you think. Sweet Dreams !
PIN these Sleep Smoothie Recipes