Vitamix Question and Answer Guide for 2022

Welcome to our growing Vitamix question and answer guide. Rather than having answers getting lost in our post comments we have put together this comprehensive list of Vitamix questions and answers in 2022. We will continually keep this post updated !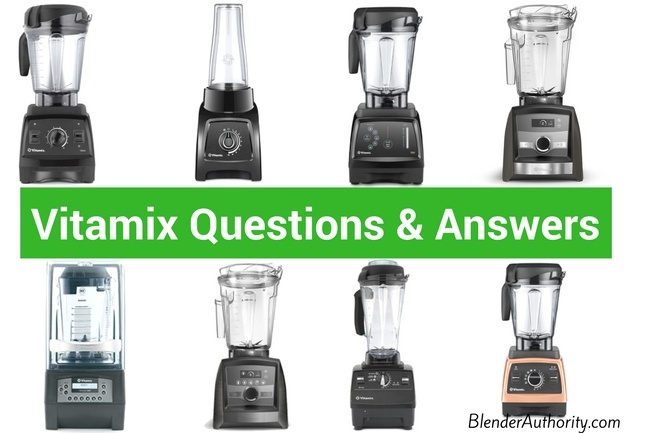 If you have any questions that we didn't answer, please leave them in the comments below and we will respond.
Vitamix Buying Guide
– Please also reference our detailed
Vitamix buyers guide
where we explain everything you need to know about choosing a Vitamix blender as well as reviewing every Vitamix model.
If you are looking for a specific answer then reference our Table of Contents below. Just click on a specific question to be taken to the answer.


Which Vitamix to Buy ?
See our extensive guide to the best Vitamix to buy as it covers everything you need to know about deciding on the best Vitamix model for your needs.
Why is Vitamix so expensive ?
Vitamix blenders are more expensive than many blenders because they are built to last and have a very generous 7 or 10 year full warranty which includes shipping and full repairs. Also they are built in the USA.
Vitamix blenders consistently rank at the top for performance, reliability, and customer satisfaction. Factory Reconditioned Vitamix blenders are also a really great deal if you want to save some money. They just have a slightly shorter warranty than new Vitamix blenders.
Keep in mind though that not everyone needs a vitamix blender if you are just going to make occasional milkshakes, smoothies, and frozen drinks then there are lots of blenders that work well for those tasks.
What about Costco Vitamix Blenders ?
If you are a member of Costco then you have most certainly seen a live Vitamix demonstration at the end of an aisle. Costco is probably the top retailer of Vitamix blenders in the USA because their demonstrations are so convincing. Here is a list of upcoming Vitamix Costco demonstrations.  They are independent sales reps for Vitamix that do those demonstrations and Costco will typically sell only a couple different Vitamix models at a time in their stores.
In recent years, Vitamix added models that are exclusively designed only for Costco so that they don't have to compete in pricing with other stores for those models. These custom Vitamix Costco models are a blend between other existing Vitamix models and they usually have a custom accessory package. These models are not necessarily better than the normal Vitamix models, they are just slightly customized in appearance and accessories for Costco.
In recent years Costco has sold the Explorian E320, S-series S30, G series 780, and Hybrid 6500. I reviewed all of those models in my Vitamix buying guide. (See link at the top of this post).
As a reminder, E320 is an entry-level priced model, the 6500 is a hybrid built on a C series and uses the G series low-profile container, S30 is a personal blender, and the 780 is a fully-featured digital control G series blender.
…but what about the new Vitamix Venturist V12 ?  In 2018, Costco began EXCLUSIVELY selling the Venturist V12 blender which is a mix between the Ascent and G series blenders. The Venturist uses the new low profile smart detect containers and includes a 64oz low profile countainer, 20 ounce container cup, and 8 ounce bowl containers. Also the Venturist has a digital countdown timer and uses the new wireless connectivity to work with Vitamix SmartApp.
The difference in the Venturist from the Ascent is it doesn't have the newer Ascent base and Ascent controls. The Venturist V12 blends like an Ascent and both offer a 10 year warranty.
Keep in mind, that the Venturist low profile container doesn't blend small batches(under 4 cups) well because of the low profile wide container so you might need to buy an additional, smaller container. The Venturist is decent but some people might prefer the Ascent 2500.
Does Costco offer a better price on Vitamix ? Sometimes. Pricing changes so I would compare Costco price with Amazon. Also, Costco sometimes package in different accessories so you might end up paying more just for extra accessories that you might not need (For example, you probably don't need the 8oz and 20oz containers that come with the Venturist).
Can you use the Vitamix as a Juicer?
A juicer extracts the juice from the whole food, whereas a Vitamix blends the entire food. If you want to use a Vitamix as a Juicer, you can blend the ingredients at a high speed to puree it and then pour the drink through a fine strainer.
Vitamix blenders have been shown to be able to blend ingredients down to the finest levels versus other blenders so they do provide an almost juice-like consistency.
Why is Vitamix better than a juicer ?
First off, Juicers only do a single task (juicing) and you are limited in the types of ingredients that will work with a juicer. Blenders offer much more variety in types of ingredients that you can blend but you can also make dips, soups, food prep, and much more with a blender.
Also, many people feel that getting the whole food from blending versus just the juice offers the most nutrition. It really comes down to a personal choice. Refer to our  article about Juicing vs Blending which covers all the studies and research.
Which Vitamix is best for juicing ?
All Vitamix blenders can blend down to a very fine juice-like level. If you want a true juice then you would need to strain the blended drink to remove the pulp.
Who uses Vitamix ?
Vitamix is the most popular blender brand used in professional kitchens and restaurants, but with the popularity of smoothies in recent years we are seeing lot of consumers buying Vitamix blenders to make smoothies, soups, bread, and food prep.
Who makes Vitamix ?
Vitamix blenders have been around since the 1930's and are still made in the USA and family owned.
Is Vitamix the most powerful blender ?
Almost. Blendtec technically has some models that are more powerful than Vitamix as measured by horsepower but the performance for Vitamix matches up against even more powerful models.
You also have to evaluate a blender's blending horsepower versus peak horsepower which are different. Other factors that affect blender performance are container and blade design.
Which Vitamix is best for smoothies ?
All the models work well for smoothies. Keep in mind that the new low profile containers used on the newer models (G series and Ascent blenders ) will struggle with small batches.
Which Vitamix blenders make soup ?
All of the Vitamix models make soup. In fact, they are one of the only blender lines with enough horsepower to puree raw ingredients into hot soup. Vitamix is our top choice for hot soup blenders.
Are refurbished Vitamix blenders good ?
People use "refurbished" and "reconditioned" interchangeably but you want to make sure that you are only looking at FACTORY reconditioned models and not models that were refurbished by some independent retailer.
Vitamix factory reconditioned Vitamix blenders are "like new" in that they have gone through an extensive 17-step inspection process and not all units will pass Vitamix's factory certification process.
The only real difference in new versus reconditioned models is that Vitamix reconditioned blenders have a 5 year warranty versus a 7 or 10 year warranty on new models.  Vitamix only sells certain models as reconditioned and the availability can change depending on what models they have in stock.
Also, many Vitamix models have multiple variations with different model names (Vitamix sells many models with the same blender but just changes the color or accessories) so the model # might be different on the front of the blender even if it is the same blender that you wanted.
Reference our Vitamix guide that we linked to at the beginning of this article which lists every Vitamix model and explains the differences.
You can buy Vitamix certified reconditioned blenders from Vitamix directly or Amazon sells them for a good price as a direct seller for Vitamix.
How does Vitamix compare to Ninja blenders ?
We wrote a big post comparing Vitamix vs Ninja blenders . We like Ninja blenders for their power and price point but Vitamix is built to last longer.
How does Vitamix compare to Nutribullet blenders ?
The Vitamix will excel in performance and longevity but the Nutribullet is great for smoothies and small servings. See our full comparison of Vitamix versus Nutribullet blenders for more details..
Do you have a Vitamix comparison between models ?
Reference our huge Vitamix buyer guide.
Where can I find your Vitamix review ?
In our Vitamix guide we have a Vitamix blender review summary (See link to the guide at the top of this post).
Is there a Vitamix blender with glass Jar ?
Nope. Vitamix originally used stainless steel pitchers but changed over to high strength plastic containers in the 1990's. They then switched to BPA-free Tritan copolyester in 2007.
They don't use glass because of the risk of breaking since Vitamix blenders operate at such a high speed. Some people have used stainless steel containers made by other blender manufacturers on their Vitamix blender but Vitamix would void their warranty as they haven't been factory tested.
Are Vitamix containers BPA free ?
Yes, all Vitamix containers are BPA free.
Does Vitamix crush ice well ?
Yes, Vitamix has no problem crushing ice. It ranks near the top in any blender ice crushing test and the Vitamix 7500 was our top pick for Ice crushing blenders.
It works better if you use a little water otherwise you will need to use the tamper to get the ice to move around. While the classic tall containers work fine, the wider low-profile containers work a little better for moving around the crushed ice.
Which Vitamix does Consumer Reports rate the highest ?
The 5200 has always been a top performer with Consumer Reports but the Vitamix Professional 750 is currently the highest scoring blender in their tests and is Consumer Reports #1 recommendation for blenders.
What are the top Vitamix commercial blenders ?
We have a full guide to the best Commercial Blenders on the market which explains all of the Vitamix commercial blenders currently available.
Vitamix makes different types of commercial blenders whether it is for just blending drinks or to be used in the restaurant for food prep.
Best Vitamix blender for the money ?
The A2300 offers the latest Vitamix features with the longest warranty for a reasonable price.
The Vitamix Explorian E310 is the cheapest new Vitamix blender you can get.
What is the best Vitamix on the market ?
The Vitamix models with the most features are the G Series Vitamix 780 or the Ascent A3500.
Otherwise the Vitamix 750 is the top pick from Consumer Reports.
Which blenders are comparable To Vitamix ?
Blendtec blenders are typically the closest comparable blender brand to Vitamix for blending performance and reliability.
Is there a cheap Vitamix blender ?
Generally the cheapest Vitamix blenders are the factory refurbished models which still have a 5 year full warranty. Vitamix sometimes offer coupon codes. Retailers like Costco or Amazon both sell popular Vitamix blender models directly at a good price.
If you find a cheap, used Vitamix somewhere like Ebay make sure that you can assume the warranty from the seller. Ask the seller for the serial # on the blender you are looking to buy and call Vitamix to see if that specific blender is still under warranty. Vitamix warranties are assumable and the remaining warranty duration is tied to the serial # of the blender.
How do I register my Vitamix blender for warranty ?
Go to Vitamix warranty registration page.
How Much Does A Vitamix Cost ?
New Vitamix blenders start around $350 and reconditioned Vitamix blenders typically start in the high $200's.
What is the most Powerful Vitamix ?
The Most powerful Vitamix blenders are the G series and Ascent series which both have a 2.2 peak horsepower motor.
Best uses For Vitamix ?
Vitamix blenders can be used for food prep, smoothies, nut butters, hot soups, milling flour, making baby food, dips, spreads, sauces, and more.
Who sells Vitamix blenders ?
Vitamix sells direct to consumer or you can find them at most large retailers. Amazon.com also sells new and refurbished Vitamix blenders direct for a good price also.
Which Vitamix blender comes with a cover ?
Only the Vitamix commercial drink blenders come with the noise dampening cover. The Vitamix Quiet One is a popular model and is the quietest blender that they make.
Best Vitamix accessories ?
If you plan on frequently milling flour then get the dry grains container. Also some people who buy the G series blenders find that the standard low profile 64oz container struggles to properly blend small batches so they also buy a smaller container like the 32 oz or 48 oz container.
What is the newest Vitamix Model ?
The newest Vitamix models are the Ascent series and the new entry-level priced Explorian 310 .
Issue with Vitamix overheating ?
The easiest way to reduce overheating is to reduce the amount of food that you are processing at a time. Also, following Vitamix instructions for order of ingredients helps the blender work more efficiently for faster blending.
If your Vitamix stops while blending then this can mean that you triggered the overload protection sensor that is built in. This overload breaker keeps the blender from overheating. It can take 30-60 minutes for the blender to cool down and reset. You can speed up the cooldown process by making sure the motor is getting plenty of air flow and even using a hair dryer on cool setting.
Which Vitamix is the quietest ?
The quietest blender is the Vitamix Quiet one but it is generally made for commercial use so it has a shorter warranty than the home consumer models.
Otherwise the G series is quieter than the older "Classic" C series Vitamix models.
Does Starbucks use Vitamix blenders ?
Yes, Starbucks uses a Vitamix 48oz Blending Station Advance
Do Vitamix Blades need to be sharpened ?
No the blades are designed to never be sharpened.
How do I clean a Vitamix blender ?
Just add a drop of dish soap and blend with warm water for 330-60 seconds.
Are Vitamix containers dishwasher safe ?
The containers for the Ascent series and Vitamix Personal blender series are dishwasher safe.
Do Vitamix blenders fit under a kitchen cabinet ?
Vitamix's new low-profile containers are designed to fit under cabinets.
Really any model that uses the 32oz container, 48 oz container, or lower profile 64oz container will fit under a typical kitchen cabinet. The classic C-series 64oz tall containers will not fit under cabinets.
Can you put hot ingredients in a Vitamix container ?
Vitamix recommends to not put any liquids above 170 degrees F in the containers.
Are Vitamix containers interchangeable with every model ?
No. The new self detect containers will work with older legacy models but the legacy containers will not work with the new Ascent blenders.
Reference our guide to Vitamix containers for more specifics.
What is the difference in Vitamix wet and dry containers ?
The blades are designed differently between the two types of containers. The standard wet containers are designed to process fruits, nuts, liquids, seeds and vegetables into smoothies, nut butters, ice cream, etcetera. The wet container blades pull the ingredient down into a vortex motion in order to emulsify and liquefy the ingredients.
Whereas, the dry ingredient container has blades that mill whole grains by pushing the foods up and away from the blade rather than pull down. It simulates the process of kneading dough.
Vitamix For Baby Food ?
Yes Vitamix can easily blend ingredients to a baby food puree consistency including blending uncooked raw vegetables.
How do Vitamix vs Blendtec compare ?
Both brands are excellent blenders but we give a slight preference to Vitamix for food processing due to the tamper and better range of motor speeds.
Vitamix Home vs Commercial blenders ?
Vitamix consumer and commercial blenders are somewhat similar but the consumer home models have a longer warranty as they are designed for home use. Commercial blenders are designed for high volume use and therefore have shorter warranties.
Does Vitamix do well making Nut Milks ?
Yes, Vitamix is very popular with people who like to make their own nut milks especially if you are dairy free.
Here are some Vitamix non-dairy milk recipes that you can try.
How does Vitamix do at making ice cream ?
Vitamix has a ton of Ice cream recipes you can follow.
What kind of hot soups does Vitamix make ?
One of the unique features with Vitamix is that they have so much power that they can turn raw cold ingredients into hot soups. Check out these Vitamix soup recipes to give you an idea of how easy it is.
Where can I get a Vitamix personal cup adapter ?
The Vitamix cup adapter allows you to blend a single serving in a personal to-go cup using their full size blenders. You can get it at Vitamix or on Amazon.
Still Have Questions ? Leave them in the comments below.